'Milkhaji taught me that you couldn't move on in life with the baggage of negativity and ill will.'
Just before Bhaag Milkha Bhaag released in 2013, Farhan Akhtar spoke to Subhash K Jha.
What was your main area of interest while doing Bhaag Milkha Bhaag?
I was most amazed by his spirit. And that spirit is latent within us. It takes a story like Milkhaji's to awaken that spirit within all of us.
What I learned the most is the power of forgiveness. Milkhaji taught me that you couldn't move on in life with the baggage of negativity and ill will.
You can't be the Flying Sikh with that entire burden. So, in a way the running is a metaphor for an unburdened spirit of forgiveness.
What do you feel about the plight of sportspersons who are not cricketers in our country?
I can only say there's a lot that needs to be done for them. The opportunities that sportspersons get outside the world of cricket are very few.
Sports events like an Olympics happen once in several years. They spend all their time traning for that moment, sacrificing all their personal time for that moment.
I met Krishna Poonia who told me she had to stay away from her child for two years while preparing for an event. They should get back a lot more for what they sacrifice. But they don't.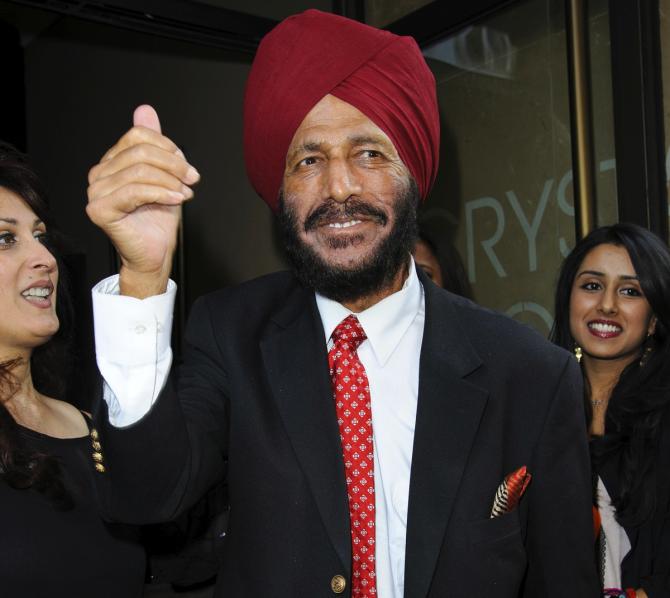 How much of a difference do you think Bhaag Milkha Bhaag would make to the mindset on sportspersons?
Athletes are bound to be inspired by the movie. But I hope sports federations should start getting a lot more sensitive towards athletes and nurture them correctly. That can only happen if they don't have to stress about their livelihood. Hopefully, the film will make people think.
Your performance ranks as a benchmark for bio-pics./strong>
Whatever I've managed to do in this movie is motivated and inspired by this man called Milkha Singh.
He has given me a lot of strength. He witnessed events such as the violence after Partition that I had no clue about.
His childhood is far removed from mine. I just drew upon a sense of personal loss to deal with his trauma.
The most difficult scenes for me were when Milkha goes back to his home in Pakistan to confront his past. Those scenes demanded every ounce of memory of loss within me.
I still didn't come anywhere close to what Milkhaji must have felt. But I tried.
Source: Read Full Article