This is a film written for an audience that thrives on Vijay's stardom and it satisfies them thoroughly, observes Divya Nair.
In the last few years, I have realised one thing: There are few actors, who have the ability to bring audiences of all ages to the theatres.
While most people prefer to watch a movie with their friends or dates, a select few walk in with their parents, sometimes even grandparents.
I've seen it in Rajinikanth's films.
Vijay, sorry Vijay Sir (that's how he is credited in the film) aka Thalapathy is among those rare actors I wouldn't mind watching in a theatre with my family.
In many ways, he's similar to Salman Khan.
He does masala films with signature dance numbers, spiced with humour, gravity and logic-defying action sequences as well as dialogues that people would love to imitate in real life.
Like Bhai, he may even pass borderline unpleasant remarks about his love interest, but he'd rarely kiss his girl on screen.
And this little detail spares some of our conservative Indian parents from an embarrassing moment.
If you sample any Thalapathy film, the lack of logic, story or predictability of events doesn't even seem to matter because Vijay Sir will always round it up with a social message, happily lapped up by innocent fans who can be charmed with lazy dialogues.
Question is, does all of this Vijay's magic work in Varisu (meaning 'heir' in Tamil)?
Varisu is Director Vamshi Paidipally's second Tamil film after the mildly successful Thozha (remake of the Telugu Oopiri).
Vijay is the youngest son of a shrewd and successful mining entrepreneur Rajendran (played by Sarath Kumar), who has no interest in joining his arrogant father's firm.
He declines to ruthlessly compete with his brothers to claim the heir apparent to the business empire, and says he'd rather build something of his own.
He is thrown out of his home, but continues to stay in touch with his mother Jaya, brought to life beautifully by the talented Jayasudha.
Fast forward to seven years.
Vijay has built a unicorn company, but realises that his extended family and the business empire his father painstakingly put together, is in shambles.
Their competitor Jayaprakash (Prakash Raj) would do anything to topple the family and the business.
Naturally, Vijay is the only one who can mend things and bring his family together.
Much against his will and principles, Vijay chooses to come home to the rescue of his ailing father.
With a runtime of 170 minutes, the first half is largely spent on marking Vijay's importance in the film and reducing other skilled characters to mere pawns. Even Prakash Raj (whose memorable performance in Gilli is mocked at) gets a dummy role as the villain.
The second half amplifies Vijay's flawless, sole mass entertainer image, who cracks and laughs at his own jokes, is always two steps ahead of his adversary and rarely fails in his quest.
You don't even need to watch the film to know what happens next.
In fact, I was not surprised when audience members around me could predict the dialogues in the few seconds of deliberate pause, added for effect.
If the predictability of the film's events doesn't excite you enough, there are countless references to his previous films, thrown in with ample sauce of sarcasm and subtle digs at his competitors in the industry.
Whose idea was it to have the story based on the mining industry and then tweak in references like 'one blockbuster for three films' in the scene where Vijay's character takes over the role of the chairman of the company?
Was it a tribute or poor inspiration from last year's huge hit, KGF?
But that's not what the problem is.
The fault lies in promoting a narrative that is both frivolous and toxic.
Like, what's so funny about the surname of an investor named Mittal (simply because he's a North Indian?)
Why is it so important to correct your girlfriend (played by Rashmika Mandanna) when she says, 'The boy likes the girl'?
We are in 2023, but Vijay Sir wants to be treated like the boy from the '90s whose kutti stories encourage towering values of friendship, bonding, humanity and equality but sometimes lack basic empathy and inclusivity.
All this may be orgasmic for his longstanding fans who have been fed on similar content in Vijay's previous films but will seem unnecessary and maybe even demeaning for the average viewer who will watch this template drama on a streaming platform in a few months.
Trust Vijay to justify having four songs (put together by Thaman S), so he can show off his dancing skills and gloat in the massy lyrics.
By his own admission, at the music launch, he described Varisu's music as 'paatta poda sonna fulla beat ya pottu vachiirukaru la (there are more beats than actual music).'
While the media-shy Vijay Sir can easily charm his devoted fan base with Varisu featuring action, dance sequences and masterful punch dialogues customised to feed his star image, it isn't too hard to see the hypocrisy behind the humbling man who calls himself his own competitor even in real life.
It really doesn't matter how I view this movie because this is a film written for an audience that thrives on Vijay's stardom and it satisfies them thoroughly.
I could sense his confidence when Vijay confidently asked his producer Dil Raju at the film's music launch in front of a packed audience 'Varisu 2 eppo? (When do we start work on Varisu 2?).'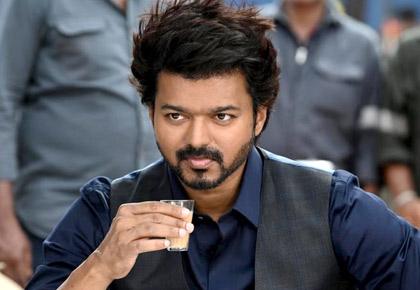 Source: Read Full Article