On April 19, 1989, a 28-year-old white investment banker named Trisha Meili was jogging through Central Park in New York City when she was brutally attacked, raped, and left for dead. That same night, tons of other crimes were also committed in Central Park, and a group of about 30 teenagers that were roaming the park were suspected of committing the crimes. Five young men were arrested for her rape, and later convicted.
The story of those boys (four of which are African-American, one is Latino) is now being told in a four-part scripted series on Netflix called When They See Us, which comes out on May 31 and is directed by Ava DuVernay. Here's the real story of what happened.
First things first, who are the Central Park Five?
The Central Park Five is the name for the group of boys who were arrested and later convicted for the various crimes. They are Raymond Santana, Kevin Richardson, Antron McCray, Yusef Salaam and Korey Wise. They were all between the ages of 14-16 when they were arrested.
FWIW, Trisha is commonly referred to as the Central Park Jogger.
What crimes did they commit, if any?
Great question. Because there were so many incidents in the park that night, including reports of assaults on other joggers, harassment of an elderly homeless man, and people throwing rocks at bicyclists, those all got grouped in with the attack on Trisha. The police arrested and interrogated seven kids total in connection to the different offenses, and five boys confessed to the rape. Those five are the Central Park Five. More on those confessions later.
The other two teens, Steven Lopez and Michael Briscoe, pleaded guilty to other charges from that night, but weren't connected to Trisha's rape specifically.
Tell me about these confessions.
Yeah. All five of the boys confessed to the rape while they were being interrogated by police, but they (and their lawyers) later said they were coerced. In an op-ed for The Washington Post in 2016, Yusef wrote, "When we were arrested, the police deprived us of food, drink or sleep for more than 24 hours. Under duress, we falsely confessed."
When they eventually went to trial, unsurprisingly, there were major inconsistencies in their stories. Also, it's worth noting that there was literally no DNA evidence connecting any of the five to the crime.
What role did the media play in all of this?
A pretty big one. Much of the coverage of the Central Park Five was, overall, very racist. The first New York Daily News headline about the case read, "Wolf Pack's Prey: Female Jogger Near Death After Savage Attack From Roving Gang." Racially-charged media reports contributed to people's perception of the case and the boys.
What happened at trial?
According to the Innocence Project, Yusef, Antron, and Raymond were tried and convicted of rape and assault. They were sentenced to 5 to 10 years. Kevin was sentenced to 5 to 10 years and convicted of attempted murder, rape, sodomy, and robbery. Korey was sentenced to 5 to 15 years and convicted of assault, sexual abuse, and riot. The men all spent between 7-13 years in jail, some in juvenile detention centers, some in prison.
Okay, so what's the deal with Matias Reyes?
In 2002, a man by the name of Matias Reyes came forward and confessed to raping Trisha in Central Park all those years before. He was already in prison for rape and murder, and he committed a similar rape in Central Park around the same time.
So… the members of the Central Park Five got to go free, right?
At that point, all of the members of the Central Park Five were out of jail, but there was DNA evidence from the crime scene that they were able to test, which connected Matias to the crime.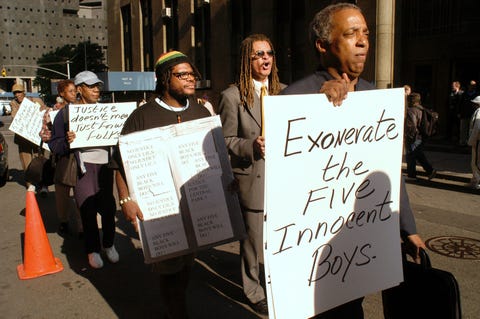 In December of that year, by recommendation from the Manhattan District Attorney, the sentences for every member of the Central Park Five were overturned.
Twelve years later, the five men settled with the city of New York for $41 million.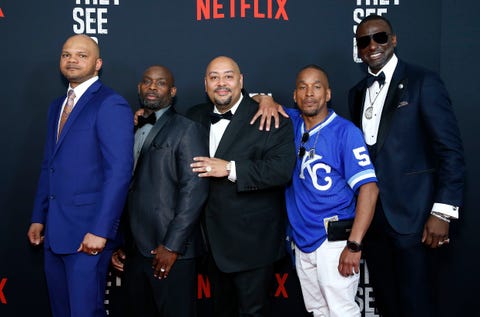 Wait, how's Donald Trump connected to all this?
After the attack on Trisha, the future-POTUS inserted himself into this national narrative by taking out four full-page ads in New York City's major newspapers that read, "BRING BACK THE DEATH PENALTY. BRING BACK OUR POLICE."
This is the full-page advertisement Donald Trump took out calling for the execution of the Central Park Five.
They were later exonerated by DNA evidence, although President Trump maintains that they are guilty. pic.twitter.com/vspZemnW93
"At what point did we cross the line from the fine and noble pursuit of genuine civil liberties to the reckless an dangerously permissive atmosphere which allows criminals of every age to beat and rape a helpless woman and then laugh at her family's anguish?" he wrote.
"I want to hate these murderers and I always will. I am not looking to psychoanalyze or understand them, I am looking to punish them … I no longer want to understand their anger. I want them to understand our anger. I want them to be afraid." Quick reminder, all the boys were between 14-16 years old at the time.
"When I first saw this ad, that Donald Trump made," Yusef said in a 2016 interview with The Guardian. "I knew that this famous person calling for us to die was very serious."
When the boys were eventually found to be innocent after the DNA evidence proved that Matias did it, Donald Trump never went back on what he said. Here's what he said about it as recently as 2013.
The Central Park Five documentary was a one sided piece of garbage that didn't explain the.horrific crimes of these young men while in park
He said the same thing in 2016, even after New York City had settled with the men for millions of dollars.
Source: Read Full Article