'I don't let it affect my life because otherwise, we will go mad.'
"That is the problem in our country. Anyone can get up and say I am from this sect or that and you cannot do this," movie superstar Ajay Devgn tells Patcy N/Rediff.com in the first part of a freewheeling conversation.
What attracted you to Indian Air Force officer Vijay Karnik's story on which Bhuj is based?
I thought it was a great story.
Bhuj is about a lot of heroes, not just Vijay Karnik.
Bhuj is about those women who had nothing to do with the army, navy or air force. It was an impossible task for them.
It's a story of a battle, which, if we would have lost, India would have been divided.
Bhuj and that whole section would not have been a part of India.
Why didn't you think of releasing in theatres?
It was too late for that.
We were supposed to release the film last August, but it delayed because of the lockdown.
When you make a product, as an actor, director, producer or any technician, you want the maximum people to come and watch it.
If you're getting appreciation on whatever platform, why wouldn't you want that?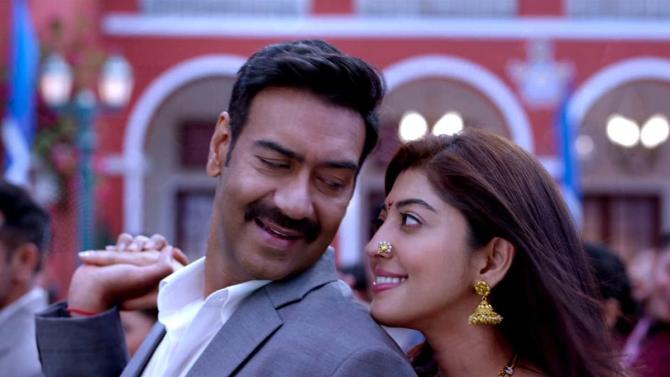 There are so many characters in Bhuj.
Sanju (Sanjay Dutt) is a great friend of mine. When he started the film, the only thing he said was that there are too many of us, just handle my role well.
I saw to it that everybody got justice.
We are one community.
We try to balance everybody properly. Whoever deserves whatever should be given. It's always been like this.
Don't you think there's a risk of being too jingoistic?
There has to be a balance. It's a thin rope.
As a creative person, do you think there are too many restrictions?
That is the problem in our country.
Forget army and air force, anyone can get up and say I am from this sect or that and you cannot do this.
Like I was doing a film and in a scene, they find the murderer and the dialogue was: 'Woh taxiwala hai.'
So somebody said 'Taxiwala mat bolo, taxiwale khade ho jayenge.' Use 'taxi driver'.
It's very complicated.
If you have a character, who is negative and you give them a typical surname, they will get upset.
So you have to make it a Kumar, which is generic.
Everybody is waiting for Sooryavanshi.
Hopefully, if everything goes well and the theatres open, we will release it in October.
Has any character that you played stayed with you?
I am a switch on-switch off actor, but a character who stayed with me was Bhagat Singh.
I don't let it affect my life because otherwise, we will go mad.
Every second day, we are playing a different character and if your character starts affecting you, it will be difficult.
What role do you like the most: Actor, producer or director?
I like them all. I get bored with the same thing.
You teamed up with Sanjay Leela Bhansali on Gangubai Kathiawadi after Hum Dil De Chuke Sanam.
Oh, it was great!
It was like we started right from where we stopped.
We had a great rapport then, and it was the same again, right from the first day of the shoot.
He's as passionate now as he was.
How is Maidaan shaping up?
We need to complete it. It has shaped up well.
It will be one of my best films.
What about May Day?
I have almost completed it; just five days of work left. It will release next April.
I finished it in the pandemic.
Do you ever sit down and watch your films?
Never.
Any of your films that your children like?
My daughter was in Singapore and my son is all about anime.
This morning, I caught him watching anime on the side along with his online classes.
He has started speaking Japanese because of these series!
Source: Read Full Article