Bigg Boss 15 Live Updates: The show hosts Jay Bhanushali, Umar Riaz, Tejasswi Prakash, Karan Kundrra, Vidhi Pandya, Donal Bisht, Vishal Kotian, Afsana Khan, Simba Nagpal, Sahil Shroff, Akasa Singh, and Ieshaan Sehgaal along with Bigg Boss OTT finalists Shamita Shetty, Pratik Sehajpal and Shamita Shetty.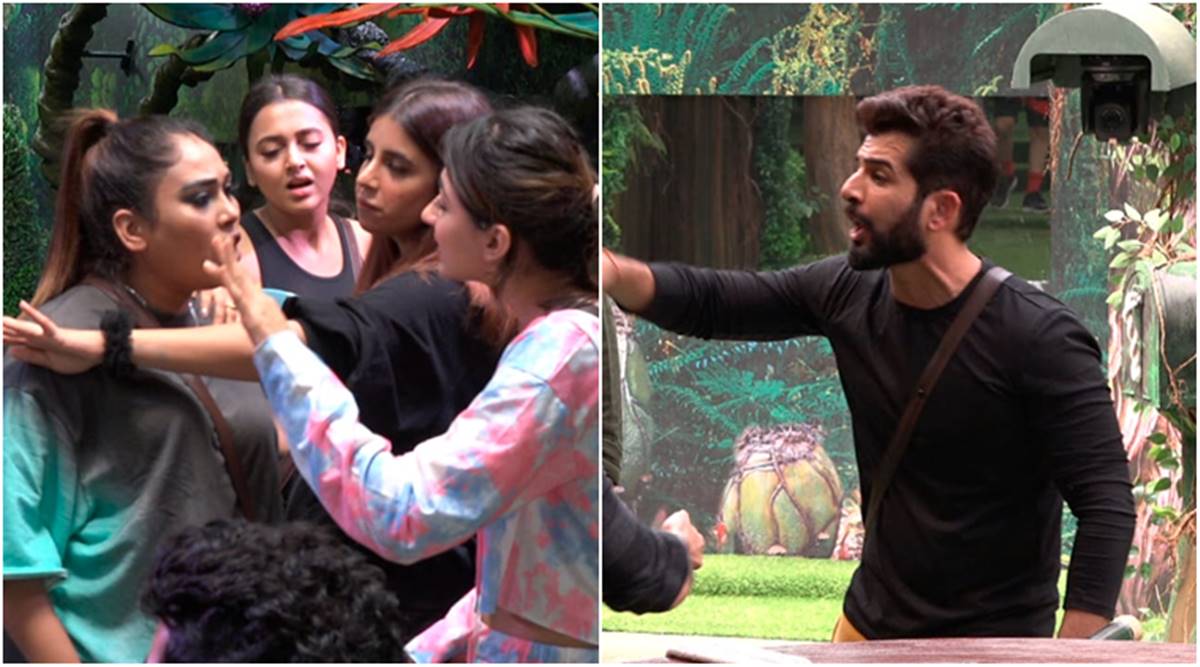 Bigg Boss 15 premiere episode might have started on a weak note, but the contestants have already pulled up their socks to grab attention from the viewers. Salman Khan introduced Jay Bhanushali, Umar Riaz, Tejasswi Prakash, Karan Kundrra, Vidhi Pandya, Donal Bisht, Vishal Kotian, Afsana Khan, Simba Nagpal, Sahil Shroff, Akasa Singh, and Ieshaan Sehgaal as Bigg Boss Jungle's 'praani' (beings). Later, Bigg Boss OTT finalists Shamita Shetty, Pratik Sehajpal and Nishant Bhat were introduced as the first three housemates of the Bigg Boss house.
Shamita, Pratik and Nishant became the only contestants who are enjoying the luxuries of the Bigg Boss house. They are safe from elimination and also have the chance to become captain till they are in the Bigg Boss house.
https://youtube.com/watch?v=sr3ecJw7-CM%3Fversion%3D3%26%23038%3Brel%3D1%26%23038%3Bshowsearch%3D0%26%23038%3Bshowinfo%3D1%26%23038%3Biv_load_policy%3D1%26%23038%3Bfs%3D1%26%23038%3Bhl%3Den-US%26%23038%3Bautohide%3D2%26%23038%3Bwmode%3Dtransparent
While Shamita and Nishant were mere observers during their first day, Pratik Sehajpal grabbed attention. From the moment he walked into the house and introduced himself, his attitude and body language did not go down well with Umar Riaz and Ieshaan. Umar and Pratik were also seen fighting with each other over attitude issues. It seems like Pratik has walked in with the same strategy he had during his stay in Bigg Boss OTT house. Housemates were also keen to know about Meisha and Pratik's relationship. This bond is sure to create more ripples in future.
Jay Bhanushali has stood out as a contestant. The actor-host, who usually appears as the most approachable and fun personality, has shown his aggression too. Among the girls, Afsana Khan seems someone who likes to pick fights for no reason. For her Bigg Boss is all about 'I, me and myself', and this approach has not gone down well with Vishal Kotian. Vishal had even stated that he does not like her much. So far, Simba, Vidhi, Akasa, Sahil and Donal are still trying to find their way in the house. These contestants will have to work harder as the game for others has already begun.
Follow all the LIVE UPDATES here:
Neha Bhasin did an AMA session on Instagram during which she replied a fan who asked if she is supporting Pratik Sehajpal. Pratik is currently in Bigg Boss 15. "My support and blessing for him are in my heart. Public support for him has only brought heartbreak for us both and extreme, brutal, one sided backlash for me. So, I think the world doesn't deserve to know my support for him," she replied.
https://www.instagram.com/p/CUmf3RkqihP/
A post shared by Tejasswi Prakash (@tejasswiprakash)
A post shared by Jay Bhanushali (@ijaybhanushali)
In a promo shared on Colors TV, Pratik and Jay are having a verbal fight as Karan Kundrra tries his best to ensure it doesn't get physical. Will he succeed?
A post shared by Jay Bhanushali (@ijaybhanushali)
Jay Bhanushali spoke about his bond with his kids. The actor called himself father version of Kabir Singh.
Karan Kundrra and Anusha Dandekar's breakup became talk of the town. The actor, who is now in Bigg Boss 15, had recently shared his opinion on if he would have been comfortable being in the Bigg Boss house with his ex-girlfriend. Karan told ETimes, "I have no problem with it. In fact, hum saath mein rahe hai (We have stayed together). I know her very well."
Jay Bhanushali's wife Mahhi Vij posted a cute message for the Bigg Boss 15 contestant. "I know this is a challenge I was excited for you to take @ijaybhanushali but I'm already missing you. But I'm sure it's going to be all worth it! One of us is inside and one outside but hands and hearts are joined forever, the journey will be together forever," she wrote along with a picture.
Pratik Sehajpal's friend and actor Karan Jotwani tweeted, "Pratik, since I know you during our Bebakee gig. I know you've got a good heart. how badly you wanted it to be there last year and now it's here for you. Stay focused bro. @AkasaSing singh my dear friend, a sweetheart. Good luck amaze singaaaa!"
Salil Arunkumar Sand tweeted a warning for Pratik Sehajpal. "#PratikSehajpal remember that #SalmanKhan is NOT #KaranJohar!! So be careful cause #Salman will set you right in the first #WeekendKaVaar itself so please Beware!" he tweeted on Monday.
Bigg Boss 15 contestants Jay Bhanushali, Vishal Kotian and Karan Kundrra have found a supporter in Kamya Punjabi. On Monday, the actor called them as the "most sensible" contestants of the current season.
Pratik is making sure that he is the 'sankat' aka trouble for the Bigg Boss jungle contestants. Pratik has been trying everything possible to pick fights, a strategy he has been using since his Bigg Boss OTT days. In Monday's episode, Pratik did not allow Meisha to use washroom to change her clothes. When she was changing with the help of other girls, Pratik kept coming towards her, which became a big issue. Vidhi objected to this and discussed the issue with housemates. Meisha, who knew Pratik before the show, supported him and said he did not mean to intrude in her personal space. But the conversation didn't end there as other contestants discussed the issue with Pratik. Shamita also took a part in the discussion. Later, Pratik was seen pointing out things of other contestants that were lying around. Irked by his behaviour, Vishal and Jay called him out. The two were seen arguing with Pratik. We also saw Karan talking to Pratik, only to give it up later and say, 'Bachcha hai, nahi samjhega.'
As the episode proceeded, Bigg Boss asked the contestants, apart from Shamita, Nishant and Pratik, to give away all their personal belongings. The discussion of what to be termed as necessities and what can be given away lead to a huge verbal spat between Jay and Pratik. Even Afsana and Vidhi got into a huge argument. Jay was seen trying hard to keep the 'jungle waasis' together. However, he is unaware that the tribe is already divided in several groups.
Bigg Boss 15 premiered on Saturday at 9:30 pm. The show will air on Colors TV from Monday to Friday at 10:30 pm while on the weekends, Salman Khan will host Weekend Ka Vaar at 9:30 pm. Fans can also watch the episodes on Voot and can see their favourite celebrities live on the OTT platform.
Source: Read Full Article