The non-VIP members fight against the VIP team for immunity.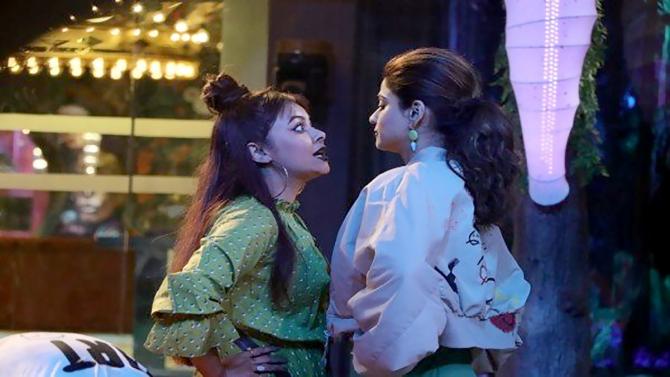 Thursday's episode begins with Umar Riaz rebelling against the VIP members as they didn't play fairly in the first two games of BB tournament.
He tells Rakhi Sawant that he won't wash their personal cups and utensils.
Nishant Bhat, Karan Kundrra and Shamita Shetty join the bandwagon.
They use the VIP room for their entertainment even though it's against the rules.
Rajiv Adatia also sits in the VIP room and does his duty of cutting vegetables along with Umar.
Pratik Sehajpal, on the other hand, doesn't agree rebelling against the VIP members.
Karan is upset with Tejasswi Prakash and tells her to play the game as she wants. Tejasswi is taken aback and tries to clear things with him.
Bigg Boss summons everyone in the living area and reprimands the non-VIP members for breaking the rules.
As a punishment, Bigg Boss makes it clear that the non-VIP members will now only be able to earn back the prize money if they win the upcoming tasks.
The non-VIP members are annoyed as they know the VIP members will play unfairly.
At night, everyone makes fun Abhijeet Bichukle, especially Rakhi Sawant. She says Abhijeet keeps staring at Shamita before going to sleep.
Tejasswi gets emotional and talks to Karan about their changing equation. She feels he's not the same and his behaviour has changed.
Karan tries to calm her down.
The next morning, Umar and Tejasswi get into a big fight. He states that she is jealous of Rashami Desai whereas Tejasswi accuses Umar of doing favouritism.
Both of them say nasty things to each other.
Pratik sides with Tejasswi and starts defending her.
Karan arrives at the scene but doesn't intervene between his bestie and girlfriend's fight.
Later, Karan tells Tejasswi that she is wrong in questioning Umar. He also tells her that she shouldn't taunt Umar if she doesn't like hearing taunts from him.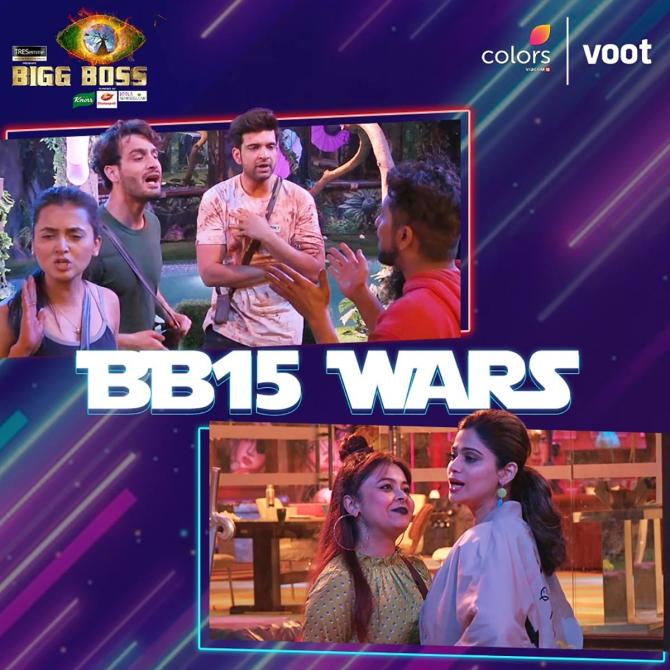 Meanwhile, Nishant and Pratik talk things out and sort their differences.
Soon Bigg Boss announces a new game wherein the non-VIP members have to make clay swords and the VIP members will get to save three of them.
Everyone starts strategising.
Karan talks to Rakhi and tries to convince her to save him in the game.
The buzzer rings and the non-VIP members start making their clay swords.
Devoleena Bhattacharjee, Rashami, Rakhi, Ritesh and Abhijeet discuss about saving the three housemates. The decide they won't give immunity to anyone unless they fight for it.
In the first round, the VIP members stick to their plan and announce no one is the winner as everyone's sword is imperfect.
Shamita is annoyed by the decision and declares she won't participate in the next round.
Devoleena later tells Rashami that no one is eager to win the immunity.
Rakhi feels all of them played the game safely which the audience doesn't want.
So will the non-VIP members fight with each other in the next round to win immunity? We'll have to wait and watch!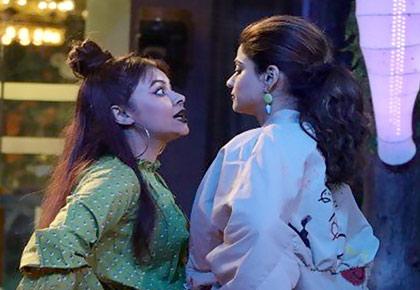 Source: Read Full Article