Wimbledon 2021 Semi-Final Live Score, Matteo Berrettini vs Hubert Hurkacz Tennis Live Score Streaming Updates: The winner of the contest will either face Djokovic or Shapovalov in Sunday's final.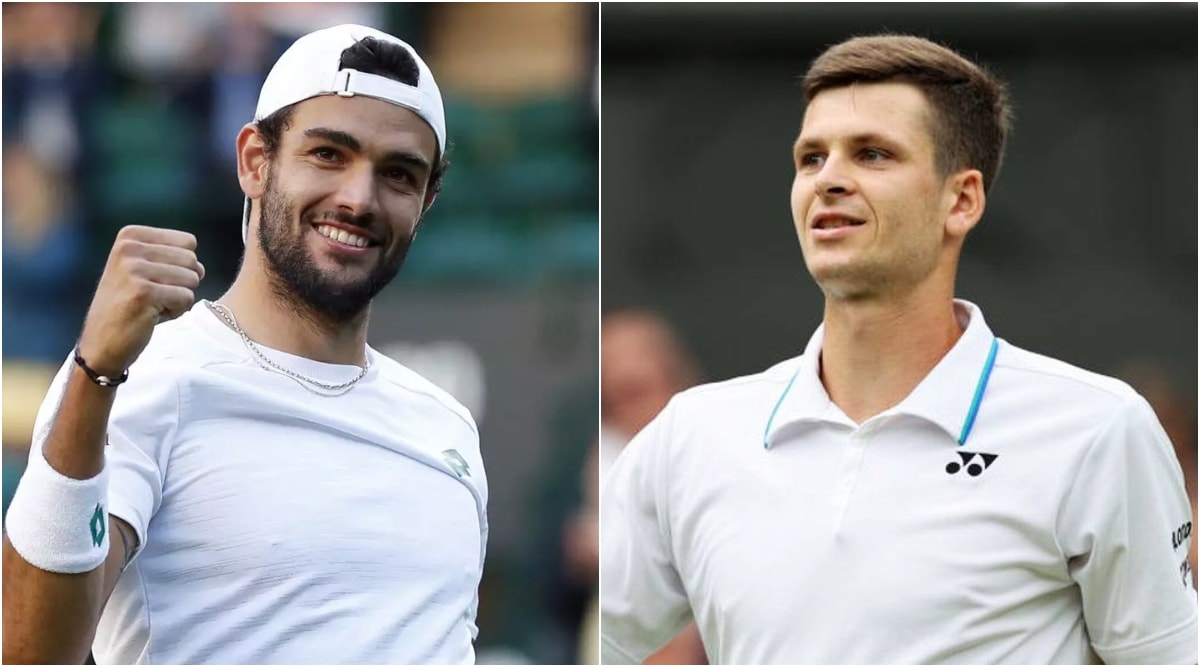 Wimbledon 2021 Semi-Final Tennis Live Score, Matteo Berrettini vs Hubert Hurkacz Tennis Live Updates: Eighth seed Matteo Berrettini of Italy will lock horns with Poland's giant-killing Hubert Hurkacz in the first men's singles semi-final of the Wimbledon Championships at the Centre Court in London on Friday. The winner will play Djokovic or Shapovalov in the final.
Berrettini, who has dropped just two sets so far, and Hurkacz, who has downed big names like Roger Federer and Daniil Medvedev on his way to the last four, will clash for the first time since Miami in 2019. Although Hurkacz has the upper-hand on head-to-head record, Berrettini is on a ten-match winning streak on grass. Meanwhile, history is on the line for both players. If Berrettini wins, he will become the first Italian — man or woman — to make a Wimbledon singles final, and if Hurkacz triumphs, he will be the first Polish man to advance to a Grand Slam final and the third player from his country to do so overall.
Wimbledon 2021 Men's Singles Semi-Final Live Score Updates:
Hurkacz finds some form back as he wrestles against Berrettini to make it 30-30 with some of his good old net play. But his confidence takes another beating as he gifts a point with a wayward forehand and then another! Second break for the Italian!
The wind is so on Berrettini's sails right now! He quickly wraps up three back-to-back games, breaking once to love. He seals the third game by losing just a single point against Hurkacz. Meanwhile, the Polish looks a bit shaky, devoid of confidence.
Berrettini wraps his serve quickly, losing just first point. Then he continues on his mission to win the first set, winning the first point in Hurkacz's serve. But two unforced errors makes it 30-15. Hurkacz has the opportunity to hold from 40-30 but his net-play falters… deuce! The Polish fails to keep his calm again, handing his opposition the first set with two misjudged forehands.
BREAK! Finally, the set has come alive owing to Berrettini's fireworks! He opens the game with a brilliant angled forehand to make it 15-0. Both the players deal alternative punches but the Italian has the last laugh as his dropshots draw the error from Hurkacz!
Apart from the third game, most of it has been easy for the servers. Berrettini sticks to his power-serves to make it 2-2 and then Hurkacz makes it nine straight service points for himself. Looking for the break, Hurkacz wins the first point in the next game, but Berrettini soon makes it 30-15 after a rally. Hurkacz fights back to make it to deuce… four times. In the end, Berrettini holds!
The composed start by Hurkacz is dealt a heavy blow in just his second service! Berrettini races to 0-40 with a combination of both his forehand and backhand, but Hurkacz bites back to make it 30-40. After saving two break points, he romps on with his smashes to make it deuce. He gains the advantage with an unreturnable serve and then saves his service owing to a Berrettini error.
Hurkacz starts on a bright note, sealing his first game by holding to love. A cool and composed one-and-a-half minutes by the Polish. Berrettini returns in kind… holding his serve to love owing to a wayward forehand by Hurkacz. Three minutes gone so far…
After the completion of the formalities, toss and warm-up, time for the action now. Hurkacz with the serve…
First Round: Hurkacz 6-4, 7-6, 6-1 Musetti
Second Round: Hurkacz 6-3, 6-2, 6-4 Giron
Third Round: Hurkacz 6-3, 6-4, 6-2 Bublik
Round of 16: Hurkacz 2-6, 7-6, 3-6, 6-3, 6-3 Medvedev
Quarter-Final: Hurkacz 6-3, 7-6, 6-0 Federer
First Round: Berrettini 6-4, 3-6, 6-4, 6-0 Pella
Second Round: Berrettini 6-3, 6-4, 7-6 van de Zandschulp
Third Round: Berrettini 6-4, 6-4, 6-4 Bedene
Round of 16: Berrettini 6-4, 6-3, 6-1 Ivashka
Quarter-Final: Berrettini 6-3, 5-7, 7-5, 6-3 Auger Aliassime
There are three first-time Wimbledon men's singles semi-finalists — Matteo Berrettini, Hubert Hurkacz and Denis Shapovalov — for the first time since 2006, when Rafael Nadal, Jonas Bjorkman and Marcos Baghdatis advanced to the last four.
Hello and welcome to the live commentary of the first Wimbledon men's singles semi-final between Matteo Berrettini and Hubert Hurkacz. Beating Felix Auger-Aliassime and eight-time champion Roger Federer in their respective last-eight contests, Berrettini and Hubert are aiming to go all the way to set up a final clash against either Novak Djokovic or Denis Shapovalov. Stay tuned!
Both Matteo Berrettini and Hubert Hurkacz will be playing in their first semi-finals at the All England Club, while it will mark Poland's Hurkacz's first semi-final at a major with his previous best being the third round in London in 2019. The 14th seed stunned eight-time champion Roger Federer in straight sets in the quarter-finals, having defeated second seed Daniil Medvedev in the previous round. He is only the second Polish man to reach a Slam semi-final, and beat seventh seed Berrettini in straight sets in their only previous meeting on the ATP Tour on the hard courts of Miami in 2019. But the big-serving Italian — who hit a 139mph delivery against Felix Auger-Aliassime in the quarter-finals — has pedigree on the grass, winning the Queen's title in June.
Source: Read Full Article