US Open 2021 Final Highlights: Daniil Medvedev wins his first Grand Slam in style, ending top-ranked Novak Djokovic's bid for a calendar slam with a 6-4, 6-4, 6-4 win in the men's singles final.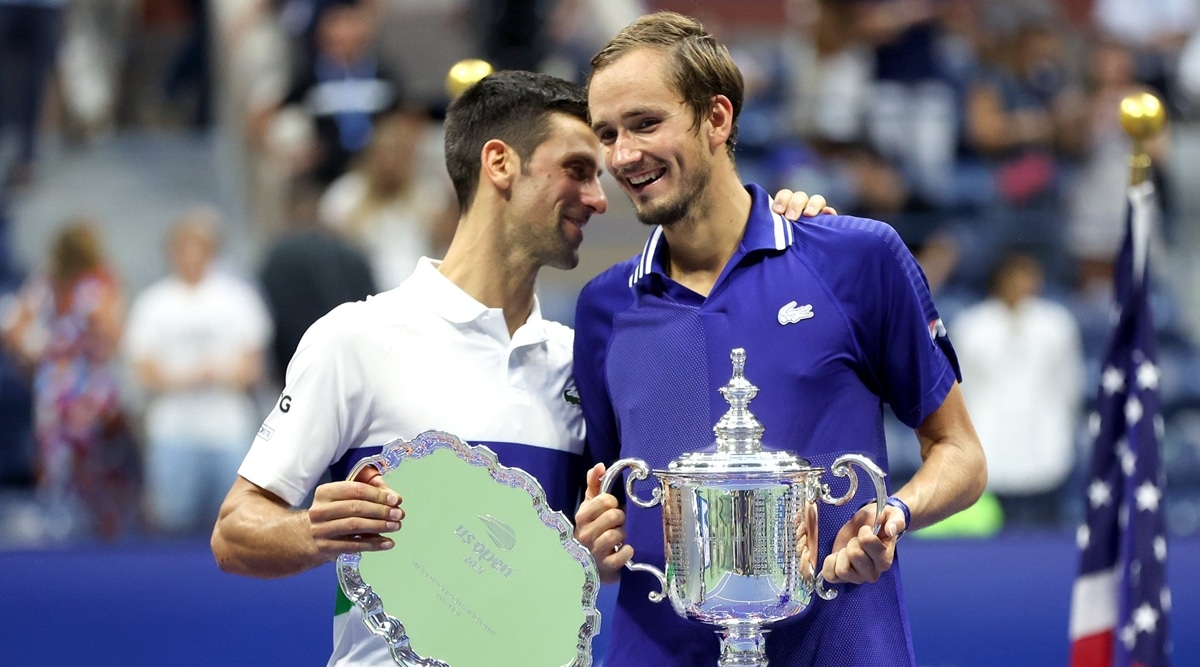 US Open 2021 Final Highlights: Daniil Medvedev lifted his first Grand Slam trophy on Monday after defeating Novak Djokovic 6-4, 6-4, 6-4 in two hours and sixteen minutes in the US Open men's singles final at the Arthur Ashe Stadium in New York. The second seed ended his opponent's bid for a calendar slam and a 21st major by dominating from start to finish.
While Djokovic failed to become the third man after Don Budge (1938) and Rod Laver (1962, 1969) to sweep all four majors in the same year, Medvedev capped off a stellar US Open outing with a memorable win. Almost announcing a change of guard, the Russian broke in the first game of the contest and from there, he remained in control throughout.
https://youtube.com/watch?v=840CLFmTeKg%3Fversion%3D3%26%23038%3Brel%3D1%26%23038%3Bshowsearch%3D0%26%23038%3Bshowinfo%3D1%26%23038%3Biv_load_policy%3D1%26%23038%3Bfs%3D1%26%23038%3Bhl%3Den-US%26%23038%3Bautohide%3D2%26%23038%3Bwmode%3Dtransparent
US Open 2021 Final Highlights:
Medvedev serves for the championship again and he enjoys a brilliant start as he goes to 30-0! Djokovic bites back to make it 30-15 but Medvedev's strong forehand gets him his second championship point! An unforced error by Djokovic and Medvedev wins it! He falls to the floor in celebration! Three straight sets against the GOAT! Simply brilliant.
Djokovic races to 40-15 and holds from there. He has now won four of the last five games.
Medvedev serves for the championship and it soon becomes 15-15. The Russian commits a double fault but a Djokovic unforced error equals things. Medvedev gets a championship point next but Djokovic breaks from deuce! What a game!
Djokovic wins the first point in his serve but Medvedev, as per usual, bounces back in no time. 15-15! A dropshot by Djokovic and then a point for Medvedev and then an ace by Djokovic! 40-30. An unreturnable serve and the Serb's safe!
Djokovic bites back and the crowd is loving it! He wins his first game of the third set in a late, late fightback.
The dream is slowly slipping away! After 27 straight wins, will Djokovic finally fall in New York? Medvedev just sticks to his brutal tennis, precise and accurate. He takes the game to deuce and breaks from there! His second in third set.
Medvedev breaks first again! He carries on with his momentum, keeps it simple and lets Djokovic commits the mistakes. But given the talent and stature of the Serb, is a comeback on the cards right now? The past does tell us so.
After Djokovic's hold, Medvedev starts off by winning the first point. He makes it 30-0 with an ace and then gains three set points with a brilliant drop-shot from close to the net. He loses two of them but he wins it off an unforced error!
After two straight holds, the second set stands in the control of Medvedev. Djokovic has to hold in the next game.
Djokovic fails to stop Medvedev in his serve and he pays the price. After failing to put five break points to good use, he falters first again, handing his opponent the lead. Medvedev takes it to deuce and breaks first in the second set!
Djokovic uses his second wind to take a 0-40 lead in his opponent's serve but Medvedev pulls off a tennis masterclass, winning the next five points at a stretch. The Russian carries on that momentum in the next game, exchanging equal blows with Djokovic in his serve. Medvedev gets a break point at 30-40, but Djokovic makes it deuce. After failing to seal the first advantage, he does win the game with an overhead smash. Brilliant tennis on display at the Arthur Ashe now!
After losing his fifth straight first set, Djokovic shows his quality in the second! He holds to love, showing that he's still just getting started. The crowd at the Arthur Ashe are showing their excitement in full voice. What a final!
Medvedev draws first blood after racing to a 40-15 lead. He then seals it in the next point.
Djokovic looks adamant not to continue with his first set routine! After going down 0-15, he bounces back to 30-15 with an end-rally smash! Medvedev pulls one back but the 20-time Grand Slam winner seals it to stay in the set.
After two straight holds, Medvedev continues the fashion in same fashion. He holds to love yet again.
Source: Read Full Article