Australian Open 2021 Men's Final Live Score Streaming, Novak Djokovic vs Daniil Medvedev Live Score Online: The fourth seed has won three of his last four matches against the 17-time major winner.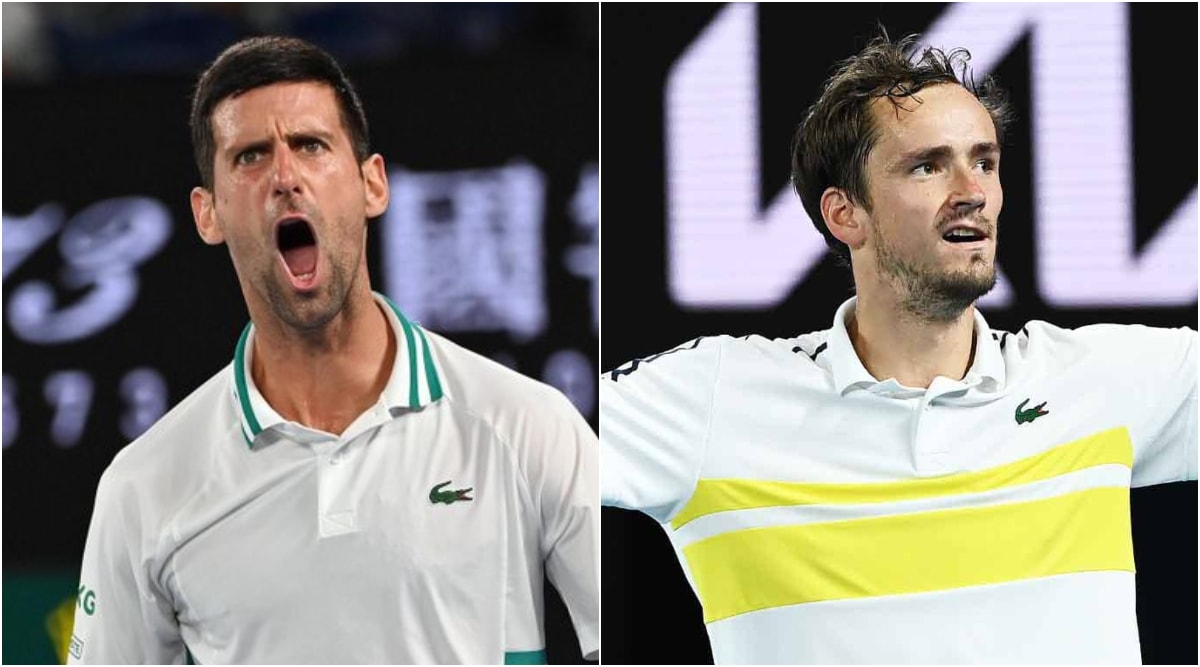 Australian Open 2021 Men's Final, Novak Djokovic vs Daniil Medvedev Final Live Score Updates: 17-time Grand Slam winner Novak Djokovic will lock horns with fourth seed Daniil Medvedev in the men's singles final of the 2021 Australian Open at the Rod Laver Arena in Melbourne on Sunday.
While the 33-year-old Djokovic has never lost a final at Melbourne Park, his reign has rarely looked so vulnerable. He suffered a huge scare against Dominic Thiem last year, and Medvedev is possibly the player he would least like to face. The rangy Russian has been a machine since November, clinching the Paris Masters, the ATP Finals, and the ATP Cup in a 20-match winning streak.
Australian Open 2021 Men's Final Live Score Updates:
Daniil Medvedev lost his first career Grand Slam final at the U.S. Open. And now he will try to win in his second try, which comes at the Australian Open on Sunday against Djokovic. "I know that to beat him, you need to just show your best tennis, be at your best physically, maybe four or five hours, and be at your best mentally, maybe for five hours," Medvedev said. "I would say to win a Slam, especially against somebody (like) Novak, is already a big motivation, and I don't think there is anything that can make it bigger."
A very different Australian Open comes to a familiar end on Sunday as Novak Djokovic looks to thwart another challenge to his Melbourne Park dynasty from the latest Grand Slam aspirant in Daniil Medvedev. Pilloried in the leadup for petitioning organisers to ease strict quarantine protocols for players, the Serb struggled with an abdominal strain sustained in the third round.His ability to manage the injury was key in bringing him within one match of a record-extending ninth Australian Open crown but he said he was fighting fit after beating Russian qualifier Aslan Karatsev in the semi-finals.Victory over fourth seed Medvedev would mean an 18th Grand Slam title for Djokovic, pulling him within two of the record 20 shared by "Big Three" rivals Roger Federer and Rafa Nadal.
Djokovic is seeded No. 1 and the two-time defending champion. He is seeking a ninth trophy at Melbourne Park and 18th Grand Slam title overall. That would move him within two of the men's record of 20 shared by Roger Federer and Rafael Nadal. Medvedev is trying to collect his first Grand Slam title. This is his second major final. He enters Sunday on a 20-match winning streak. The 25-year-old from Russia also has won his past 12 matches against Top 10 opponents.
Hello and welcome to the live commentary of the men's singles final of the 2021 Australian Open! 17-time major winner Novak Djokovic is all set to win his record ninth title in Melbourne against third seed Daniil Medvedev. In exactly an hour! Stay tuned!
Source: Read Full Article