Their leaders in the provinces, which have been under the control of Taliban commanders for several months now, speak the language of the bigot.
Women are known to have been abducted and enslaved.
Several young girls have simply disappeared.
Rashme Sehgal on the state of women under the Taliban.
During the past ten days, the people of Afghanistan have been in a state of shock and disbelief as the Taliban swept across Afghanistan.
Frightened for their future, several thousand Afghans have fled to neighbouring Tajikistan, Iran and Pakistan to find refuge.
Many thousands of men, women and children in extremely dire straits, who were living in the provinces, have trudged hundreds of kilometres to reach Kabul in search of food, shelter and some modicum of security.
Iran has set up refugee camps along their border.
Tajikistan is willing to provide shelter to up to 100,000 Afghan refugees and is already in talks with the United Nations and other international aid agencies to provide food and medicines for them.
Many thousands of Afghans have fled to Pakistan using the Chaman border crossing in Afghanistan's south east after the Taliban takeover.
According to UN data, Pakistan is already home to more than 1.4 million registered Afghan refugees who crossed over following the Soviet invasion more than 40 years ago.
Another major exodus followed when the Taliban 1.0 took over Afghanistan in 1996.
Many of these thousands who poured out of Afghanistan were housed in Nasir Bagh refugee camp located in the outskirts of Peshawar.
At its peak, more than one lakh Afghan refugees were housed here with several hundred more living on the streets and bylanes of Peshawar.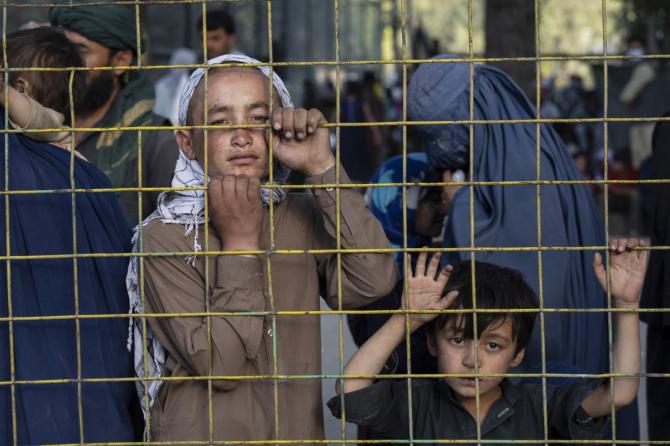 The present media images showing several hundred burqa clad mothers clutching on to their babies, depending on the goodwill of the local populace to provide them with food and milk for their children in the heart of Kabul reminded me of my visit to the Nasir Bagh refugee camp located in the outskirts of Peshawar on December 13, 2001.
This was the day that the Jaish-e-Mohammed attacked Parliament and I was followed by two ISI men in a jeep right through my visit there.
This sprawling tenement of more than one lakh refugees reminded me of an Indian slum with makeshift homes made out of bricks, canvas and plastic except that all the women living here wore burqas and the men were dressed in Pathan salwar kurtas.
The women I interviewed with the help of a Pakistani journalist translator had heart- wrenching stories of how they had seen their fathers and brothers shot down, daughters abducted by members of the Taliban and how they along with their young children had managed to escape to a life of acute deprivation.
In Pakistan, they were deprived of all rights and lived under the constant shadow of deportation.
"But at least we feel safe here," said a mother of three children.
Several of these women had, along with the elders in their family, complained about how they felt they had been abandoned by the world as do the majority of Afghan people today.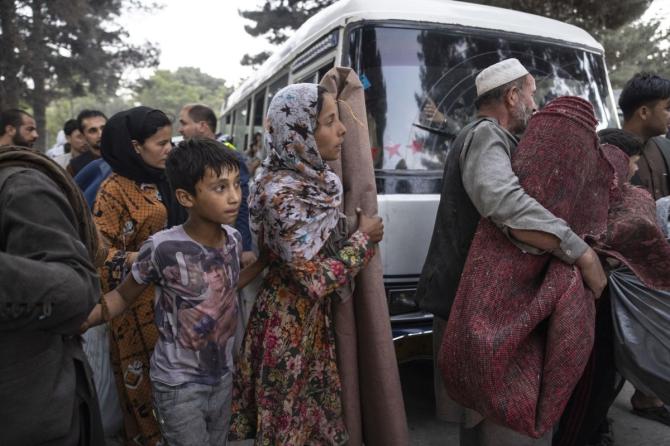 Last Saturday, Afghan film-maker Sahraa Karimi sent out a letter highlighting how the Taliban had 'kidnapped children, killed a woman in the name of dress, tortured and killed one of our favourite comedians as also a historian poet. They murdered the head of culture and media for the government. They have been assassinating people associated with the government.'
Karimi went on to emphasise how those associated with the earlier government were being hung in public and the overpowering fear of this new regime had resulted in the displacement of thousands of lives fleeing their homes to the comparative safety of Kabul.
Not only were there no arrangements in these impromptu camps where conditions were extremely unhygienic but the camps were being looted leaving these people even more fearful of their lives.
'This is a humanitarian crisis and yet the world is silent,' Karimi wrote.
This is a plea being repeated a thousand times over by articulate Afghani women who have access to android phones and the Internet.
Afghan women's rights activist Mahbouba Seraj, who heads the Afghan Women Network, has emerged as one of the most impassionate spokespersons for the plight of Afghan women.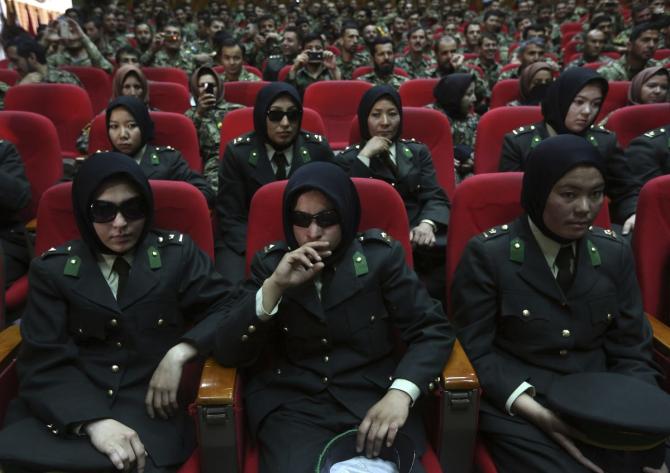 On Sunday, when the Taliban had taken over Kabul, Mahbouba Seraj went public over her feeling and in a video that this 'was the most fearful day of my life… It is like living in a void. I don't know what is happening around us. There is no government. There is a void of power as this transition takes place from one regime to another.'
Seraj spoke about how the last twenty years had seen a generation of men and women who had tasted freedom.
'These young women and men were educated, they were highly motivated and were very knowledgeable. How can they be told that they cannot work, they cannot be educated not participate in sports and other activities?' she asked in her video.
Echoing Karimi's feelings, she realised, sadly, that their world had changed dramatically and the change was going to be for the worse.
The following day Seraj's voice faltered when she had said in the course of an interview that, 'UN had failed us, India had failed us, the whole international community had failed us… We are a broken people, we are a broken country but we need to try and put our pieces together and live on… What is being destroyed in Afghanistan is something we worked so hard to create. This will put our country back by 200 years,' she said.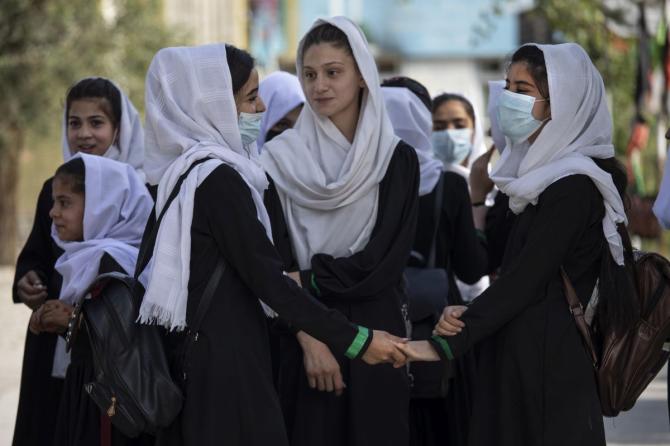 Women journalists, writers, film-makers, teachers, the average working woman is convinced the Taliban will come after them.
Many, after posting their fervent pleas for help, are lying low. Some, according to their friends, are untraceable.
'I'm sitting here waiting for them to come. There is no one to help me or my family. I'm just sitting with them and my husband. And they will come for people like me and kill me,' Zarifa Ghafari, Afghanistan's first lady mayor, said in her post on August 15.
There are several unnamed messages from Afghanistan of young university students revealing how they were forced to flee their university hostel on Afghanistan's black Sunday, August 15, 2021.
One student sent out a message saying, 'Afghan women sacrificed a lot for the little freedom they had. As an orphan, I weaved carpets just to get an education. I faced a lot of financial challenges, but I had a lot of plans for my future. I did not expect everything to end up like this.'
Karimi summed up the general mood when she said in her message, 'We will be pushed into the shadows of our homes and our voices, our expression will be stifled into silence.'
Afghan women took pride in the strides they had made in the areas of health and education in the last 20 years.
There were 9 million Afghan girls in school.
Herat, the third largest city, before the Taliban took over had 50 per cent women at university.
In these few weeks, the Taliban has destroyed several schools and forced two million girls out of school.
For the present, all schools and colleges remain shut as do most work places.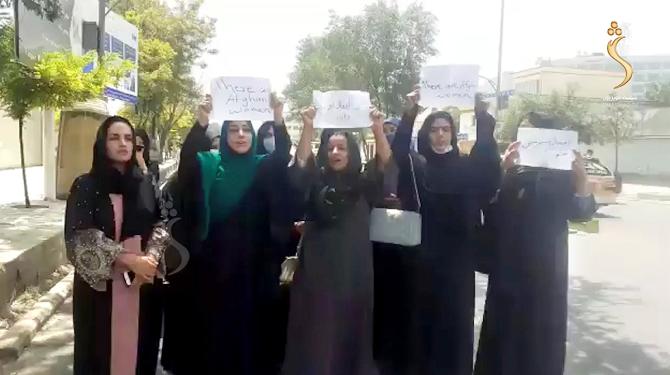 At the Taliban's first news conference, Taliban spokesman Zabihullah Mujahid stated women would be free to work but went on to add that all Afghanis must live within 'the framework of Islam' without explaining what he meant by that statement.
Mujahid went on to claim in the course of the same press conference that they believed women were 'going to be very active within our society' and they were confident women would join their government. This message has been received with scepticism.
Elder women remember how between 1996 and 2001 women had to wear burqas and were not allowed to leave home without a male escort. They would be stoned to death for committing adultery. Girls over the age of ten were not allowed to go to school.
Others believe this could be a ruse and if they did end up reaching their college or university, they could be punished.
Twenty years ago, the Afghan women I had interviewed in Nasir Bagh had spoken about how they were keen to return home to their own country.
Their situation then was indeed tragic because it was obvious that the average Pakistani, overwhelmed by their large numbers resented their presence and wanted them to return to their native country.
The UNCHR worked hard to provide relief to them and over a period of time the notorious Jalozai refugee camp and the Nasir Bagh refugee camp did shut down.
Many thousand, after the fighting ended in 2002, did make their way back to their country.
Now once again, with the Taliban back in power, they are streaming back.
While the Taliban 2.0 is giving an assurance that this time around they will introduce a more participatory form of government, the average Afghan does not believe them.
They see them as being proxies for Pakistan. Their leaders in the provinces, which have been under the control of Taliban commanders for several months now, speak the language of the bigot.
Women are known to have been abducted and enslaved. Afghan activists point out that several young girls have simply disappeared.
It is only when there is no hope in sight that people chose to seek refuge in another land.
Feature Presentation: Aslam Hunani/Rediff.com
Source: Read Full Article