One reason why sugarcane dues were abnormally high was that the ex-mill MSP of sugar had not been revised for more than two years.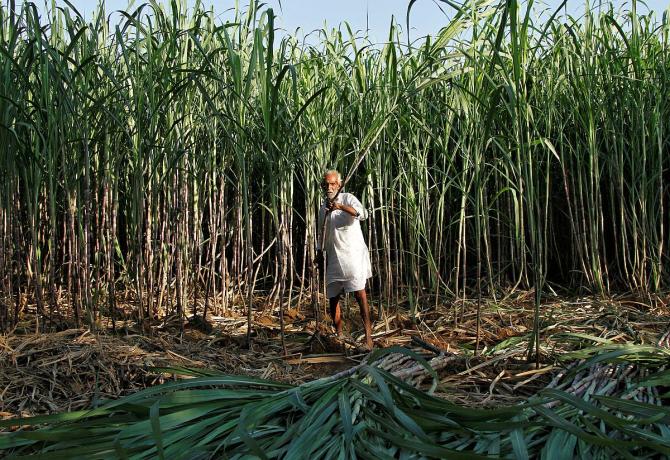 Sugarcane dues accruing to farmers rose to almost Rs 21,321 crore as of May 2021.
Of that Rs 18,820 crore is for the cane supplied in the current season, which will end in September, while the remaining Rs 2,501 crore is from previous years.
Of the pending sugarcane dues of 2020-21, almost 63 per cent accrues to the poll-bound state of Uttar Pradesh.
The remaining are from Maharashtra and others.
The sugarcane dues in Uttar Pradesh, unless cleared swiftly, could have consequences for the ruling BJP because sugarcane and the sugar-related economy, acc­ord­ing to some estimates, have a bearing on the results of 86-90 assembly constituencies of the state, which has 403.
More importantly, the bulk of the assembly constituencies of the sugarcane belt fall in the western part of the state, which has seen sustained protests by farmers against the three Central laws for more than six months.
A few days ago, a large delegation of farmers reached Lucknow to demand clearance of their pending sugarcane dues and other issues.
The farmers, according to news reports, had camped in state government offices.
Traders and industry sources said one reason why sugarcane dues were abnormally high despite record exports and a significant increase in diversion towards ethanol was that the ex-mill minimum sale price (MSP) of sugar had not been revised for more than two years.
This is important as an average sugar company still gets more than 85 per cent of its annual revenues from sales of sugar.
Rating agency ICRA in a recent research note said in the current fiscal the revenues and operating margins of sugar companies are likely to remain at similar levels of FY21, with the benefit of increased cane diversion towards B-heavy molasses being partly offset by expectations of higher production cost, reduced export subsidy as well as export volume.
The last revision of MSP of sugar was in February 2019 and since then the fair and remunerative price (FRP) of sugarcane has increased but the MSP hasn't been raised.
At present, the MSP of sugar is stuck at Rs 31 per kg and despite recommendations from several experts' committees including the NITI Aayog, the MSP hasn't been raised.
Sources said the sugar industry had represented to the government to raise the MSP by at least Rs 3 per kg so that working capital flows could improve and it could be used to clear the cane dues.
"As soon as the MSP is revised, market sentiment will improve, which will reflect in better realisations.
"More importantly, the valuation of sugar stocks, which is used to calculate working capital loans from the banks, will go up, thus enabling companies to get bank loans," an industry official explained.
He said as soon as the MSP of sugar was raised by Rs 3 per kg, the additional working capital that sugar companies could avail themselves of in the next sugar season was around Rs 9,300 crore, assuming 31 million tonnes would be produced.
If the MSP is raised now, mills can get extra working capital of Rs 3,600 crore, assuming that they have stocks of around 12 million tonnes.
However, a drawback is that this increase could have an inflationary impact on retail prices.
But sources said given that on average an Indian household consumes 4-5 kg of sugar per month, the impact will be less than Rs 15 on its monthly budget.
Photograph: Himanshu Sharma/Reuters
Source: Read Full Article