Share Market, Stock Market Live Updates: Catch all the LIVE updates related to stocks, shares, currency and commodity markets here.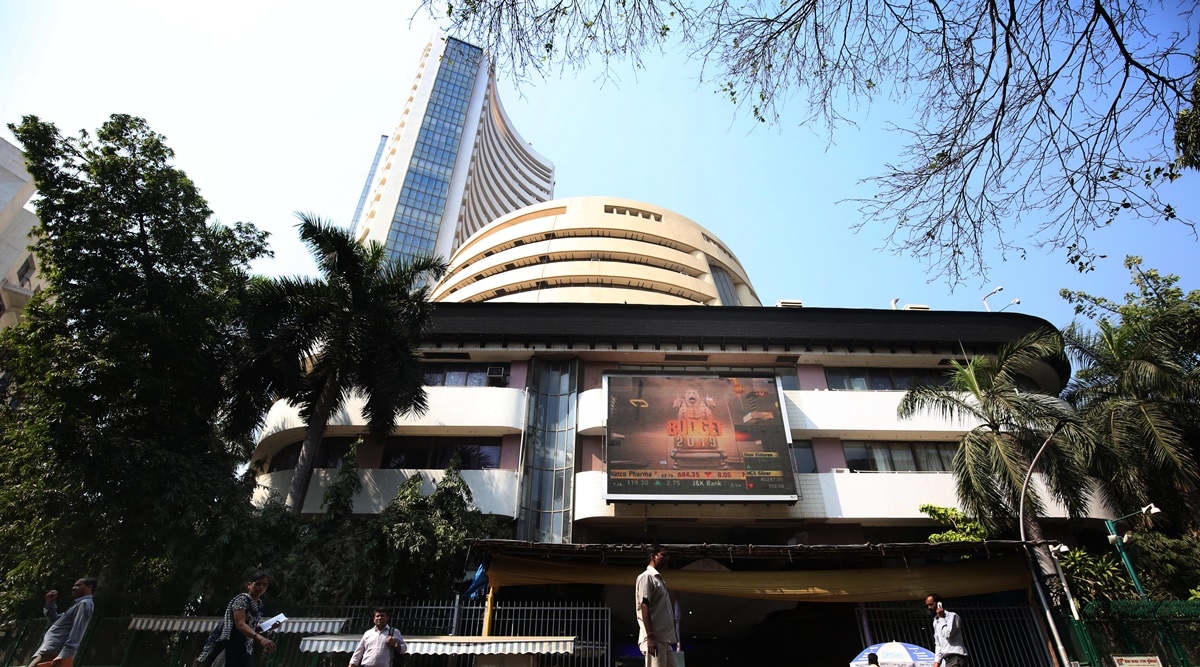 Share/Stock Live Updates: The benchmark equity indices on the BSE and National Stock Exchange (NSE) extended their morning gains and were trading over 1.25 per cent higher during the afternoon trade on Thursday taking cues from the global market.
Earlier in the afternoon session, Sensex hit a fresh record high of 59,764.79. At 2:05 pm, the S&P BSE Sensex was trading 802.18 points (1.36 per cent) higher at 59,729.51 while the Nifty 50 was up 230.85 points (1.32 per cent) at 17,777.50.
Bajaj Finserv, Axis Bank, Larsen & Toubro (L&T), ICICI Bank, IndusInd Bank and State Bank of India (SBI) were leading the charge on the Sensex pack in the early afternoon session. On the other hand, Dr. Reddy's Laboratories, ITC, Tata Consultancy Services (TCS) and Ultratech Cement were among the laggards.
Among the sectoral indices, the Nifty Realty index was trading over 5 per cent led by Godrej Properties, Hemisphere Properties India and DLF. The key Nifty Bank was up over 2 per cent led by Axis Bank, ICICI Bank and IndusInd Bank.
(with inputs from agencies)
Stocks, BSE Sensex, NSE Nifty, Crude oil prices, gold, silver prices, commodity market and money markets LIVE updates:
The S&P BSE Sensex ended at 59,885.36, up 958.03 points or 1.63 per cent, while the Nifty 50 settled at 17,822.95, up 276.30 points or 1.57 per cent.
Crude oil prices rose Rs 30 to Rs 5,354 per barrel on Thursday, as participants widened their positions on a firm spot demand.
On the Multi Commodity Exchange, crude oil for the October delivery traded higher by Rs 30, or 0.56 per cent, at Rs 5,354 per barrel in 5,914 lots.
Analysts said raising of bets by participants kept crude oil prices higher in the futures trade.
Globally, West Texas Intermediate crude oil was up 0.32 per cent to USD 72.46 per barrel, while Brent crude traded 0.33 per cent higher at USD 76.44 per barrel in New York.
(PTI)
Gold prices fell Rs 297 to Rs 46,375 per 10 grams in the futures trade on Thursday, as speculators reduced their positions amid low demand.
On the Multi Commodity Exchange, gold contracts for the October traded lower by Rs 297, or 0.64 per cent, to Rs 46,375 per 10 grams in a business turnover of 6,594 lots.
Analysts attributed the fall in gold prices to trimming of positions by participants.
Globally, gold traded 0.57 per cent lower to USD 1,768.60 an ounce in New York.
(PTI)
Petrol and diesel prices continued to remain steady across the country for the 18th successive day on Thursday, September 23, 2021. The prices of the key auto fuels were last revised on September 5 when petrol and diesel prices were cut by 15 paise per litre each in the national capital.
The price of petrol in Delhi stands at Rs 101.19 per litre while that of diesel is at Rs 88.62. In Mumbai, petrol currently costs Rs 107.26, while diesel is retailing at Rs 96.19, data available on Indian Oil Corporation's website showed. Click here to read
Petrol prices in the country are not coming down as the states do not want to bring fuel under the ambit of the GST, Petroleum Minister Hardeep Singh Puri said.
In an interview to PTI here, Puri said petrol prices crossed the Rs 100-mark in West Bengal as the TMC government is levying heavy taxes. Click here to read
New Delhi wants to block Chinese investors from buying shares in Indian insurance giant Life Insurance Corp (LIC) which is due to go public, four senior government officials and a banker told Reuters, underscoring tensions between the two nations.
State-owned LIC is considered a strategic asset, commanding more than 60% of India's life insurance market with assets of more than $500 billion. While the government is planning to allow foreign investors to participate in what is likely to be the country's biggest-ever IPO worth a potential $12.2 billion, it is leery of Chinese ownership, the sources said. Click here to read
The Federal Reserve on Wednesday cleared the way to reduce its monthly bond purchases "soon" and signaled interest rate increases may follow more quickly than expected, with nine of 18 US central bank policymakers projecting borrowing costs will need to rise in 2022.
The moves, which were included in the Fed's latest policy statement and separate economic projections, represent a hawkish tilt by a central bank that sees inflation running this year at 4.2%, more than double its target rate, and is positioning itself to act against it. Click here to read
Asian shares moved higher on Thursday, supported by some positive news from struggling developer China Evergrande Group, while the dollar held near a one-month top after the US Federal Reserve took a hawkish tilt overnight.
However, investors remained on edge about Evergrande's future, with a major test to come later on Thursday when $83.5 million in dollar-bond interest payments are due.
Evergrande's shares surged 23% on Thursday after a unit said on Wednesday, when the Hong Kong market was closed for a holiday, that it had "resolved" a coupon payment on an onshore bond.
The Hong Kong benchmark rose 1.6%, boosting MSCI's broadest index of Asia-Pacific shares outside Japan , which gained 0.64%
Elsewhere, Chinese blue chips gained 0.74%, Australia's benchmark rose 1.04%, and Korea's Kospi fell 0.6% after returning from a three-day break to catch up with global falls earlier in the week.
US stock futures, the S&P 500 e-minis, were up 0.31%.
(Reuters)
Sensex rallies 407.17 pts to 59,334.50 in opening session; Nifty surges 119.85 pts to 17,666.50.
(PTI)
On Wednesday, the frontline equity indices on the BSE and National Stock Exchange (NSE) had ended marginally lower weighed by private banks and NBFC stocks.
The S&P BSE Sensex slipped 77.94 points (0.13 per cent) to end below the 59,000 level-mark at 58,927.33 while the Nifty 50 settled at 17,546.65, down 15.35 points (0.09 per cent).
Source: Read Full Article