'The entire public needs to be evacuated immediately. Any day, the entire town can collapse.'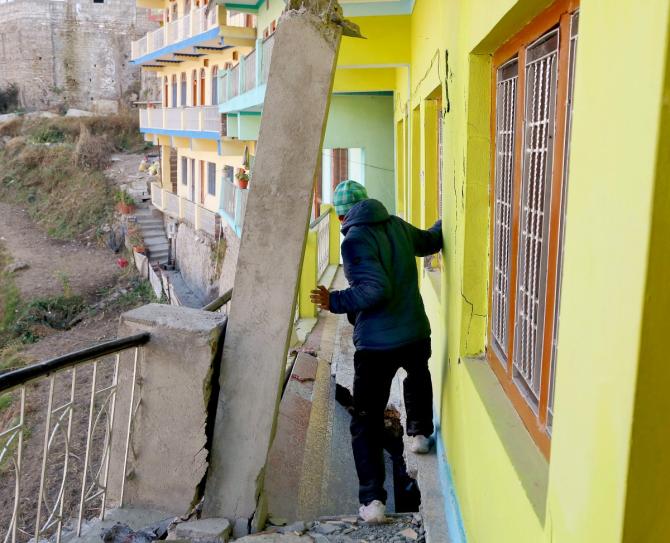 It is not only Joshimath, a gateway to Badrinath and Hemkund Sahib, which is sinking.
A host of towns in these fragile, seismically vulnerable, mountains are sinking.
These include Nainital, Uttarkashi, Bhatwari, Gopeshwar, Guptkashi, Karnprayag, Mussorie and a host of villages where homes have developed major cracks.
Villagers blame the tunneling work being done on the Rishikesh-Karnprayag rail project and the dynamiting taking place for the extension of the Char Dham road for these cracks.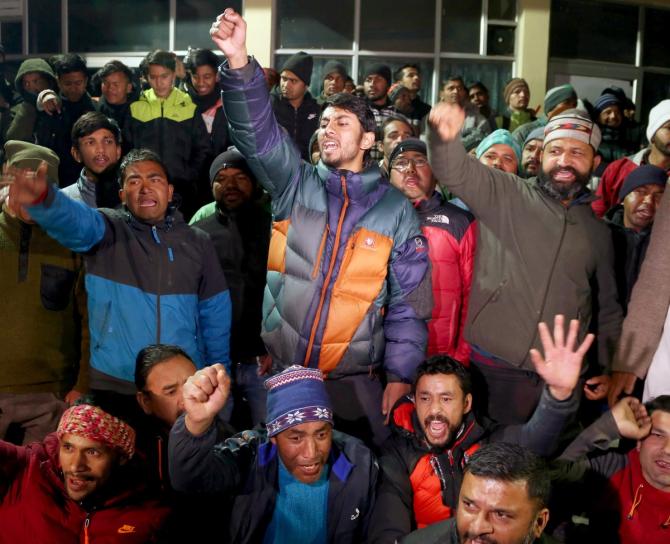 Of course. the problem in Joshimath is the most pressing. Over 800 houses have developed major cracks with harried residents being forced in freezing cold to get their belongings together and move to temporary relief camps.
As a first step, the government expects to evacuate over 6,000 of the 25,000 residents of Joshimath.
Officials of the National Disaster Management Force and the State Disaster Response Force have declared the town unsafe and feel that ultimately all the residents will have to be evacuated.
The Chamoli district administration issued orders for the demolition of two hotels, Mount View and Malari Inn, both of which are leaning towards each other posing a threat to other houses in the vicinity.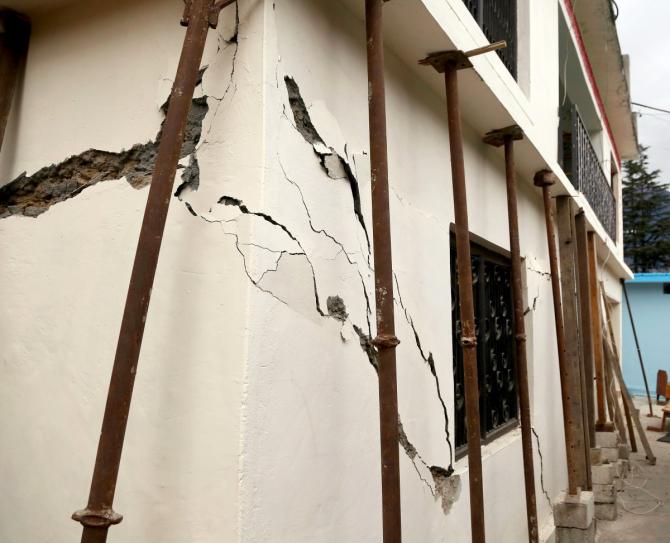 The residents of Joshimath are not willing to move out at such a short notice. Their anger is spilling on the streets.
Demonstrations were held on Tuesday night demanding to know what compensation they would receive from the Uttarakhand government for pulling down their houses.
So far they say they have received no intimation from the administration on what they expect to receive.
Thakur Singh Rana, a hotelier, pointed out that the people want a one-time settlement on the lines of what the people in Kedarnath were paid in 2013.
The story of Joshimath is one of government apathy and indifference.
For the last three years, the Joshimath Bachao Sangarsh Samiti has been issuing repeated warnings to the state government on apprehensions that the town was sinking. These went unheeded.
On December 24, 2022, the Samiti held a protest highlighting the state government's failure to address fears on Joshimath's subsidence which had caused major structural defects in almost all the wards in the town.
"For the last 14 months we have been warning the government about the cracks appearing in our homes and on the streets of our town, but they paid no heed," says Atul Sati, who heads the JBSS.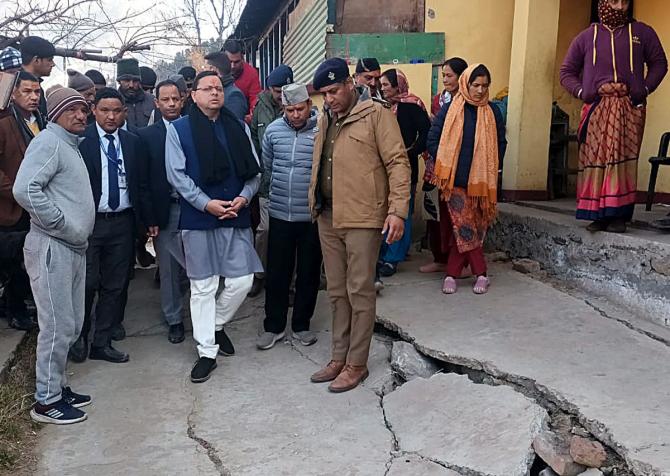 Residents point out how experts like Dr Ravi Chopra of the People's Science Institute and geologist Dr S P Sati were asked to visit Joshimath in late 2021 following the glacial disaster that damaged parts of NTPC's Tapovan-Vishnugad hydel project, which led to the deaths of several score people.
Scientists and geologists were also invited in 2022 to look into the causes of why these houses were facing ruptures.
Despite three reports having been prepared on the subsidence of Joshimath, no heed was paid by the administration.
Several representations made to the chief minister also went unheeded.
It was only when a chakka jam was held on January 3, 2022 on the Rishikesh-Badrinath national highway that the government realised the seriousness of the situation.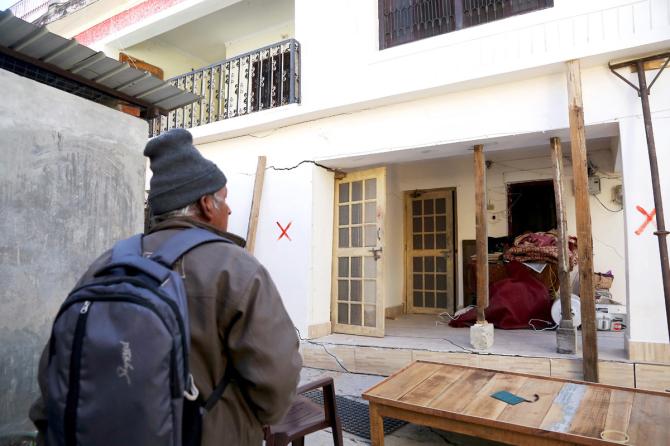 Residents blame large infrastructure projects which have come up in and around Joshimath like the National Thermal Power Corporation's Tapovan Vishnugad hydropower project.
A tunnel is being dug under Joshimath and many residents blame the construction of this tunnel for the damage to their homes.
The residents also blame constuction of the Helang bypass, which is located 13 km away from Joshimath and is meant to shorten the distance to Badrinath by 30 km.
This four lane bypass is being constructed using heavy machines and by blasting these fragile hills, which has been opposed by the scientific community.
On Thursday, January 5 2023, NTPC issued a a statement saying the tunnel being built is not going under Joshimath, adding the construction work is being done using a tunnel boring machine, implying thereby that it is not doing any blasting (by use of dynamite) as is the case with the Char Dham road.
Uttarakhand State Disaster Management Authority Secretary Ranjit Kumar Sinha insists the houses have developed cracks because of the 'loosening of soil', claiming 'there is no evidence to suggest the situation has been caused by the NTPC tunnel'.
But scientists do not agree.
Dr C P Rajendran, adjunct professor at the National Institute of Advanced Studies, Bengaluru and an expert on seismo-tectonics and earthquakes, has frequently warned against the large scale infrastructure projects (66 tunnels and over 200 dams presently being built in Uttarakhand) that pose a major risk to the fragile ecosystem of this small hilly state.
Dr Rajendran has described the Char Dham road project as a 'freeway to disaster', fearing such unscientific road construction is having a catastrophic consequences for the mountain ecology.
Not only have these engineering interventions resulted in a sharp acceleration in landslides, but he believes the construction of the 125 km long rail track from which 105 km will be tunnels is also adversely impacting the Himalayan mountain chain in terms of tectonics.
"There is a belief that building tunnels may decrease the infrastructural impact on the environment. But these subsurface structures could result in gross damage to the environment," says Dr Rajendran.
"Rail traffic may rely on electric locomotion, but constantly generated vibrations during train movements is another issue related to tunnels that would lead to weakening rock formations further leading to landslides besides generating a huge amount of waste," he explains.
Dr Rajendran warns that the Himalayan environment is on the "brink of collapse".
"It may not be able to withstand another push generated by these intrusive anthropogenic activities in the form of massive projects like highways, railway tracks and dams."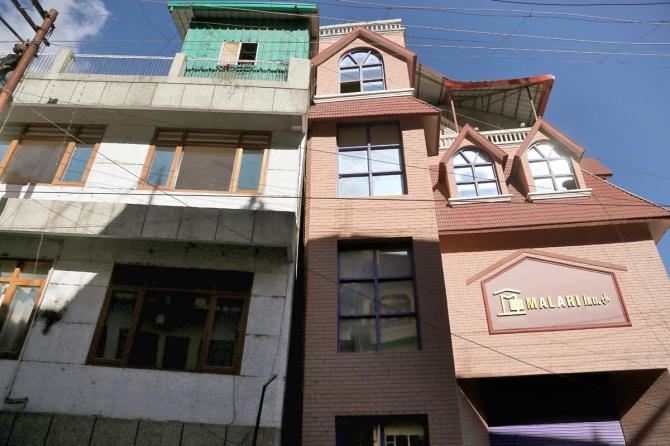 Garhwal geologist Dr S P Sati was among the scientists invited by the Joshimath Bachao Sangarsh Samiti to prepare a report in 2022 on the reasons why this temple town was sinking and what immediate steps must be taken to halt the process.
"Joshimath cannot be saved. It is too late," Dr Sati says. "The entire public needs to be evacuated immediately. Any day, the entire town can collapse."
"The government knew the town had been built on a moraine which are para glacial sediments that are not static. These moraines get mobilised due to heavy rainfall events. All our warnings against heavy construction on these unstable foundations went unheeded," says Dr Sati
The prime minister and senior government functionaries, Dr Sati says, should understand that many of the towns in the upper Himalayas have come up on moraines and therefore there should be a halt to unplanned growth which does not take into account the carrying capacity of these areas.
Kedarnath, Badrinath and several other towns in Uttarakhand, he adds, have all come up on moraines.
The most immediate step that needs to be taken is to ban all construction activity.
Prepare detailed plans for each of these towns to ensure they have proper drainage and sewage systems in place.
Town planners need to know where the rainfall water is going, how much of groundwater percolation is taking place and to ensure that the natural Himalayan streams are not destroyed.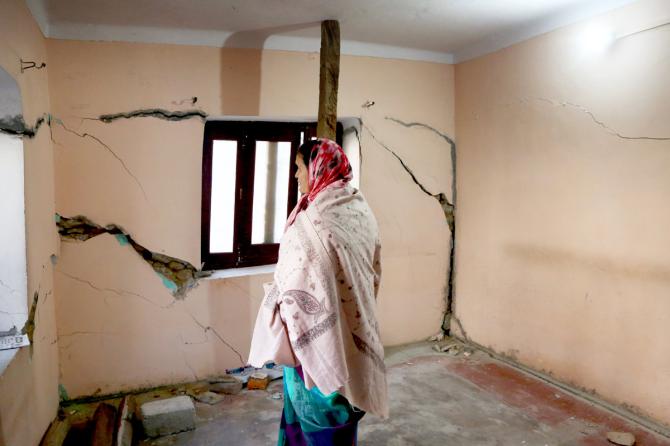 Karnprayag, a town which is close to Joshimath, has over 50 houses which have developed cracks and its residents are scared that it may also go the way of Joshimath.
The village of Marora has over 48 homes that have developed cracks.
The villagers blame machines being used for cutting slopes and flattening their terrace farms to build tunnels. This is part of the Rishikesh-Karnprayag rail project.
Displaced residents from Joshimath, currently lodged in overflowing relief camps, confront a bleak winter.
Forced to live in one-room tenements, they believe their life savings spent on building and furnishing their homes now lies ruined.
Many have home loans taken from banks to repay and blame the government for its indifference to their problems.
Seventy-year-old D S Rawat, who has spent his life working for the Sashastra Seema Bal, is a broken man.
His tearful wife Godambari sits by his side in the one room they have been allotted in the relief camp set set up in the local municipal office in Joshimath.
They feel their entire life's savings has been lost overnight and a desolate future awaits them.
Many residents of Joshimath are not willing to leave their homes and insist the state government cannot force them to move out.
Feature Presentation: Rajesh Alva/Rediff.com
Source: Read Full Article