'The advocate tells me not to worry as truth will prevail one day.'
'I don't know… I am losing all hope…'
It has been six months since Sidhique Kappan, a journalist from Kerala was arrested by the Uttar Pradesh police along with three other young men in Mathura under Section 17 of the Unlawful Activities (Prevention) Act, a draconian Act that that deals with raising funds for terrorist acts.
The UP police alleged that the journalist had links with the Popular Front of India, a Muslim organisation based out of Kerala, and charged him with sedition and provisions of the UAPA.
From that day began his young wife Raihana's fight to free her husband from the clutches of the UP police.
If she was extremely hopeful in November when Rediff.com's Shobha Warrier spoke to her first, by mid-December, she was shaken and devastated.
Today, her voice has become feeble, and it broke several times when she spoke. As if she has lost all strength and hope…
The UP police filed a 5,000-page chargesheet in the Mathura court against Sidhique and seven others from the Popular Front of India and the Campus Front of India for sedition, criminal conspiracy, funding of terror activities, etc.
It has named your husband as the conspirator who had planned riots at Hathras while the Campus Front leader Rauf Sherif has been charged with collecting funds from the Middle East…
I don't know how to react to these charges.
Yes, I came to know that the chargesheet has more than 5,000 pages but I have not seen it.
I am sure they might have worked really hard to write a 5,000-page charge sheet. I have no idea what kind of evidence they have managed to write in 5000 pages!
I am told they have reproduced even the reports Ikka (Kappan) had filed for Azhimugham.
The only plan they have is to extend the case indefinitely.
It is all a sinister plan to trap them by creating such terror links so that all of them including my husband will find it difficult to escape.
It began from the time they were caught at the Toll Plaza; everything was planned in detail then itself.
At the Toll Plaza, Ikka had shown all his id cards, and told them that he was just a reporter going to Hathras to do a story. They told him then that he would be released soon as it was just a routine check of all those who were going to Hathras.
Ikka had asked them at least a thousand times, 'What is the problem? Why are you detaining me?'
The police had assured him then that he would be let off by evening. By then, orders came from the top to arrest him.
Is there anything wrong if a reporter planned to go to Hathras when such a heinous incident had happened there?
In fact, he had reported about the incident earlier quoting some Communist leaders who had already gone there. Only after that, he had decided to go to talk to the family and the local people.
Kappan came home on a 5-day bail to see his mother some time back. You were seeing him after many months…
I had been running from pillar to post just to get a chance to see Ikka, but it was a heart-breaking sight to see him coming home surrounded by around 20 policemen…
He had changed so much physically; he had become very thin, and all his hair had turned grey. He looked tired and frail.
But it was so distressing to see him go back. I just couldn't control myself as I had no idea when I would be able to see him next.
In the beginning, I had truly believed he would get bail from the Supreme Court very soon. Because he was a journalist and an innocent man, I was confident that he would be free soon.
Not even in my wildest dreams did I expect such a turn of events. I never thought our lives would change so dramatically.
In the last six months, we have had only conversations over phone lasting just five minutes. When I saw him albeit briefly, I wanted to talk to him a lot, but we didn't get enough time.
He told me, and told them also that he wanted to go to Hathras along with somebody else as he couldn't afford to take a taxi on his own.
Another reason why he wanted someone who knew the local UP dialect was, he had studied Hindi only up to 10th standard and had only a working knowledge of the language, which he acquired after going to Delhi. It is quite different from the kind of UP Hindi that they talk in the villages.
The rape issue became big all over India when Rahul Gandhi and Priyanka were stopped on the way. So, they wanted a target to divert the attention.
And, there in front of them was a journalist, a Muslim, that too from Kerala.
You said last time that he was tortured while in police custody. Did he say anything about that?
The torture started soon after the arrest.
Ikka told me that they asked a lot of lewd and rude questions, like when they saw some of the messages he had sent to me in his phone, they asked whether he would kiss his wife, whether he had a girlfriend, etc.
When he replied, 'I am 41 years old and I have a wife and three grown up children', the reaction was physical abuse saying, 'You don't look 41.'
When they asked whether he ate beef, he just smiled. This made them very angry and they asked again in a thunderous voice. He replied, sometimes. Then they removed his specs and slapped his face.
They wanted to know which Communist MP from Kerala sent him to Hathras.
This was how they treated him in police custody.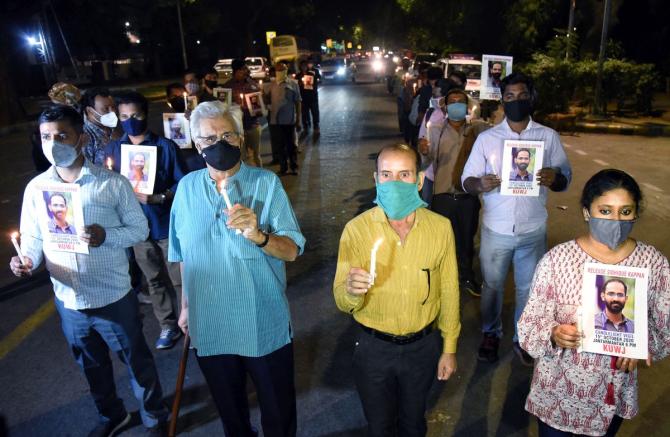 Did you ask him whether he expected any problem when he decided to go with members of the Campus Front of India?
Yes, I did. Ikka said if he had sensed any problem, he would not have gone with them.
He decided to accompany them as they were from UP so that they would be able to help him with the local language.
If he had suspected any problem, do you think he would have gone with them?
Will anyone willingly put their head in a lion's den?
Is he hopeful of coming out of this ordeal?
It is but natural that he is disheartened by the turn of events. Sometimes I get the feeling that he has lost all hope.
From the way they questioned him, he got the feeling that they were trying to trap him.
He said, truth has to come out one day. There is a Supreme Court in India which he said, would value the truth. He asked me to pray for that day.
He told me many times, 'I know I am innocent. So, I am not scared. I went there only with the intention to report'.
What worries him is the imposition of UAPA on him. As a journalist, he also knows that many innocent people are languishing in various jails on whom UAPA was slapped. I could sense that he was under a lot of tension, and it has affected the sugar level too.
What about you? How are you coping?
I don't know why they have kept an innocent man in custody. He is not a member of any political party. There is not even a petty case against him.
Who is going to gain by trapping Ikka like this? What pleasure are they getting by making a 90-year-old mother, a wife and three young children shed tears every day?
Honestly, I do not know whether I should live… I am in such a mental state right now.
The advocate tells me not to worry as truth will prevail one day. I don't know… I am losing all hope…
I am trying to be strong for Ikka. He also acts strong so that I will not crumble. But I can sense what he feels inside. After all, I am his wife.
I am moving on only because of the support I get from a lot of people who believe in truth. Whenever I fall down, they are there to lift me up.
Feature Presentation: Aslam Hunani/Rediff.com
Source: Read Full Article