Karnataka Bengaluru Coronavirus (Covid-19) Latest News Live Updates: As many as 2.21 crore inoculations have been conducted in the state till date, including those who received their first and second doses.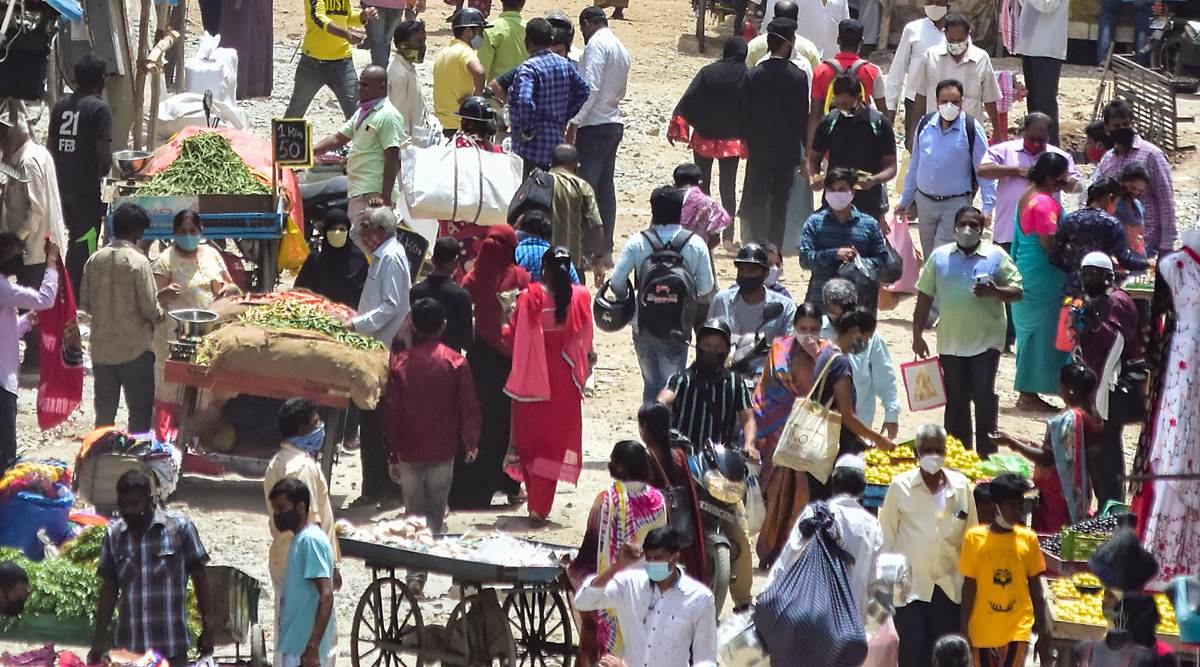 Karnataka Bengaluru Coronavirus News Live Updates: Karnataka on Monday reported 2,576 new cases and 93 deaths, taking the caseload to 28,37,206 and toll up to 34,836. Active cases stood at 97,592 — this is the first time in over four months this number has dipping below one lakh. The positivity rate for the day was 1.92 per cent and case fatality rate was 3.61 per cent, a health department bulletin stated.
Meanwhile, 5,933 patients recovered in the state on Monday, taking the total number of recoveries to 27,04,755, the bulletin said.
Bengaluru Urban district logged 563 new cases and 18 deaths, the highest among the districts in the state. The city has so far reported 12,11,993 cases and 15,599 deaths. It now has 62,430 active cases.
Catch the latest news in Bengaluru and Karnataka as we bring you live updates on COVID-19, COVID-19 vaccination and lockdown across the state and more throughout the day. Also read Chennai Hyderabad news
In the wake of the number of mucormycosis cases increasing in the state, the Karnataka government has capped the price of CT and MRI scans in private hospitals and laboratories, used to diagnose the fungal infection.
The rate for a CT scan of the brain, PNS (paranasal sinuses), and orbits are now capped at Rs 3,000 and Rs 4,000 each for BPL and APL patients respectively. The capped prices for an MRI of the brain, PNS, and orbits will now be capped at Rs 7,500 and Rs 10,000 each for BPL and APL patients respectively, a government order stated.
Meanwhile, the order clarified that the service will be offered for free in government facilities. Karnataka has reported 3,232 cases of mucormycosis so far.
The Bangalore Water Supply and Sewerage Board (BWSSB), said that several areas across Bengaluru will be facing disruptions in water supply on June 30 and July 1.
According to the BWSSB statement, the disruptions will be caused due to repair works at the TK Halli, Harohalli and Tataguni pumping stations in the city.
The areas that will be facing disruptions in water supply are Shettihalli, Kammagondanahalli, Mallasandra, Bagalagunte, T Dasarahalli, HMT ward, Peenya second stage, third stage, fourth phase, Rajagopal Nagar, Ganapathi Nagar, MEI Colony, Lakshmidevi Nagar, BHCS Layout, Happy Valley, part of BDA Layout, Uttarahalli, Bellandur, Ibbalur, Koramangala first block, fourth block, fourth C block, J block, Military campus ASC center, Siddhartha Colony, Venkatapura, Teachers Colony, Jakkasandra and Jakkasandra Extension, ST bed area, part of Jayanagar fourth T block, Arsu Colony, Thilaknagar, NEI Layout, East End A & B main roads,Krishnappa Garden, BHEL Layout, BTM second stage, Mico Layout, NS Palya, Gurappanpalya, Sudguntepalya, Bismillah Nagar, JP Nagar fourth to eighth stages, Puttenahalli, Jaraganahalli, RBI Layout, Panduranga Nagara, Arakere, Mico layout, Doresani palya, Kottanuru Dinne, Venkatadri Layout, Chunchaghatta, Konanakunte, SBM Layout, Supreme Residency Layout, Lake City, Nadamma Layout, Rotary Nagar, Kodichikkanahalli Village.
HSR Layout first to seventh sectors, Agara Village, Mangammanapalya, Madina Nagara, ITI Layout, Hosa Layout Palya, Bande Palya, Chandra Layout, BEML Layout first to fifth stage, Nagarbhavi, Annapoorneshwari Nagar, Vishweswarayya Layout all stages, BEL Layout all stages, Mallathahalli, Ulala, D group Layout, Railway Layout, Byadarahalli, Rajajinagar, Mahalakshmi Layout, Rajajinagar sixth block, Basaveshwar Nagar, Manjunath Nagar, Nandini Layout, Goragunte Palya, Shankar Nagar, Prakash Nagar, Kurubarahalli, Shankarmatha, Kamala Nagar, Kamakshipalya, BEML Layout, KHB Colony, Shivanagar, Agrahara Dasarahalli, Papiah Garden and surrounding places.
Karnataka CM BS Yediyurappa wrote a letter to Kerala CM Pinarayi Vijayan on the Kasaragod name board issue. He requested his counterpart Pinarayi Vijayan to stop the change of original Kannada names of villages in the border districts of Kasaragod and Manjeshwar.
Former Chief Minister HD Kumaraswamy, has also written to Mr Vijayan, asking that the renaming process be halted.
'Names of the villages in Kasaragod and Manjeshwara are very close to the emotions of people and carry immense sentimental value to them from time immemorial. Hence it is very astonishing to note that in the recent past there is an attempt by the local bodies to change names of some villages without giving any opportunity to the residents of these areas to express their views. The change of villages' names would affect the feelings of the people and their sentiments detrimentally, ' Yediyurappa said.
A couple of Karnataka districts sharing borders with Kerala, namely Kodagu and Dakshina Kannada have made negative Covid-19 certtificates mandatory for those entering the state.
The district administrations have clarified that RT-PCR Covid-19 negative certificates will be mandatorily checked for people coming from Kerala from Tuesday.
According to Dakshina Kannada Deputy Commissioner K V Rajendra, those failing to produce the negative test certificate would be subjected to a test at border checkposts. Meanwhile Kodagu DHO Mohan said they were randomly carrying out a rapid antigen test (RAT) at both checkposts as a containment measure. He added that checks at entry points were intensified since Sunday itself.
With more cases indicating the presence of the Delta Plus variant of Covid-19 being identified in different parts of the country, Karnataka is at present testing around 600 samples using the genome sequencing technique.
According to Health and Family Welfare Minister K Sudhakar, the rise in cases of the new variant in Maharashtra and Kerala border is a matter of concern for the State. "Randomised tests would be conducted for those entering the state. To date, two Delta Plus cases have been reported in the state," he said.
In a bid to engance coverage of vaccination across all areas of the Karnataka capital, local body the Bruhat Bengaluru Mahanagara Palike (BBMP) has commenced a door-to-door survey to identify those who are yet to get a dose of Covid vaccine and to ascertain reasons behind the same.
According to BBMP Chief Commissioner Gaurav Gupta, officials are preparing a list of such persons and the areas or localities they live in. "The reasons for not getting vaccinated could vary from no primary health centre (PHC) nearby and access to vaccination possible only through BBMP's outreach. Special vaccination camps will be organised in such uncovered pockets," he said.
Having threatened to quit as an MLA, "upset" at the way he has been treated by a section of the party, influential BJP legislator Ramesh Jarkiholi, who was forced to resign as state Water Resources Minister in March this year after a woman raised allegations of sexual assault against him, is seen as making renewed attempts to get back into the B S Yediyurappa government.
The cases filed by the woman, and an extortion complaint filed by Jarkiholi as a counter of sorts, are meanwhile still under police investigation.
The MLA from Gokak, in Belagavi district, has over the past few weeks met former Maharashtra chief minister Devendra Fadnavis, an influential Lingayat seer in Karnataka, and an RSS leader in Belagavi — all part of what is seen as an effort to push for his return to the state Cabinet.
Read more
Good morning!
Welcome to the live blog from Bengaluru where we bring to you the latest updates on COVID-19 vaccination drive, COVID-19, lockdown, BBMP and more across Bengaluru and Karnataka. Follow the blog to stay up to date with the state in real time.
Karnataka Education Minister Suresh Kumar Monday released the schedule for the Secondary School Leaving Certificate Examination or the 10th standard examination. SSLC exams will be held for two days. The first papers — Science, Maths and Social Science — will be clubbed in one paper on July 19 and the second paper on languages will be held on July 22.
READ | Karnataka releases schedule for SSLC exam, II PU results in July
Two more arrests have been made in the murder case of former BJP corporator Rekha Kadiresh, the Bengaluru police said on Monday. According to officers, Mala Rajkannan, the sister of Rekha's late husband, and her son, Arun, were arrested on Sunday.
READ | Former BJP corporator killed in Bengaluru: Victim's sister-in-law, her son arrested
Here are a few contacts that might come in handy for you in emergency situations:
COVID-19 related queries / emergencies / clarifications: 104 (toll free); +91-80-4684-8600/6669-2000 | Home Quarantine-related queries: Telegram messenger/WhatsApp – +91 97777 77684, Voice call – 080 45451111 | BBMP control room: 080-22221188 | In case of power disruptions, contact BESCOM: 1912. If the water supply is hit in your area, contact BWSSB: 1916
Karnataka Bengaluru Coronavirus June 28 Highlights
Source: Read Full Article