Sofia Richie has a new ring in her life, folks. In case ya haven't heard, Sofia's been all boo'd up with a really hot dude named Elliot Grainge since spring 2021, and they just got engaged! Even though their relationship was brand-spankin'-new back in April 2021 (at least to the public, anyway), things between Elliot and Sofia are progressing quickly down the aisle…which means it's time to dissect every single detail of Elliot's life, of course.
Since you don't have anything better to do at the moment (and probs wanna see if Elliot's as cute as everyone's reported, LOL), please read on for the intel you so desperately crave!
Elliot proposed!
Sofia confirmed that she is engaged to Elliot on Insta this week, posting this sweet 'gram:
https://www.instagram.com/p/CclL4g2pUS0/?utm_source=ig_embed&utm_campaign=loading
A post shared by Sofia Richie (@sofiarichie)
Elliot is a music executive at an independent record label.
He's the founder and CEO of 10K Projects, an indie record label based in Los Angeles that's helped artists like Trippie Redd and Tekashi 6ix9ine (and others!) get their careers off the ground.
https://www.instagram.com/p/B3cm0gflOye/?utm_source=ig_embed&utm_campaign=loading
A post shared by 10K Projects (@10kprojects)
His dad is a BFD.
Working in the music industry quite literally runs in Elliot's DNA—his father is Lucian Grainge, the chairman and CEO of Universal Music Group. Not impressed? Well, Elliot's dad has worked with EV-ER-Y-ONE, including but not limited to Lady Gaga, ABBA, Jay-Z, Elton John, Katy Perry, Queen, Rihanna, the Rolling Stones, Sam Smith, U2, Amy Winehouse…and more!
After witnessing his dad's work firsthand, Elliot quickly became obsessed with learning the ins and outs of the music industry. "I was a weird kid who used to read the music trades," he told Variety. "What I noticed about my father's negotiating style was how transparent, honest, and sensible he was. When you put your cards on the table like that, negotiating is less competitive and more about teamwork. How can we get this done together so that everybody is happy?"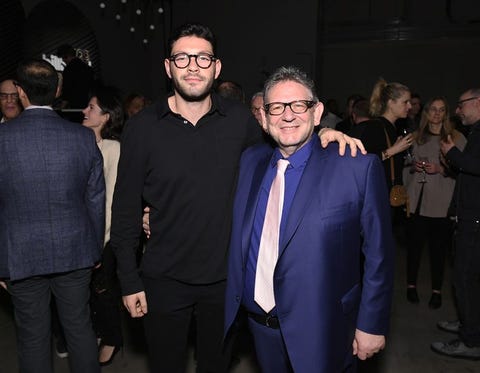 Some other random facts about Elliot's dad—he's casually referred to as Sir Lucian Charles Grainge, CBE, meaning that he's been awarded the Most Excellent Order of the British Empire for his contributions to the arts and sciences! Elliot's dad is also pretty good friends with Simon Cowell and used to have him over on weekends while he was living in England.
He's British.
Elliot grew up in England and later moved to the United States in 2009 after his father became the CEO of Universal Music Group. He attended Northeastern University in Boston.
Sofia's family approves of him.
When Entertainment Tonight first reported that Elliot and Sofia were dating, the outlet explained they "have been friends for years and Elliot is also close with Sofia's brother, Miles. It's very nice for Sofia to date someone who her family approves of and likes."
https://www.instagram.com/p/CM5asccA2Lk/?utm_source=ig_embed&utm_campaign=loading
A post shared by Sofia Richie (@sofiarichie)
In November 2021, Sofia posted a picture of her and Elliot for his birthday, with a caption that read, "You are everything to me. I love you, happy birthday babe ❤️‍🔥." Her big sis Nicole Richie hopped in the comments to share her appreciation for Elliot too. "Elliot I love you more than you love Instacart," wrote Nicole. Awww, we love to see one big happy family!
https://www.instagram.com/p/CV8RksOPVZi/?utm_source=ig_embed&utm_campaign=loading
A post shared by Sofia Richie (@sofiarichie)
He and Sofia got pretty serious soon after dating.

While ET initially said that Sofia and Elliot are "happy together and having fun," an Us Weekly source is saying it's a biiiiit more than that now. "They started out as friends before they became a couple and are now getting serious," an insider told the outlet. "Their relationship took off and they have been getting closer and closer and spend practically every day together."
And now they are engaged!
He's got a chill personality.
Elliot is a "super-sweet and really cool guy" who enjoys being more of "a private person," which Sofia really digs. "She loves that he's low-key and isn't someone who craves the spotlight. They like to be homebodies but also enjoy going out together," Us Weekly's source added.
Source: Read Full Article