Scarlett Johansson and Florence Pugh have developed quite a friendship over the last few years. The two initially connected while working on Marvel's latest movie, Black Widow, and have remained close since the conclusion of filming.
Even though Johansson wasn't sure what to expect when she first met Pugh, she now admits that she adores the young actor. Pugh's infectious personality and lighthearted personality made filming Black Widow a joy for Johansson, and she openly admits that Pugh made her job easier on set.
'Black Widow' star Scarlett Johansson says Florence Pugh is a breath of fresh air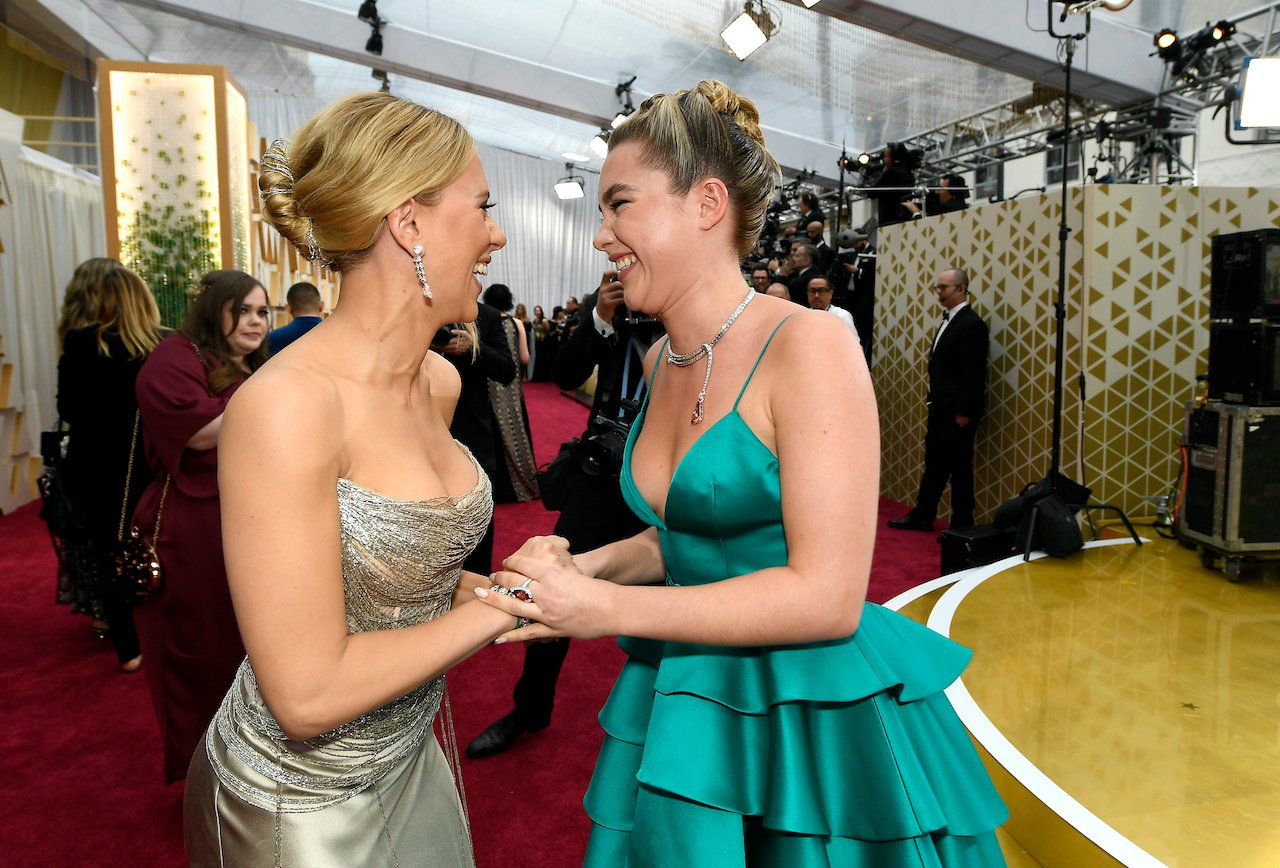 Johansson raved about Pugh during a recent interview with SiriusXM.
"Florence is just a stick of dynamite," she said. "She is so energetic, she's so fresh, she's just a breath of fresh air. And soulful, and mischievous, and all of the things that come across on screen, that's how she really is. She's just a really, really dynamic person, and she's a wonderful woman, and supportive, and engaging, and funny. She's so funny, and again, just so naughty. And such a troublemaker in the best kind of way."
Johansson was already looking forward to working with Pugh after seeing her performances in other films but wasn't sure what to expect prior to meeting her.
'You don't know that somebody's gonna be like that," Johansson said. "She's such a loveable person off-screen as well. You never know how a person's going to be. And it doesn't actually matter. I mean, if you look at their work on-screen and you say, 'Wow, this person's a great actor,' you're already sold because you're excited to work with them and work on stuff. … If you get along too, that's great, but you don't have to. It's not always the case."
Working with someone she likes makes her job easier
As is the case with most professional environments, Johansson is able to work more freely around an actor that she gets along with. Pugh's charming ways allowed Johansson to come to work each day with a more relaxed outlook, which can be seen on screen in Black Widow.
"[It] makes the job easier in some ways," Johansson added. "She and I just really, genuinely like each other so much, and I find her to be so endearing. And all of that stuff really — in this case — really added to this dynamic between the two girls because their relationship is — yes it's two women who have this shared trauma. And that is in some ways, that's what binds them, but they also love one another."
Scarlett Johansson and Florence Pugh bonded during their intense action sequences
In a separate interview with Access, Johansson admitted that the two actors' violent action scenes together actually helped them grow closer, as strange as it might sound.
"Day one, we were slamming each other into door frames and getting each other into headlocks and choking each other out," Johansson said. "And it was an interesting way to sort of just hit the ground running with another actor. Yeah, we're in each other's physical intimacy very early on. It actually ended up being kind of the perfect ice breaker."
Black Widow is now playing in theaters.
Source: Read Full Article