The following article references sexual abuse.
Simone Biles' career is something to behold. As Jemele Hill wrote in The Atlantic, the gymnast happens to be "the greatest athlete in the world today," and that's "a statement of fact."  Before the 2020/2021 Olympics, Biles was widely considered to be the best gymnast of all time with a total of 30 Olympic and World Championship medals, as noted in The Athletic. But even with all the attention that comes with all the accolades and hardware, there is still plenty to learn about the phenom. While her agility, skill level, and complex routines have taken the world by storm, there's more to Biles than just gymnastics.
From her childhood and family, to her mental health struggles, to her relationship with Jonathan Owens, Biles shares a lot of her life with her millions of fans. But even the biggest fans might not know everything about the elite gymnast. So let's get into what you never knew about Simone Biles.
Simone Biles' 'road to success' started when she was adopted
If you've only caught Simone Biles as she was winning gold medals and dominating competitions, you may not know the struggles she faced while growing up. During the third episode of her Facebook Watch series "Simone vs Herself," the superstar athlete got real about the challenges she endured as a kid. She said she and her siblings were placed in foster care after her birth mom couldn't take care of their family. Her adoptive mother noted that Simone's birth mom was drinking and doing drugs, which is what led to the children having to move out.
Luckily, Simone got to stay with her siblings in the foster care system, which, as she noted, doesn't happen for all families. However, moving around so much led to food insecurity. In the episode, the Olympian said, "Growing up, me and my siblings were so focused on food because we didn't have a lot of food." Ultimately, Simone and her younger sister Adria Biles were adopted by their grandparents, and her two older siblings were adopted by another aunt.
On a 2017 episode of "Dancing with the Stars," she shared, "I remember them saying, 'Okay, well you know how you called us Grandma and Grandpa? You can call us Mom and Dad now, if you want to.'" This move changed the gymnast's life in a big way. As Simone wrote in an essay for CNN, "My road to success began the day my grandfather and his wife officially adopted my sister and me." 
Simone Biles' sister Adria was also a competitive gymnast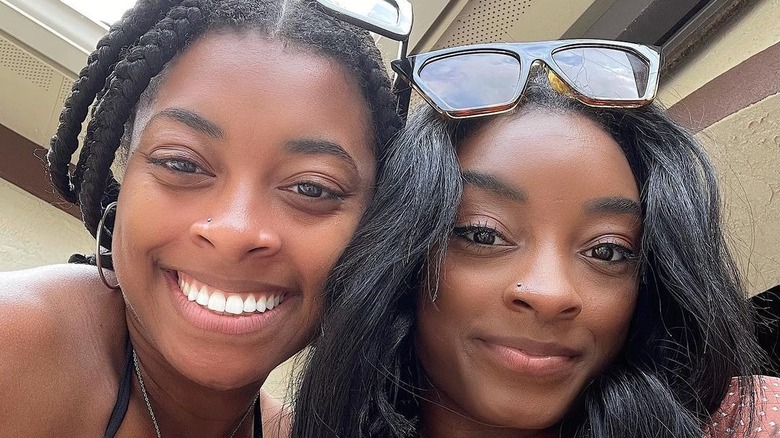 We all know that Simone Biles is an incredible gymnast, but did you know that her sister Adria Biles trained alongside Simone for years? In a piece for ESPN, Adria wrote, "When we were little kids, we'd stand on a railing on the second floor of our house, then jump off onto the couch down below on the first floor. She'd go first, and I'd follow. We were both gymnasts, so we were always trying things around the house. Nothing scared her." And while Adria is an impressive gymnast in her own right, unlike Simone, Adria never joined the U.S. women's gymnastics team.
Adria competed at the junior elite level, but she shared with ESPN that nothing has ever topped the stress that came with watching Simone in the Olympics. And when her sister won, Adria couldn't have been more proud. "I was so nervous for her, more nervous than I've ever been," she wrote. "I almost couldn't watch. The best night was when she won the all-around. She finally did it, and I couldn't control my emotions." What a sweet sisterly bond. 
Adria also added that she gets confused for Simone all the time because of how much they look alike and that she sometimes just takes pictures with fans who think she's Simone.
Is Simone Biles really done growing?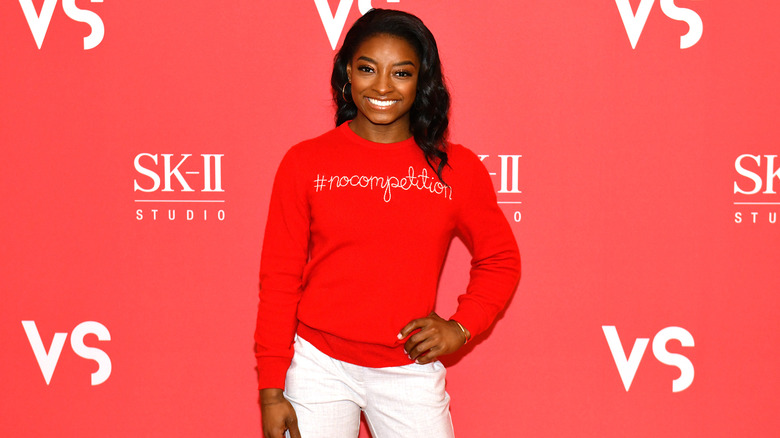 Gymnasts are known for being on the short side and Simone Biles is no exception. In a 2018 interview with Today, Biles joked that she wishes people would stop asking her if she's going to grow any more, saying, "I'm not going anywhere, I'm 4-foot-8. I'm stuck." And at only 4'8″, Biles was reportedly the shortest American athlete to participate in the 2016 Summer Olympics in Rio de Janeiro, Brazil. Reporter Darren Rovell took to Twitter to share this photo of the gymnast alongside the 6'8″ volleyball player David Lee.
Clearly Biles isn't too bothered by her height either. In 2017, she took to Twitter to share a photo she snapped with Shaquille O'Neal, who is famously 7'1″. And at only 4'8″, she is still one of the most impressive athletes of all time, suggesting that height really is just a number. And if you ever happen to meet Biles, maybe don't ask if she's waiting to hit a growth spurt.
Is Simone Biles a multimillionaire?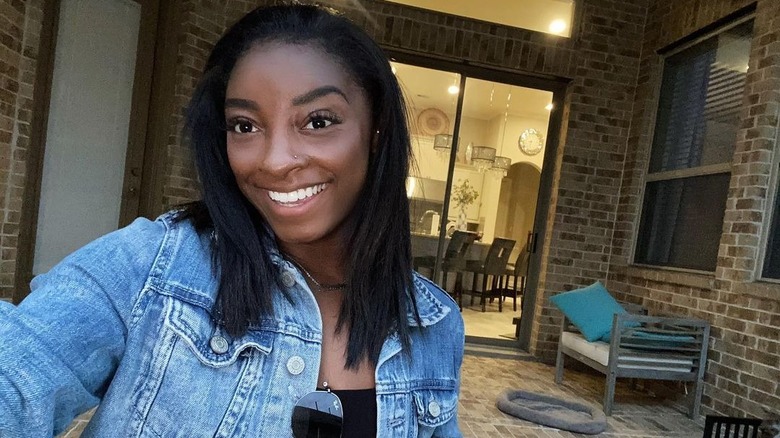 Simone Biles is the most decorated U.S. gymnast of all time, and yes, that means she has a lot of medals. But do those medals translate to real-life wealth? Yep, they absolutely do. According to CNBC, U.S. Olympians "earn $37,500 for each gold medal they win this year, $22,500 for each silver and $15,000 for each bronze. In team sports, each team member splits the pot evenly." Biles works hard in the gym, and she also stays busy with all of her impressive brand deals. She has posted about her paid promotions with major companies like Oreo, Uber Eats, Athleta, and more.
According to Celebrity Net Worth, Biles' comes in at $6 million — and that's before the 2020/2021 Olympic games in Tokyo. She has already made some investments with her hard earned wealth, like by purchasing a house in 2020. The sports legend shared some updates from her new home on social media, like the giant pool that was under construction in September 2020. And if Biles is able to win big at the Olympics again, she's likely going to come into more piles of cash in a matter of weeks.
Not even a visit to the ER can stop Simone Biles from competing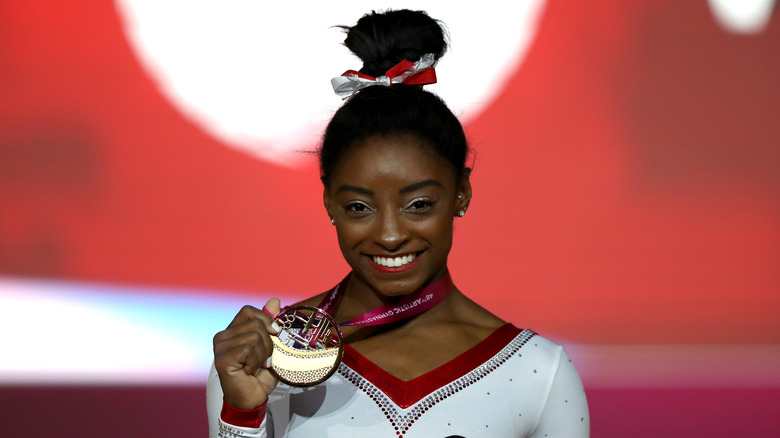 It's no secret that Simone Biles has the mentality of a champion, but what you might not know is that she actually won a big tournament just hours after a trip to the emergency room for a kidney stone. In October 2018, Biles was a part of the U.S. Women's team that took home gold medals at the World Gymnastics Championships in Qatar. But in a statement to USA Gymnastics (via The Guardian), she said, "We had to go to the ER, because I've been having stomach pains on my right side for two days. We started to think it was my appendix, so we wanted to go as a precaution. We got tests done and they found a kidney stone. I'm in a bit of pain [today], so adrenaline helps." 
Shortly after this statement, Biles took to Twitter to share photos from the hospital, writing, "nothing like a late night ER visit less than 24 hrs before world championships. this kidney stone can wait…. doing it for my team! I'll be gucci girls!" And she wasn't kidding. Even with a kidney stone, she got the highest individual scores on beam, vault, and floor and was second highest on the uneven bars.
Simone Biles celebrates with pepperoni pizza after every competition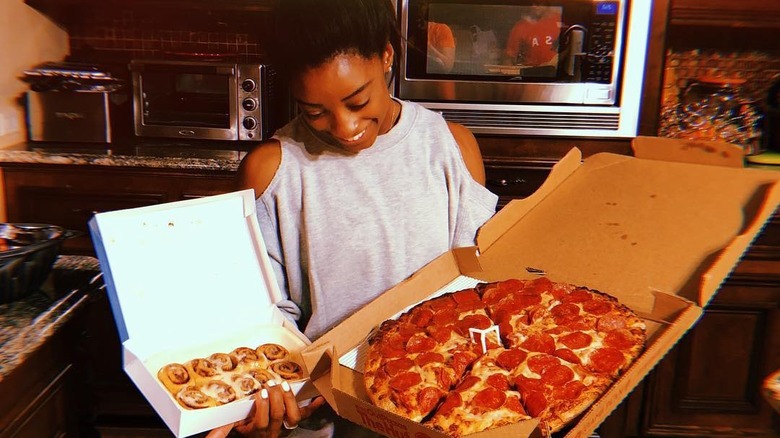 Even the best athletes in the world know how to reward themselves and indulge after hours and hours of hard work in the gym. For Simone Biles, that reward isn't always in the form of gold medals, sometimes it's simply just a pepperoni pizza. In a 2016 interview with ABC News, Biles revealed that she always digs into a pie after she leaves it all out on the gym floor, whether or not she walked away a winner. "It doesn't even matter if I don't win a self-gold, after every meet I have pizza," she shared. "Pepperoni pizza."
And Biles has taken to social media to share many of these pizza moments, captioning the posts with things like "happiness" and "one happy girl." And just in case Biles is wondering, we'd hang out with her and eat pizza whenever she wants.
Simone Biles has ADHD and says it's a 'superpower'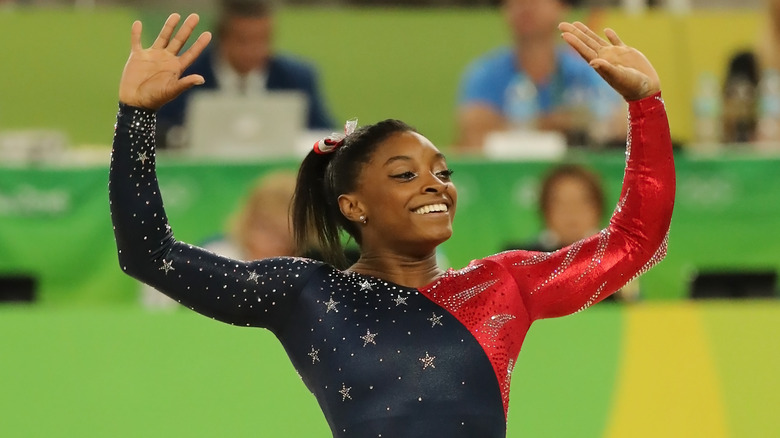 Not long after winning big at the 2016 Rio Olympics, Simone Biles shared that she has ADHD and takes medication for it. This came up when, as ESPN reported, "hackers circulated confidential medical records from the World Anti-Doping Agency database and tried to use Biles' use of prescription medication to question her credentials." 
"Having ADHD, and taking medicine for it is nothing to be ashamed of, nothing that I'm afraid to let people know," she tweeted. In a follow-up tweet, she wrote that she believes in a clean sport and has always followed the rules when it comes to meds. And USA Gymnastics confirmed that she didn't break any Olympic rules by taking ADHD medication. 
Biles went on to be a part of an Understood campaign to promote awareness of learning and attention issues. While chatting with two kids who have ADHD and dyslexia, she called ADHD "a superpower" and said, "It's never held me back through anything, and I've never let it hold me back."
Simone Biles doesn't think calling herself the GOAT is cocky, it's just a fact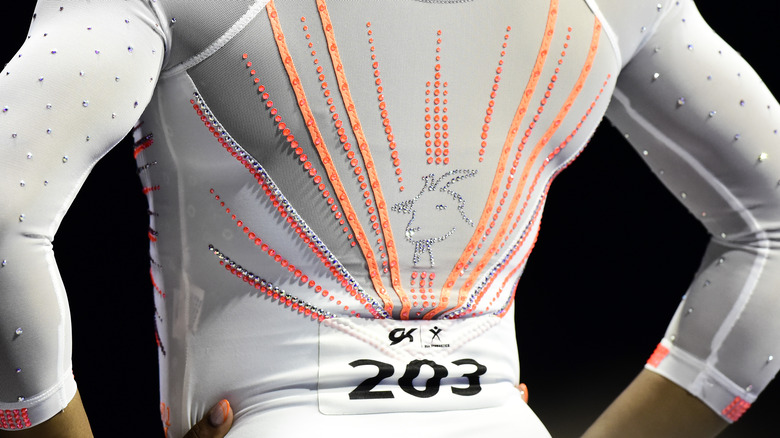 Simone Biles really is the greatest gymnast of all time and she isn't afraid to call herself the GOAT. She has pushed the sport of gymnastics to its limit, won countless competitions, and has conquered multiple world championships — suffice to say, the GOAT shoe fits. In an interview with USA Today, Biles shared why she doesn't think there's anything wrong with celebrating her own success. "It's important to teach our female youth that it's OK to say, 'Yes, I am good at this,' and you don't hold back," she said. "You only see the men doing it. And they're praised for it and the women are looked down upon for it. But I feel like it's good to do because once you realize you're confident and good at it, then you're even better at what you do."
Biles continued on and said that her accomplishments aren't matters of opinion, they're just objective truths. "It's not out of cockiness," she said. "I've won five world titles and if I say, 'I'm the best gymnast there is,' the reaction is 'Oh, she's cocky. Look at her now.' No, the facts are literally on the paper. I think it's important to teach young girls that." And Biles' leotards pay homage to her GOAT status: At more than one event, she's competed in a leotard with a rhinestoned goat on the back. Oh, and the goat is called Goldie. Pretty fitting given all the medals Biles has won so far.
There are four gymnastics moves named after Simone Biles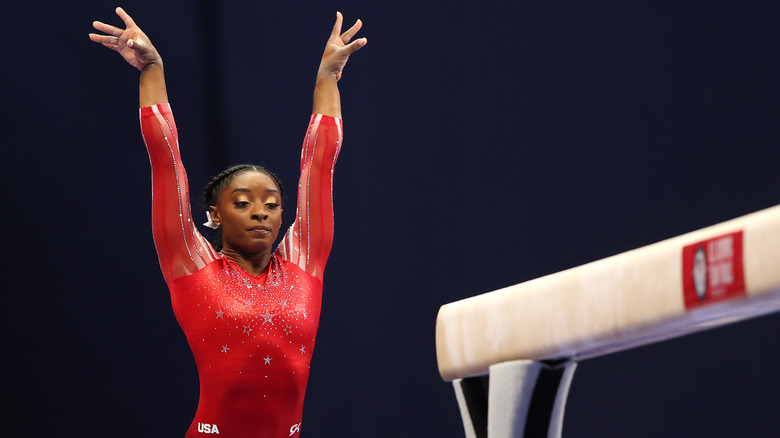 If you've ever watched a gymnastics competition, you've probably heard the commentators call out specific moves like the "Korbut Flip," a "​​Yurchenko-style vault," and yep, you guessed it, even the "Biles." And you certainly know that each of these moves shares a name with the impressive gymnast who's able to perform them. According to Mental Floss, in order for a move to be named after a gymnast, said gymnast must perform it at a major competition and "each skill is rated on a scale from A (easiest) to I (hardest — at least currently)." The outlet also reported that as of July 2021, Biles has four moves named after her: "two on floor, one on beam, and one on vault."
One of her moves is actually a combination of two other moves named after fellow gymnasts. According to USA Gymnastics, the vault move that shares her surname involves a "Yurchenko half on with two twists (Cheng plus a half twist)." You can watch all of Biles' signature moves here and there will likely be more to come.
Simone Biles' boyfriend 'didn't know who she was' before they met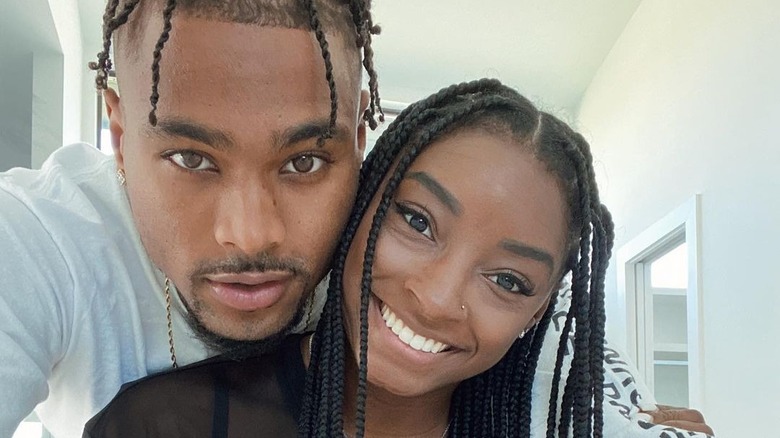 If you follow Simone Biles on social media, you know that she and her boyfriend, NFL player Jonathan Owens, are absolutely adorable. Ever since these two met in 2020, they have been packing on the PDA and showing their love for one another with sweet Instagram captions. But what you might not know is that Owens actually didn't know who Biles was before they met. During an episode of Biles' Facebook Watch docuseries, Owen shared, "Her work ethic was really the first thing that caught my eye. I never really watched gymnastics before I first started talking to her. When I met her, I honestly didn't know who she was. It was just kind of like, 'Oh, she's got a lot of followers. You know, she must be pretty good or something.'"
Yeah, Biles is definitely pretty good or something. Needless to say, he knows who she is now. Owens shared that they met for the first time right before the COVID-19 lockdowns in March 2020 and the slower pace of life during quarantine actually helped them grow closer. "It was one of the few times in her life where everything was just shut off and she couldn't do anything," he said. "So we used it to get to know each other — really get to know each other. It created our bond and made it stronger. Now I'm so thankful."
Simone Biles is obsessed with her French bulldogs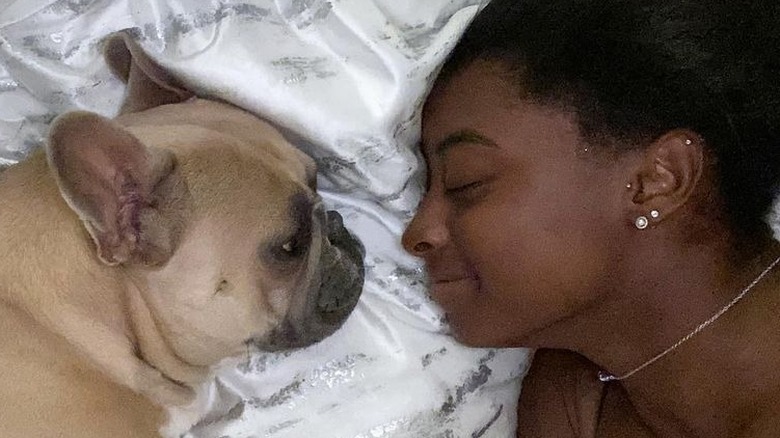 Simone Biles may be the most decorated female gymnast of all time and holds countless championship titles, but there's one title in particular she holds that she takes very seriously: dog mom. Biles has two French bulldogs named Lilo and Rambo. The two make frequent appearances on Biles' IG page, but they also have their very own Instagram account, and you better believe they have tens of thousands of followers. Jonathan Owens' bulldog Zeus has also become part of the Biles Frenchies pack, and you better believe he also has his very own Instagram account where you can see him hanging out with Lilo and Rambo.
"As soon as I walk in the door, they can kind of detect my mood coming back from practice," Biles said of her pups on Today. "Whether it's good or bad, they're always here to cheer me up and put a smile on my face." Clearly, Lilo and Rambo are an important part of Biles' life — so much so that she wrote that "a house is not a home without Frenchies." Now that's a motto we can get behind.
Simone Biles started homeschooling to get more time in the gym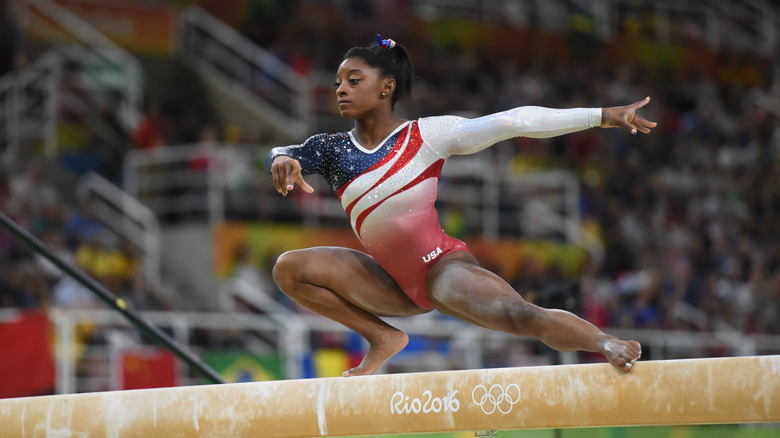 It's common for elite level athletes to get their education via homeschooling because of how much time they spend training. Speaking with BuzzFeed about her decision to be homeschooled, Simone Biles shared that it allowed for her gymnastics career to really take off in 2012. At the time, unlike many other elite gymnasts, Biles was still enrolled in public school and would train for four hours a day after the school bell rang — every single weekday. But when she was ready to take her gymnastics to the next level, she pivoted to homeschooling.
Biles said this choice helped her hone in on her skills, telling BuzzFeed, "My hours ramped up and we did beam and bars twice a day, which usually I had only done once a day." With a more flexible schedule, she saw "better outcomes in competition." Not long after she started homeschooling and spending over 30 hours a week in the gym, she placed in her first senior international meet ever. And the rest was history as Biles got better and better and eventually went on to win World Championships and Olympic gold medals.
The many world records of Simone Biles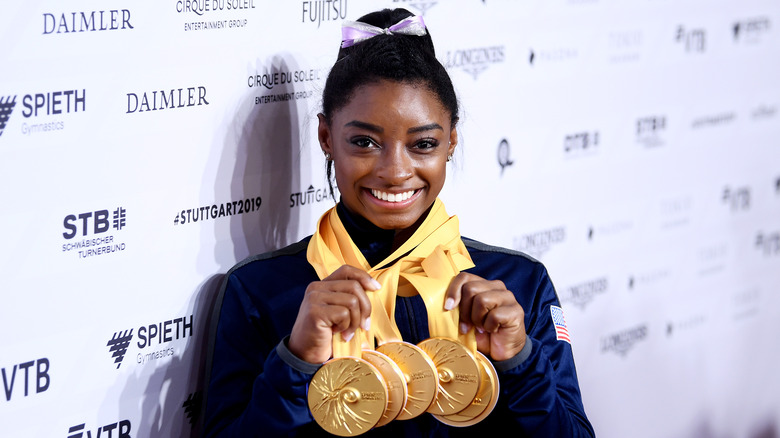 Given how tremendous of a gymnast she is, it's no surprise Simone Biles also holds multiple records in the sport. Among her list of Guinness World Records? Why, that would be having the most World Artistic Championship Gymnastics Championships medals of any gymnast ever. In 2019, she broke the record when she earned her 25th medal at the competition. 
Biles also holds world records for individual moves like for completing the first double-double dismount on beam in competition and for being the first female gymnast to perform a triple-double during a gymnastics competition. Clearly, she's no stranger to making history. As the Guinness World Records website noted, "Since beginning her gymnastics career early on in life, Biles has managed to obtain 25 World Championship medals and earn an impressive seven Guinness World Records titles — all at the age of 22." It doesn't seem like a stretch to say she is likely to keep breaking records for as long as she competes. No one pushes the boundaries of the sport of gymnastics quite like Biles.
Simone Biles has opened up about her experience with sexual assault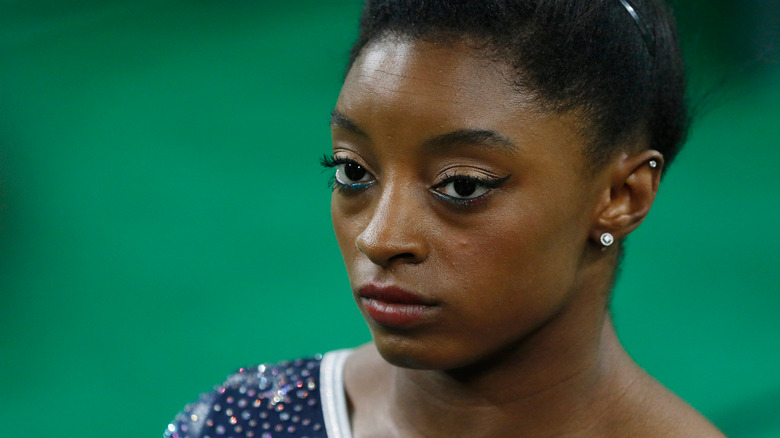 We all know that Simone Biles has been through a lot both on and off the mat, but one thing she's remained pretty private about up until 2021 was her experience with sexual abuse at the hands of Larry Nassar, the now-incarcerated former doctor for the U.S. women's national gymnastics team. In 2018, when many of the victims chose to testify in person, Biles put out a statement where she asked for respect as she processed her trauma.
In her Facebook Watch docuseries "Simone vs. Herself," she opened up about overcoming the abuse. "I'm definitely older, so it's more than just my gymnastics at this point that I'm advocating for," she said. "Being one of the remaining survivors in this sport, I feel like I still have to be a voice for them." And while she's continuing to use her voice, Biles revealed why it was so difficult for her to accept what had happened to her. "All those years, no one really told us what sexual abuse was," she said. "So we didn't really feel like we were going through it or we were victims."
She explained that once she processed her emotions, depression set in and "didn't want to leave her room" and "shut everyone out." And while it's been an extremely challenging trauma to work through, Biles hopes to continue to be a voice for others and speak out.
If you or anyone you know has been a victim of sexual assault, help is available. Visit the Rape, Abuse & Incest National Network website or contact RAINN's National Helpline at 1-800-656-HOPE (4673).
If you or someone you know is struggling with mental health, please contact the Crisis Text Line by texting HOME to 741741, call the National Alliance on Mental Illness helpline at 1-800-950-NAMI (6264), or visit the National Institute of Mental Health website.
Source: Read Full Article