As you may already know, helping the people (and especially the children) of Cambodia is a major passion of Angelina Jolie's. She even adopted her first child, the now 19-year-old Maddox, from the country in 2002. But what if the adoption wasn't as completely above board as we thought? What if Jolie herself had been duped by shady practices? That's what filmmaker Elizabeth Jacobs aims to find out in a new documentary.
Jacobs, who is 21, was adopted from Cambodia in the same period of time as Maddox, and she told The Sun that she has uncovered some troubling discrepancies in her own adoption process — though her parents had no idea of anything wrong at the time. And it has to do with the potentially unethical adoption practices of a certain adoption "facilitator" named Lauryn Galindo. According to The Sun, at least half of all adoptions from Cambodia to the United States went through Galindo and her sister Lynn Devin's agency Seattle International Adoptions between 1997 and 2001, including Maddox.
Here's what we found out.
Angelina Jolie says she met Mad at an orphanage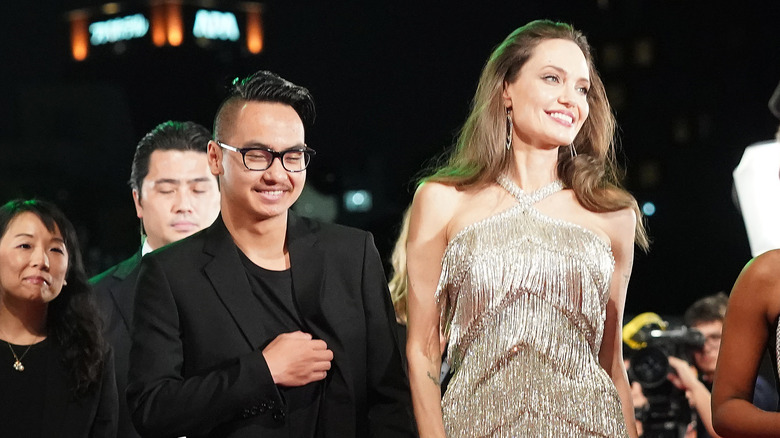 In 2004, Lauryn Galindo was sentenced to 18 months in prison for running an adoption scam, according to ABC News. Many of the hundreds of Cambodian children Galindo placed for adoption with American parents weren't orphans or abandoned at all; they were basically stolen from their parents who thought their children were being sent to boarding school or that they would be paid thousands of dollars by Americans to adopt them.
The question is whether Maddox Jolie-Pitt was one of those children who was stolen from his parents. Officials looking into the adoption have said that Maddox was indeed a real orphan when his mother, Angelina Jolie, adopted him. "I would never rob a mother of her child," she has said, per The Sun. "In 2001, I was in a school programme in Samlout … and as clear as day I thought: 'My son is here.' A few months later, I met baby Mad at an orphanage," she told Vogue India in 2020. "I can't explain it and am not one to believe in messages or superstition. But it was just real and clear."
That said, Cambodian welfare workers at the time believed that Maddox may have been sold by his impoverished mother for $100. "I'm sure that this child was not a real orphan and was not abandoned," Kek Galibru, head of the human rights agency Licadho, said at the time, via Sydney Morning Herald. In her film, titled "The Stolen Children," Elizabeth Jacobs is determined to find out.
Source: Read Full Article