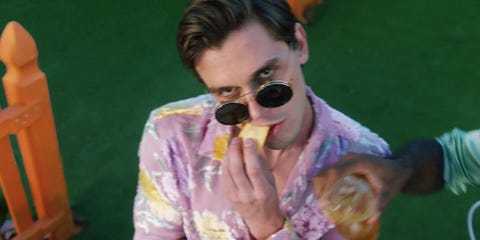 The music video for Taylor Swift's 2019 single "You Need to Calm Down" was a star-studded feast, with cameos by Katy Perry, Adam Lambert, Ryan Reynolds, and all the Queer Eye stars. But it served as a particularly full-circle moment for the Fab Five's resident food expert Antoni Porowski, as he auditioned to be in Swift's "Blank Space" music video back in 2014. He may not have landed the role back then, but now, he's won over all of our avocado-loving hearts.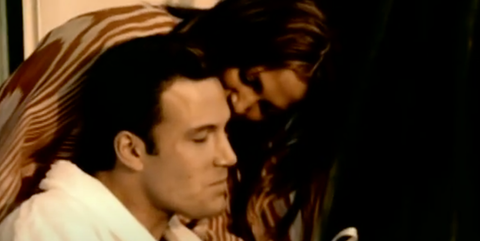 During the height of the "Bennifer" frenzy, J-Lo's then-boyfriend Ben Affleck made a brief appearance in the 2002 music video for her song, "Jenny from the Block." As a nod to the couple's tabloid-centric lives, the video was stylized to look like it was shot through the prying-eye of a paparazzi camera.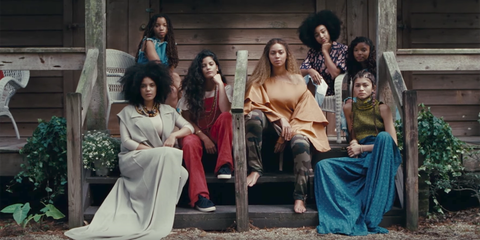 Beyoncé's Lemonade was a tour de force for many reasons, including its impressive roster of celebrity cameos. In the video for "All Night," Mrs. Knowles-Carter enlisted actresses Amandla Stenberg and Zendaya for this gorgeous shot, as well as musicians Chloe x Halle and Ibeyi.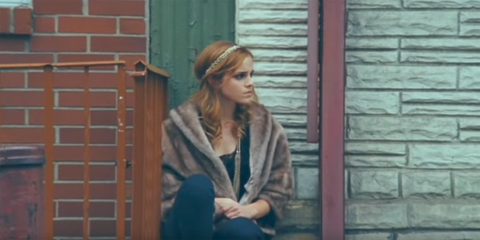 Before she honed her own musical talents in the live-action adaptation of Beauty and the Beast, Emma Watson appeared in the video for "Say You Don't Want It" by British band One Night Only back in 2010. Emma and frontman George Craig met while working on a Burberry photo shoot.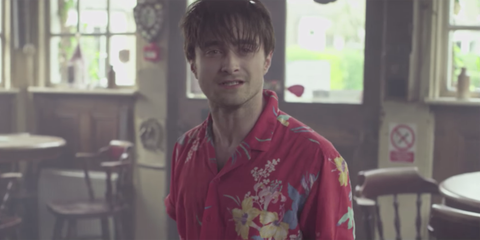 Emma's Harry Potter costar Daniel Radcliffe has also tried his hand at music videos, specifically in the 2012 Slow Club clip for "Beginners." "We'd known Daniel was a fan and found this pretty cool, but then we met him, got to hang out and chat, and now we have him in our video," singer Rebecca Taylor told NME of Daniel's appearance. "He made us realize how lazy we all are when it comes to videos!"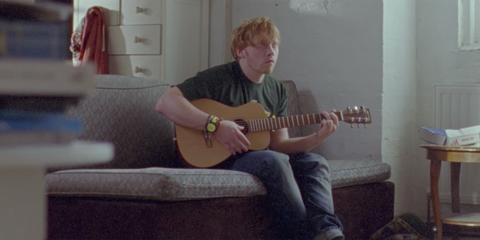 Not to be outdone by Harry and Hermione, Ron Weasley aka Rupert Grint has also starred in a music video, for Ed Sheeran's song "Lego House." In the 2011 clip, Rupert plays Ed, who has in turn dressed up as Ron for Halloween.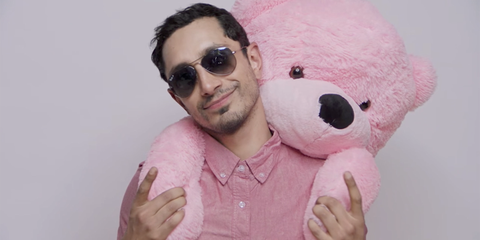 Charli XCX's 2017 video for "Boys" (which she herself co-directed) features a ton of boys — Cameron Dallas, Jack Antonoff, Khalid, Joe Jonas, Diplo, Joey Bada$$, Wiz Khalifa, Jay Park, and more — but none shine as much as Riz Ahmed, seen here with the world's luckiest teddy bear.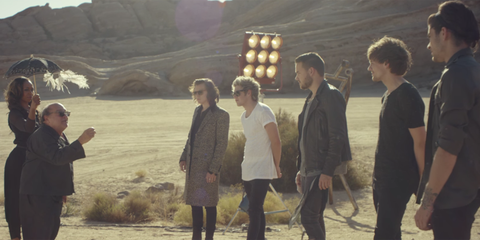 In one of their last videos as a fivesome, One Direction enlisted Danny DeVito to play the salty director in the clip for the Four track "Steal My Girl."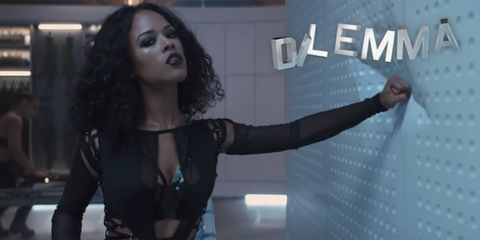 Taylor Swift's "Bad Blood" video was famously stacked with cameos by various squad members, including Lena Dunham, Karlie Kloss, Gigi Hadid, Selena Gomez, and Serayah, seen here as Dilemma. The 2015 clip was directed by Joseph Kahn, who also directed Taylor's videos for "Blank Space" and "Look What You Made Me Do."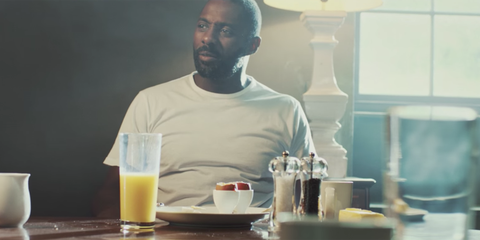 The man who should be James Bond both starred in and co-directed the 2012 music video for the Mumford & Sons song "Lover of the Light." Ah, to be that orange juice.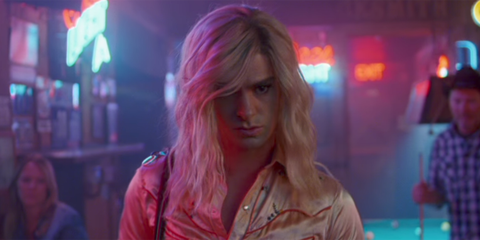 Former Spider-Man Andrew Garfield appeared in Arcade Fire's 2014 video for "We Exist." Against Me! singer Laura Jane Grace criticized the band for choosing to cast a cisgender actor as a transgender woman, but later said she felt differently after speaking to a transgender woman who'd worked on the video.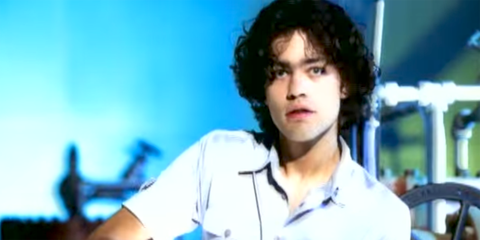 The late '90s was truly a golden age of music videos tie-ins, and Britney Spears's "(You Drive Me) Crazy" is no exception. The 1999 song featured in the movie Drive Me Crazy starring Adrian Grenier and Melissa Joan Hart, who of course both appeared in the music video.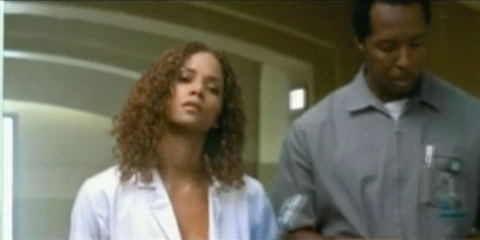 This one's kind of a head scratcher, but go with it. Oscar winner Halle Berry starred in the 2003 video for Limp Bizkit's "Behind Blue Eyes," itself a cover of the 1971 song by the Who. The video featured clips from Halle's movie Gothika.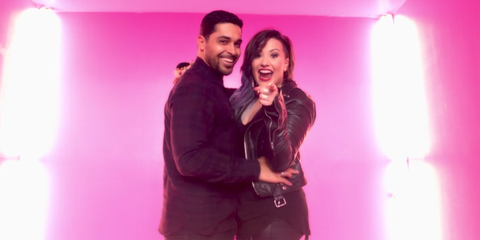 Back in 2016, Demi Lovato and Wilmer Valderrama split after six years of dating, but their relationship was forever immortalized in Demi's 2014 video for "Really Don't Care."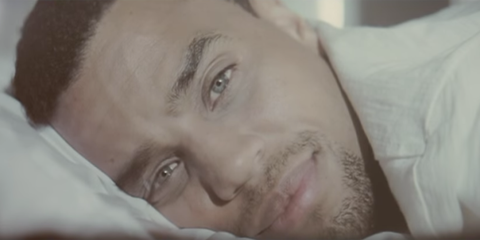 After appearances in movies like 2 Fast 2 Furious and Seven Pounds, Michael Ealy played Beyoncé's love interest in the 2009 video for "Halo." He was actually asked to star in the music video for "Irreplaceable" in 2006, but turned it down because he didn't want to be associated with the jerk who does Beyoncé wrong in that song.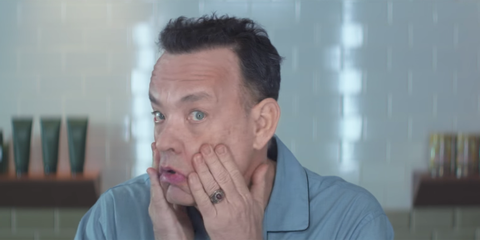 America's dad starred in Carly Rae Jepsen's music video for her 2015 hit "I Really Like You." Carly Rae first met Tom at the 2014 wedding of her manager Scooter Braun, who also works with Justin Bieber.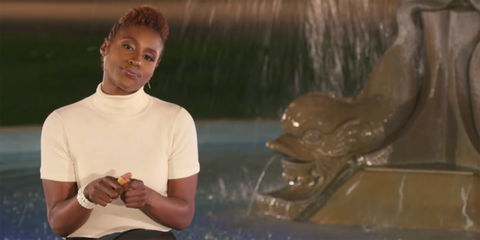 Jay-Z's 2017 music video for "Moonlight" doesn't contain a lot of his actual music, but that's OK because it does contain a formidable roster of stars: Issa Rae, Tessa Thompson, Tiffany Haddish, Lakeith Stanfield, Lil Rel Howery, and Jerrod Carmichael all appear.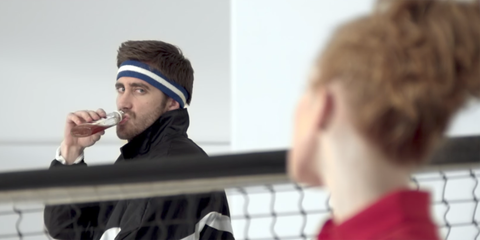 In 2010, Jake Gyllenhaal appeared in the Vampire Weekend video for "Giving Up the Gun," which also featured Joe Jonas, Lil Jon, and the RZA. (See slide 5 for Charli XCX's "Boys," which in turn stars Vampire Weekend members Ezra Koenig and Rostam Batmanglij.)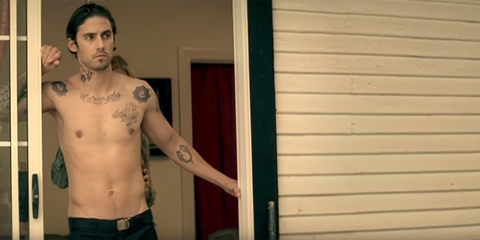 Before he was making you cry every week on This Is Us, Milo Ventimiglia made Fergie not cry in the 2007 video for "Big Girls Don't Cry."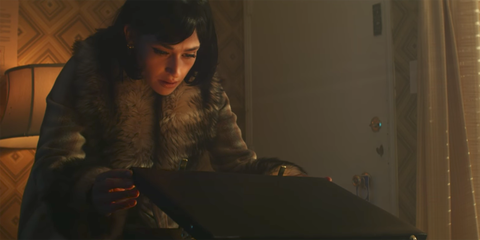 Girls star Jemima Kirke played the Bonnie to Zayn's Clyde in his 2017 music video for "Dusk Till Dawn." Her Girls castmates Lena Dunham and Zosia Mamet have also starred in music videos, with Lena appearing in Taylor Swift's "Bad Blood" (see slide 7) and Zosia popping up in Jenny Lewis's "She's Not Me."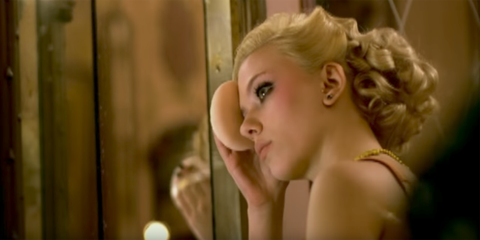 Before she became Black Widow, Scarlett Johansson starred in Justin Timberlake's video for "What Goes Around…Comes Around." In 2007, the video won an MTV VMA for Best Direction.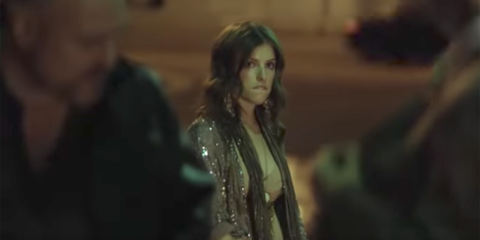 In 2013, Anna Kendrick starred in the video for her own Hot 100 hit "Cups (When I'm Gone)," but before that she appeared in LCD Soundsystem's 2010 music video for "Pow Pow."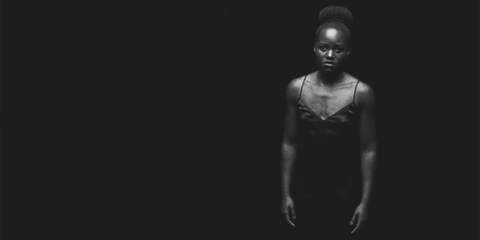 Perhaps taking a cue from his wife's star-studded Lemonade, Jay-Z used several of his 4:44 videos to showcase a variety of major names. Oscar winner Lupita Nyong'o featured in the clip for "MaNyFaCedGod."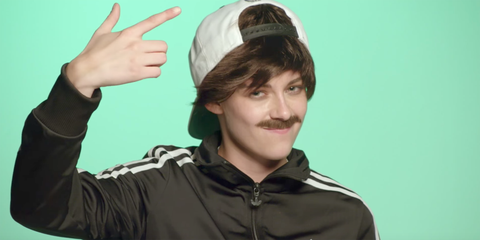 Kristen Stewart appeared both as herself and in drag in Jenny Lewis's 2014 video for "Just One of the Guys," which also starred Oscar winners Anne Hathaway and Brie Larson.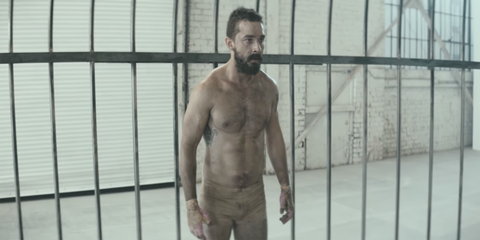 Shia LaBeouf starred in Sia's 2015 video for "Elastic Heart" along with frequent Sia collaborator Maddie Ziegler. The video caused controversy due to the vast age difference between Shia and Maddie; Sia later apologized to those viewers who were upset by the clip and said that Shia and Maddie were both meant to be playing versions of Sia.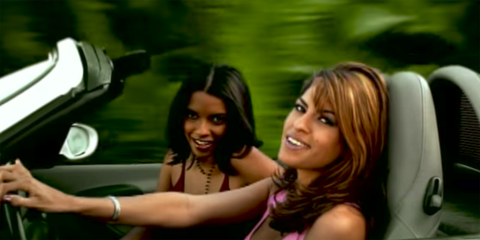 Before she starred in Hitch with Will Smith, Eva Mendes appeared in Will's music video for the 1998 classic "Miami." You can see her driving a convertible while mouthing along to the lyric, "Bienvenidos a Miami."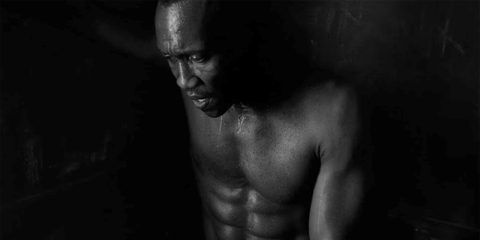 Yep, it's Jay-Z and 4:44 again. This time, he got Oscar winner Mahershala Ali to play a boxer in the clip for "Adnis," which also stars actor Danny Glover.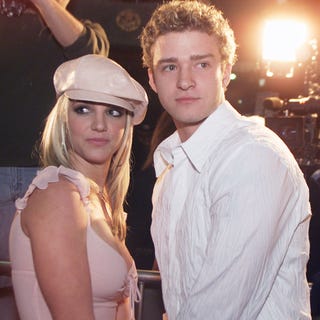 Source: Read Full Article