The 'American Idol' judge was previously slammed online after mentioning about drinking and STDs while introducing his fellow country singer at the 2023 Crash My Playa in Mexico.
AceShowbiz –Luke Bryan has broken silence amid criticism over his bizarre way when he introduced Dustin Lynch at music festival in Mexico. In an Instagram post, the "American Idol" judge issued an apology for his "uncalled for" dig at his fellow country singer.
On Wednesday evening, January 25, Luke shared a video of him addressing the matter while in a "flooded cornfield, doing a little duck hunting." He said, "Just saw where people are starting to chat about my introduction of Dustin Lynch."
Calling the "Thinking 'Bout You" singer "one of my dearest friends on the planet," Luke went on explaining, "No one respects him more than I do and that night at [Crash My] Playa, Sunday night, the last night I get everybody out and my introduction of him was complete sarcasm."
"Those words were so absurd," Luke acknowledged. "I figured everybody would take it as sarcasm. Obviously some people didn't."
He continued, "I spoke to Dustin. I love him. He and I are all good and I apologize to anybody that doesn't understand my humor and sarcasm. It's been going on like that down there for years. We'll see y'all next year. Go download Dustin's new single ['Stars Like Confetti']. Love y'all."
Dustin caught wind of Luke's Instagram Story and responded on his own page. Insinuating that things were all good between the two musicians, he wrote, "Thx for the call, love ya bro. All good. We had a lot of fun down there again with the pirates."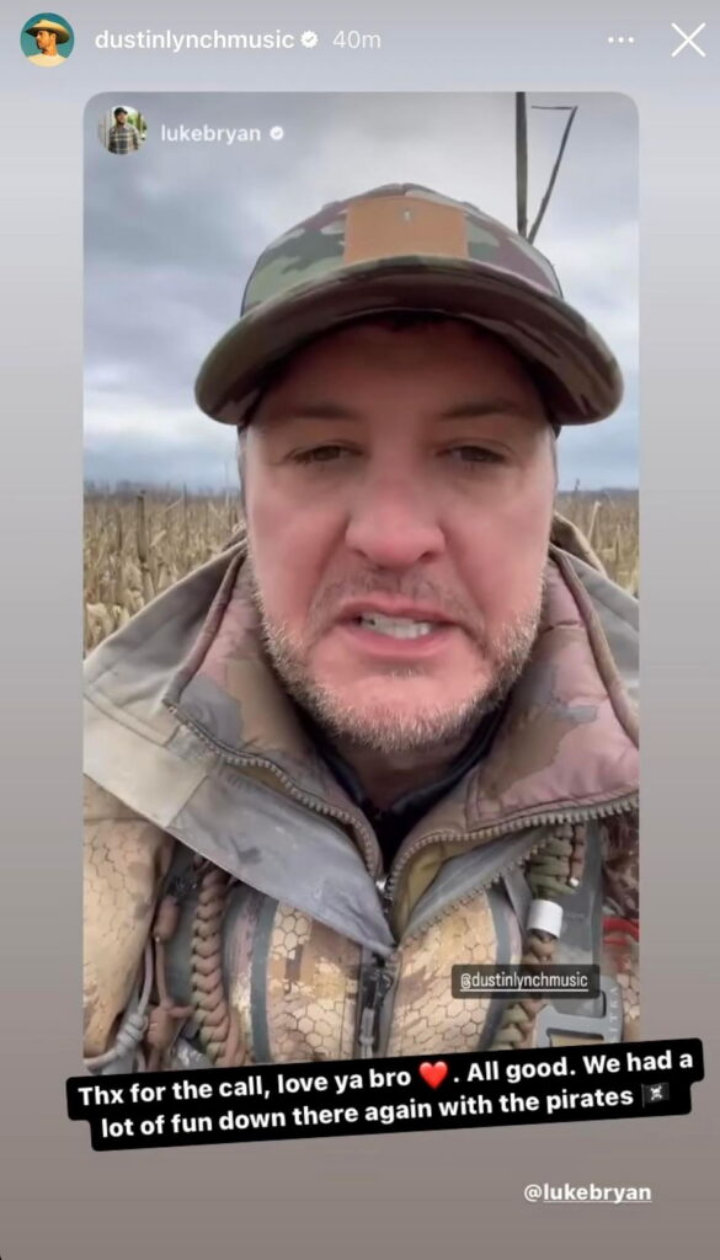 Dustin Lynch reacted to Luke Bryan's apology after bizarre rant.
Prior to this, Luke was slammed online for apparently dissing his friend at Crash My Playa 2023 over the weekend. While asking the crowd to give a warm welcome to his friend, he said, "No one has drank more liquor no one has vomited more, no one has taken more drugs, no one has taken more IVs, no one has passed more STD tests than this next gentleman."
The 46-year-old later clarified that Dustin has "a clean bill" of health," adding that he "does not have diseases."
In response to the rant, Internet users were not impressed. "What Luke Bryan said about Dustin Lynch is absolutely uncalled for! Nobody deserves an introduction to stage like Luke did to Dustin," a fan said alongside footage of him delivering the bizarre rant. "I am beyond disappointed in what Luke said about Dustin that was not cool at all," another fan commented.
You can share this post!
Source: Read Full Article