Happy Lohri!
If your dinner menu is not planned yet, allow Chef Anand Rawat to come to your aid with his signature chole, Rawalpindi Chana.
If you put together this spicy chickpea reciped in an iron kadhai, you'll most likely be able to achieve the deep dark restaurant-style colour.
Serve it with hot rotis, chappatis, steamed rice or jeera rice. Or Tandoori Chicken.
Don't forget to have one or two Murmura Laddoos before the day ends. They are a cinch to make and will add that final sweetness to your celebrations.
Chef Andie, as he calls himself, worked in Nainital and Raipur, before basing himself out of Karnal, Haryana, in whose 600 km radius some of the best chole is made.
Pindi Chana
Serves: 3-4
Ingredients
1 cup kabuli chana or chickpeas
2 regular tea bags or 1 tsp tea leaves
½ tsp baking soda, optional
1 tsp salt
1 tbsp anar dana or pomegranate seeds
1 tbsp jeera or cumin seeds
2 tbsp whole coriander seeds
½ tsp ajwain or carom seeds
1 tsp amchoor or dry mango powder
½-1 tsp red chilly powder
2 tsp Kashmiri red chilly powder
½ tsp garam masala
½ tsp coriander powder
1 tsp kala namak or black salt
¼ tsp hing or asafoetida
1 tsp kasoori methi or dry fenugreek leaves
2-inch ginger, chopped into long, thin slices
2 green chillies, slit legnthwise
Salt to taste, about 1frac12; tsp
¼ cup or less ghee
¼ cup or less oil
2 tsp oil for the seasoning (frying the pomegranate and coriander seeds)
Lemon wedges
Sliced onions, to garnish
Sliced tomatoes, to garnish
1 tbsp finely chopped green dhania or coriander or cilantro leaves
Water
For the potli masala or muslin cloth-wrapped spice bouquet garni
1 tsp dried amla or gooseberry pieces
2 badi elaichi or black large cardamom
2-3 laung or cloves
1 stick dalcheeni or cinnamon
1 tej patta or bay leaf
2-3 green elaichi or cardamom
Method
Wash and soak the chickpeas in water overnight or for about 8 hours.
In case you forget to soak the chana overnight, soak in very hot water for 2 hours, covered.
Fill the chickpeas with 4 cups water in a pressure cooker with the salt, the masala potli and the baking soda, if you prefer.
Add the tea bags.
If you do not have tea bags, use 1 tsp tea leaves tied in cheesecloth.
Cover and cook over high heat for 6-7 whistles.
In case you do not wish to add baking soda, let it cook for an additional 3-4 whistles.
Take off heat and let the pressure release on its own.
Heat the 2 tsp oil in a heavy-bottomed kadhai over low heat.
Add the cumin seeds and the ajwain.
Let it crackle.
Add the coriander seeds and the pomegranate seeds.
Keep stirring constantly to make sure the seeds do not burn or else the chana will taste bitter.
Take off heat and when it cools down, transfer into a blender/mixer and grind to a fine masala powder and keep aside.
When the pressure releases from the cooker, open the lid and remove the masala potli and tea bags/leaves and discard.
Strain the chana and transfer into another bowl.
Transfer the water into a different bowl and keep aside, and do not throw it away as it will be used later.
To the bowl of boiled chana, add 2 tbsp of the ground masala (keep excess for use for another day).
Add the coriander powder, garam masala, dry mango powder, black salt, hing, kasoori methi and both chilly powders.
Mix well to coat the chana.
Add the slit green chillies and the ginger.
Keep aside for 30 minutes.
In a kadhai — preferably iron to get a dark black colour — heat the oil and the ghee together.
Add the chana mixture.
Add some of the reserved chana water and mix.
Cook over low heat and keep adding the chole water in batches to get a semi-thick consistency.
Let it simmer over low heat until the oil separates and you get the right consistency.
For a darker colour, leave the cooked chole in the iron kadhai for a longer time.
Take off heat and transfer into a serving bowl.
Garnish with the coriander leaves, sliced onions, sliced tomatoes and the lemon wedges.
Editor's Note: For a less calorific recipe, decrease the ghee and oil.
Skip the fresh ginger and used saunth or dried ginger powder for this recipe to be suitable those on a Jain diet.
Rawalpindi Chana pairs well with Suresh's Tandoori Chicken or Nadiya Sarguroh's Tandoori Chicken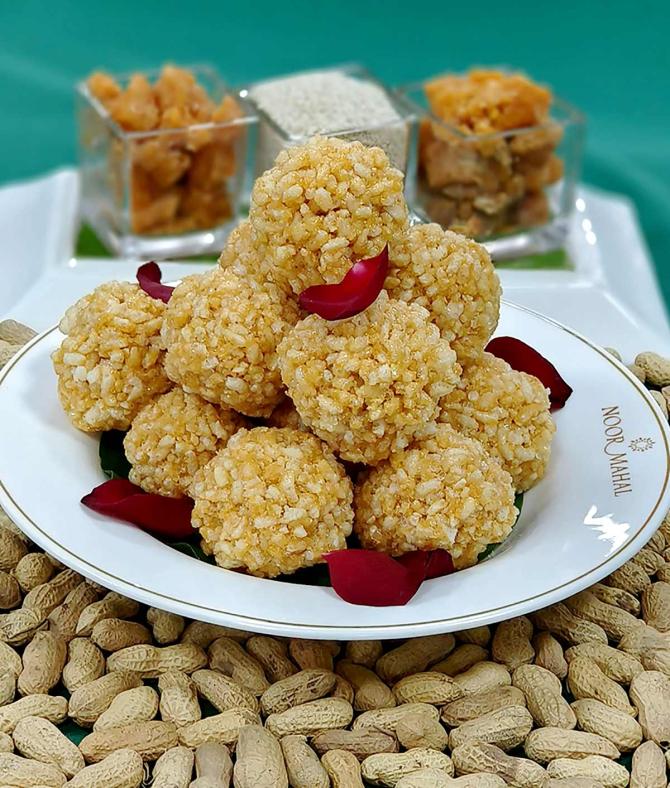 Murmura Laddoo
Servings: 12
Ingredients
3 cups murmura or puffed rice
125 gm or 1 cup chopped/grated jaggery
1 tsp ghee
Method
In a pan, dry roast the murmura over low heat till crispy — be careful not to burn it.
Take off heat and keep aside.
In the same pan, add the ghee and the jaggery.
Keep stirring over medium heat till the jaggery melts.
Boil until the syrup turns glossy and thickens.
Check the consistency by pouring a few spoons of the syrup into a tiny bowl of water.
It is ready, if you can roll it to form a ball that's hard — if you drop it in the bowl of water, it will most likely produce a 'tung' sound.
Take off heat and add the roasted murmura.
Stir well to make sure the syrup coats the murmura.
Immediately start rolling the mixture into laddoos, but wet your hands before you begin since the mixture is hot.
Once the mixture cools down, it will be difficult to roll into laddoos.
Serve immediately or store in an airtight container for up to a month.
Anand Rawat is the corporate head chef at Noormahal Palace Hotel, Karnal, Haryana.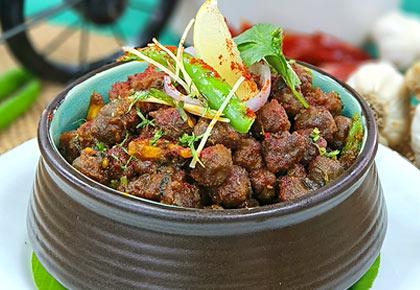 Source: Read Full Article