Following his infamous trial for the murders of Nicole Brown and Ronald Goldman in 1995, for which he was eventually acquitted, former football player O.J. Simpson's life took some more twists and turns. And despite getting off for murder, Simpson wasn't off the hook just yet.
In a separate civil trial, the victims' families filed lawsuits against Simpson for their wrongful deaths. Simpson was determined liable, and he was ordered to pay $8.5 million to the Goldman family and $25 million to his children, which prompted him to auction off his sports memorabilia, according to CNBC. Then in 2006, Simpson took part in a ghostwritten book titled "If I Did It: Confessions of the Killer," but the controversial work got scrapped due to widespread outrage, per Reuters.
Nowadays, Simpson has been spotted everywhere from Cameo to Twitter, sparking questions about what else he has been getting into since his highly-publicized trial. Here's a look at his life today.
Inside O.J. Simpson's Las Vegas robbery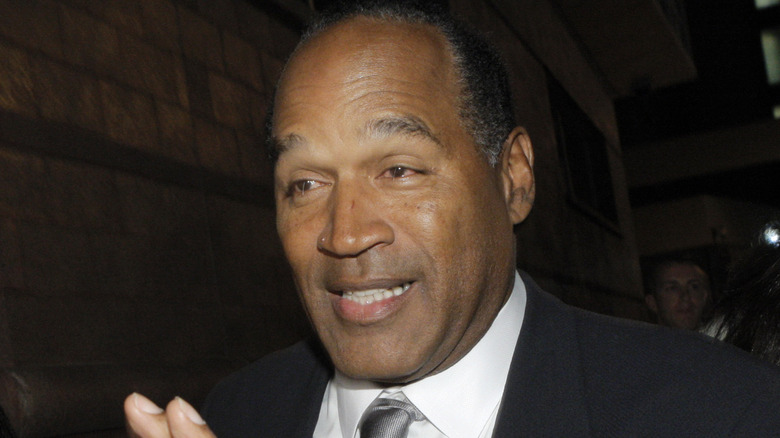 O.J. Simpson got convicted in 2008 of kidnapping and armed robbery — among other charges — following an unbelievable incident in Las Vegas the year before. Simpson stole sports memorabilia he believed belonged to him, confronting dealers Bruce Fromong and Alfred Beardsley in a Las Vegas hotel room, The New York Times reported. Fromong and Beardsley thought they were meeting potential buyers but instead encountered the former athlete and five others, and allegedly, some of the perpetrators had guns.
Fromong testified at Simpson's hearing, according to ABC News, "He was led to believe that on that day, there were going to be thousands of pieces of his personal memorabilia, pictures of his wife from his first marriage, pictures of his kids." He added, "He was told there were going to be possibly his wife's wedding ring, thousands of things. He was misled about what was going to be there that day."
Before his conviction, Simpson had been dating waitress Christie Prody for thirteen years, according to ABC News. Prody had been with him following his acquittal and stuck by his side during the robbery trial, too. However, a year into Simpson's sentence in 2009, the couple split up. Prody has since remarried, while Simpson was granted parole and released in 2017, NBC News reported. 
O.J. Simpson went viral on Twitter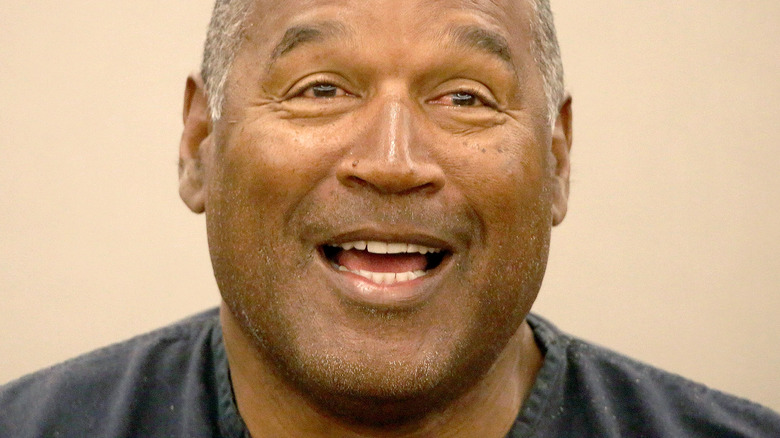 These days, O.J. Simpson still lives in Las Vegas and frequently plays golf. Simpson also is incredibly active on Twitter, where he posts sports analysis and day-to-day update videos for over 800,000 followers. Most notably, he uploaded a two-minute video in August, where he spoke out against people who haven't gotten the vaccine. Although his message was primarily directed to athletes who were affecting their teammates, it appeared to apply to people in his personal life, too.
Simpson joined both Twitter and the celebrity app Cameo in 2019, where he provided custom video messages to fans who paid him. Meanwhile, on Twitter, users were questioning if it was actually him. "Hey Twitter world, it's yours truly," Simpson said in his first viral video post, before ending with, "I got a little getting even to do." Although it's unclear what he meant, his account has kept a focus on sports conflicts, rather than his past encounters and legal history.
Although the specific amount of money Simpson makes from Cameo appearances is unclear, he likely is using it to pay off previous debts. Simpson initially owed $33.5 million to Ronald Goldman's family, following the wrongful death lawsuit. However, the amount of interest has raised the figure to almost $70 million as of 2018, CBS Sports noted.
Where are O.J. Simpson's children today?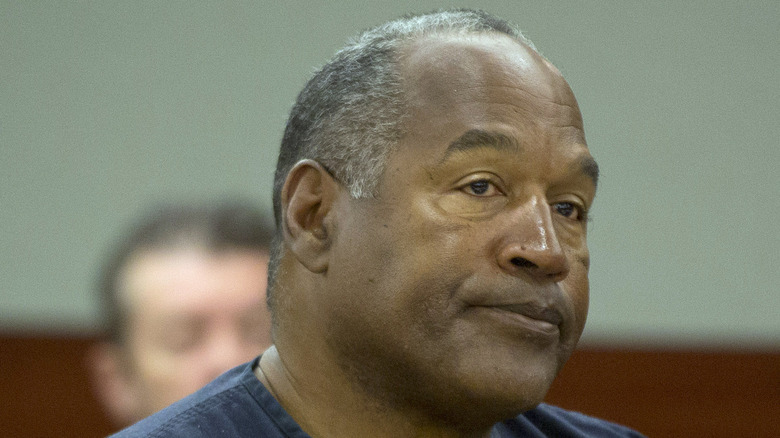 During O.J. Simpson's marriage to Nicole Brown, the couple had two children: Sydney Brooke in 1985 and Justin in 1988. After Simpson's acquittal in the trial of his ex-wife, he maintained joint custody of the kids with Brown's family. However, by the time of his robbery conviction, both children were adults and building their own lives in the world.
Sydney went on to attend Boston University where she studied sociology, E! News noted. As for Justin, he works in real estate, according to his Twitter profile, and it's possible Sydney is involved in the business, too. The New York Post reported in 2017 that the two bought 13 properties together, including apartments and houses.
Many have also long speculated that Khloé Kardashian was Simpson's daughter too, given his close relationship with the family, but he eventually cleared things up. On Father's Day 2019, Simpson took to Twitter to speak about the rumors. "Khloé, like all the girls, I'm very proud of, just like I know Bob would be, if he was here, but the simple facts of the matter is, she's not mine," he said in the video. 
Clearly, Simpson continues to be a controversial and headline-making figure. 
Source: Read Full Article