Pankaj Sonkusre tells us how he changed his lifestyle and lost 20 kg.
My journey is one of relentless persistence, tears, pain, and sweat. And I hope that this will inspire all those who are struggling to make healthier choices for a better tomorrow.
I am 39 and have been working as a media professional for the past 15 years.
My height is 5'9″.
In December 2016, a senior colleague at work called me 'fat'. Although in reality, this colleague was 'fatter' than me, it got me thinking.
Later that year, my family and I went out on a picnic and we clicked a few photographs.
When I saw my photo, it was no less than a reality check.
I was shocked at how I looked and realised it was time to get in shape.
My transformation journey
I used to cycle in the past but was never really consistent. So I began by cycling up to 4 to 6 km daily.
After about a week, I gained confidence and pushed myself to hike the distance to 10 to 12 km.
Before I could realise, I was cycling 20 km to and fro in just 55 minutes.
This gave my morale a big boost.
During this time I met like-minded people and soon became a part of cycling group. They used to cover almost 60 km every single day.
I learnt about Brevet, a cycling competition covering a minimum of 200 km. I took it up as a challenge and completed it in 11 hours and 30 minutes.
Along with cycling I also ran.
Currently, I run 100 km a week or 400 km a month and cycle 200 km a month.
From being able to cover only about 3 km initially, today, I'm a proud participant of 19 marathons — 2 full marathons (42 km) and the remaining half marathons (21 km).
With a nearly perfect running schedule, support from my family, my wife, mother, and consistent efforts, I was able to lose 17 kg in the same year.
The first few days were very difficult. After 30 days, I saw my waistline reducing and clothes getting loose.
Watching comparative photos helped keep me motivated.
After eight months of keeping at it, my waistline reduced from 38″ to 36″ and is now 33″.
Currently, I weigh 74 kg and the journey is still on.
Meal plan
I am a big fan of intermittent fasting. I try to have my dinner at 7.30 pm every day.
I don't eat for 14 to 16 hours after dinner. I skip breakfast.
Learnings
Fitness is not something you can achieve in one day, a few weeks or even a few months. It is a lifestyle; an amalgamation of healthy choices in terms of food, drink, and activity that one makes every day for a better, fitter tomorrow.
Never give up! One rep, one push, one pull, one step, one punch at a time and you will see yourself inching towards your goal, step by step.
The sweat, the time and the dedication will eventually pay off. All you have to do is remain consistent.
DON'T MISS! More Inspiring FAT to FIT features
Have you recently lost weight or survived a health condition?
We want you to share your story with us. Tell us how you did it.
Please share your diet plan, exercise tips, learnings and more.
Kindly mail [email protected] (My Fitness Story) along with your NAME, AGE, LOCATION, along with a before and after photograph of your fitness journey. We'll feature the best responses on Rediff.com.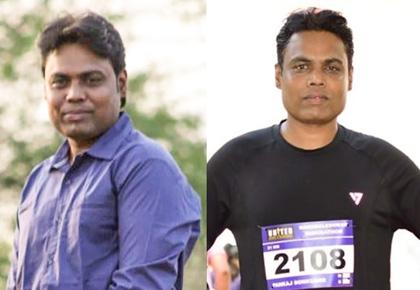 Source: Read Full Article