In the lengthy statement posted on Twitter, the 'It'll Be Okay' singer opens up about contemplating if telling the truth will make people 'think less of me.'
AceShowbiz –Shawn Mendes has sparked a speculation about his sexuality after he opened up about his fear to "tell the truth." On Tuesday, April 19, the Canadian singer/songwriter penned a lengthy statement to reveal his struggle as someone in his 20s.
"Sometimes I ask my self what it is that I should be doing with my life and what I always hear in return is 'to tell the truth, to be the truth.' I feel like that's a hard thing to do though," he opened his heartfelt note which was posted on Twitter. He explained, "I'm afraid that if people know and see the truth they might think less of me. They might become bored of me."
The 23-year-old musician continued, "So in those moments of feeling low I either put on a show or hide. About constantly feeling 'either flying or drowning.' The truth is I really do wanna show up in the world as my 100% true honest unique self and not care what anyone thinks, sometimes I do!! Sometimes I really don't care what people think and I feel free. Most of the time its a struggle tho. That's the truth."
Having come to the decision to "be the truth," Shawn added, "The truth is even with so much success I still find it hard to feel like i'm not failing. Hyper focused on what I don't have, forgetting to see all that I do. The truth is i'm overwhelmed and overstimulated lol."
He, however, noted at the end of his statement, "The truth is ALSO that i'm okay. i'm just tryna tell and be the truth. I like to think that maybe me saying this might resonate with some people."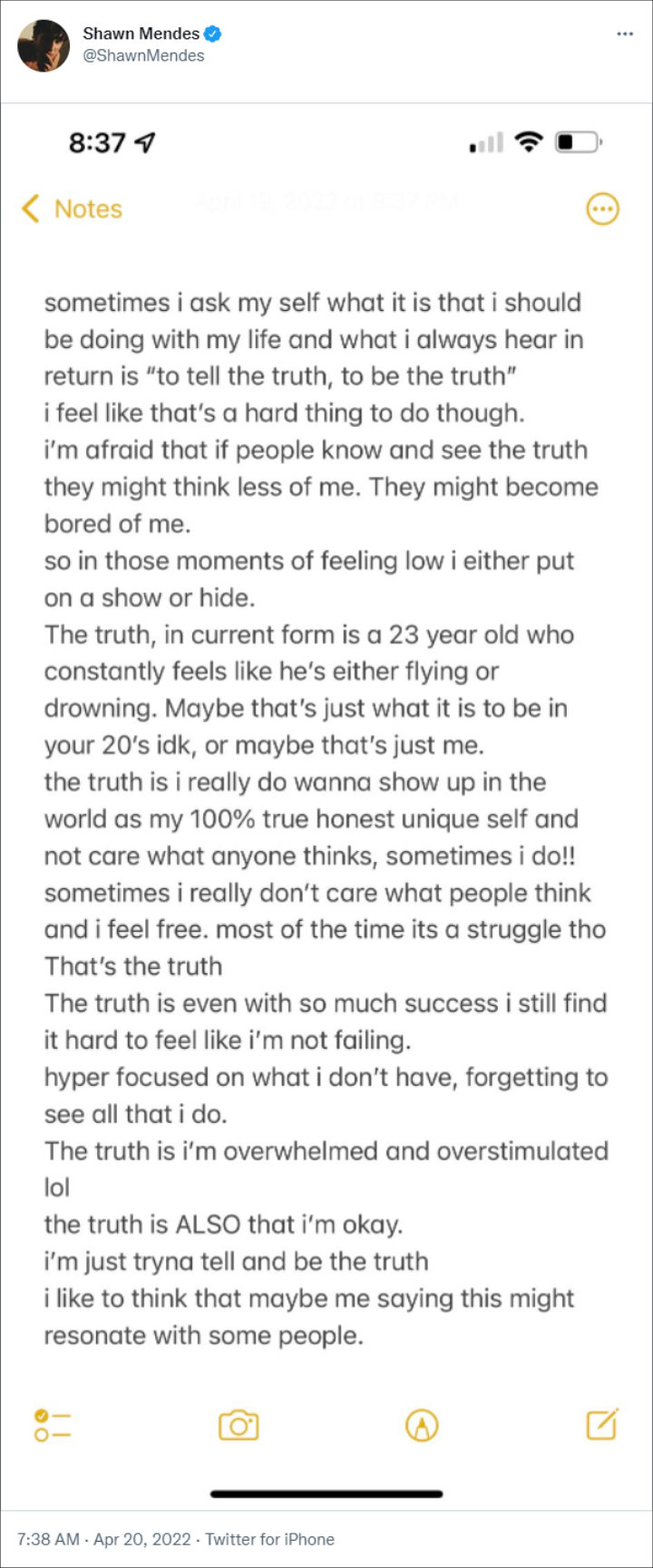 Shawn Mendes sparked a speculation about his sexuality with his lengthy statement.
In a series of follow-up tweets, Shawn assured his followers, "im honestly so okay! i just wanna communicate with you guys in a real honest way. so i just typed i big old note out for you lol." He added, "and i guess im like damn if i'm feeling this with all of the blessings i have i imagine there must be so many people feeling this and just don't want them to feel alone !!"
While Shawn did not mention anything about being gay, many suspected that it was his coming out statement. "we already knew but i'm happy for you," one person responded with a rainbow emoji and colorful hearts which can be used to represent the LGBTQ+ community.
"So he's saying he's gay, right?" another speculated, while another came to the same conclusion as writing, "Sooo is this his coming out announcement?" Another inquired, "I dont understand is he coming out???"
Some others demanded that Shawn be more straight about his point. "I'm mad as hell I read all that and it didn't end with 'I'm gay/bi'… I guess he staying in that closet with the glass sliding door a little longer," one person assumed. Another urged the star, "Anyway, come on out baby. Be you."
Shawn was last in a long-term relationship with Camila Cabello. They began dating in 2019 and spent much of the quarantine during the pandemic together before announcing their split in November 2021.
Source: Read Full Article