The following article includes mentions of domestic violence and sexual misconduct allegations.
The vast majority of us — unfortunately, because we're not elite and world-class athletes — will never experience the glory of competing in the Olympics. Every four years, the absolute best gather in state-of-the-art sports complexes in major world cities to determine who is the absolute best at everything from badminton to basketball, track to judo, and the top three athletes get to take home a prestigious medallion of gold, silver, and bronze. Even making it to the Olympics is a remarkable achievement — but medaling is positively and admirably mind-blowing.
It's a long road to get to the Olympics, however, and athletes face numerous struggles, difficulties, and personal problems along the way — ones they'd like to forget about when they're competing alongside the world's best or standing on a medal platform. Here are some of the most notable sportspeople set to take center stage at the 2021 Summer Olympics in Tokyo … and their most controversial moments and proverbial closet skeletons.
Runner Galen Rupp was involved in a doping scandal by association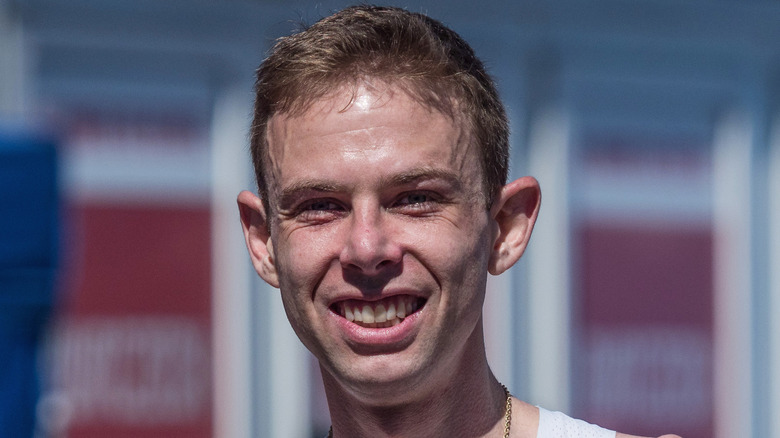 There's an argument to be made that Galen Rupp is the best current American long-distance track runner. Coached by 1982 Boston Marathon winner and 5,000-meters record-setter Alberto Salazar, Rupp was already a two-time Oregon state cross country champion and three-time track champ in the 1500-meters and 3000-meters events in high school. Then it was on to college championships and the Olympics, where he competed in Beijing in 2008, won a silver medal in the 10,000-meters at the 2012 London Games, and nabbed a bronze in the marathon at the 2016 Rio de Janeiro Olympics. He'll compete in that event at the 2021 Tokyo Olympics.
But those accomplishments could be viewed as slightly tainted, after the U.S. Anti-Doping Agency's charges against Salazar were made public. According to NPR, in 2019, Rupp's longtime coach was banned from running competitions for four years. As head of the prestigious Nike Oregon Project, where he trained Rupp and British Olympic champion Mo Farah, he engaged in performance-enhancing techniques, such as the illegal use of tester one and the over-use of L-carnitine.
Per Runner's World, Rupp himself — who has since nabbed a new coach in Northern Arizona University's Mike Smith — "has never failed a drug test." But as his former assistant coach, Steve Magness, told The Wall Street Journal, given his "really close relationship with [Salazar]," his running career "is kind of going to have an asterisk by it."
Basketball player Brittney Griner had a domestic violence incident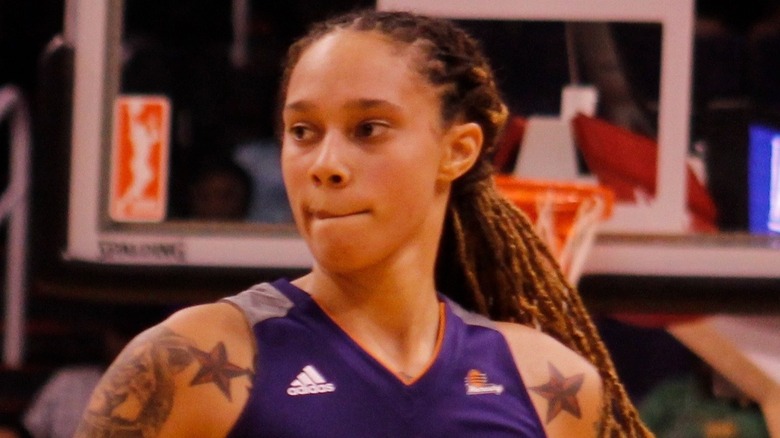 In 2021, Brittney Griner will hit the court for USA Basketball's women's team at her second Olympics. In 2016, she helped the squad to a gold medal, which Griner also won in the 2014 and 2018 FIBA World Cup. Those are just a few of the center's accolades. In 2012, her Baylor Bears compiled a perfect record and won a national title, making Griner one of only 11 women to have won gold in the Olympics and the World Cup, as well as a college championship and a WNBA title — which she won in 2014 with the Phoenix Mercury.
In April 2015, according to ESPN, Griner and her fiancée, Glory Johnson, of the WNBA's Tulsa Shock, were arrested after a domestic dispute in their home in suburban Phoenix. Griner told police that she and Johnson had been arguing intensely for several days and it turned physical inside of the house they'd bought earlier that week. After Johnson "disrespected" Griner (according to the police report), Griner shoved Johnson, Johnson shoved back, and they angrily fought on the ground for about five minutes. Griner was left with a laceration on her wrist and a bite mark on a finger, while Johnson wound up with a cut on her lip.
Arrested on suspicion of assault and disorderly conduct, Griner avoided charges by agreeing to complete six months of domestic violence counseling, according to ESPN. Less than two months after the incident, Griner and Johnson got married.
If you or someone you know is dealing with domestic abuse, you can call the National Domestic Violence Hotline at 1−800−799−7233. You can also find more information, resources, and support at their website.
Track athlete Gwen Berry protested the flag and it upset people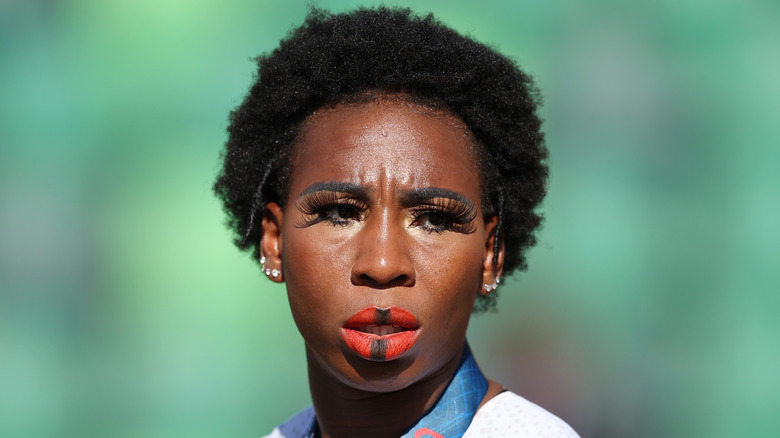 Peaceful protests by professional athletes over police brutality and the systemic racism at the root of the issue have become a consistent if controversial part of sports over the last few years. San Francisco 49ers quarterback Colin Kaepernick kneeled — rather than stood — during the National Anthem before an NFL game in 2016, prompting other football players to do the same, and when the NBA ended its COVID-19-related hiatus with a "bubble" format in Florida in July 2020, players and coaches wore "Black Lives Matter" T-shirts, joined arms, and kneeled during "The Star-Spangled Banner," per CBS News.
American hammer thrower Gwen Berry, who is Black, made a thrusted fist "Black Power" gesture during the medals ceremony at the Pan American Games in 2019. In 2021, at the track and field trials leading up to the Summer Olympics, Berry turned away from the flag as the National Anthem played and donned a T-shirt bearing the phrase "Activist Athlete," according to CBS News. Conservative pundits criticized Berry, with Congressman Dan Crenshaw calling for Berry's ouster from the Olympics team and former Wisconsin Governor Scott Walker tweeting that "everyone" should stand "for the flag." 
In response, Berry called out her critics, who favored "patriotism over basic morality," and tweeted that "the commercials, statements, and phony sentiments regarding black lives were just a hoax."
Kevin Durant started a hateful Twitter war with a famous actor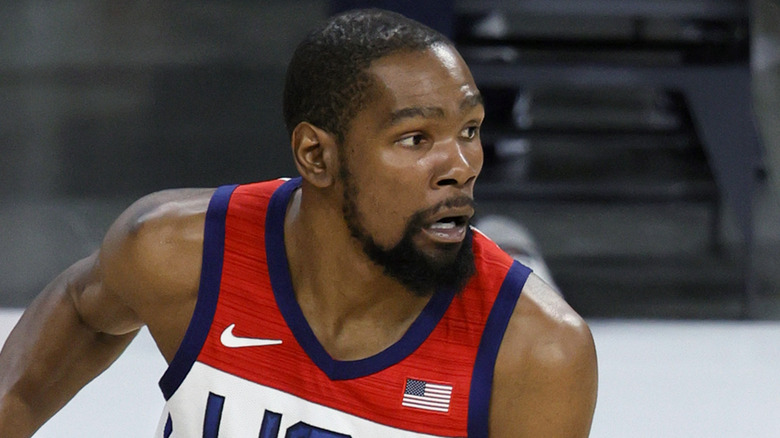 Character actor Michael Rapaport is best known for playing hotheads — he starred as a constantly angry dad on the Fox sitcom, "The War at Home," for example. He's also a huge basketball fan and aficionado, according to NPR, writing a book on sports and appearing as a well-informed commentator on NBA TV's "NB80s." 
In December 2020, he tweeted that Brooklyn Nets superstar Kevin Durant — and member of Team USA basketball in the 2012, 2016, and 2021 Olympics — seemed "super sensitive" in a post-game interview. A few months later, Rapaport made public the inflammatory direct messages that Durant sent him in response. "U a b**ch," Durant wrote, prompting Rapaport to double down, telling him that "if your upset about something they've said SAY SOMETHING." Durant went on to criticize "Inside the NBA" co-host Charles Barkley's interviewing techniques, then went hard for Rapaport, leveling several profane anti-gay language, promising to "spit in your face when I see your dirty a**," and challenging the actor to meet up with him.
After Rapaport's revelation of the messages, Durant apologized publicly, but the NBA fined fined him $50,000 for "offensive and derogatory language," according to CBS Sports.
Runner Alicia Monson had to be hospitalized after the Olympic trials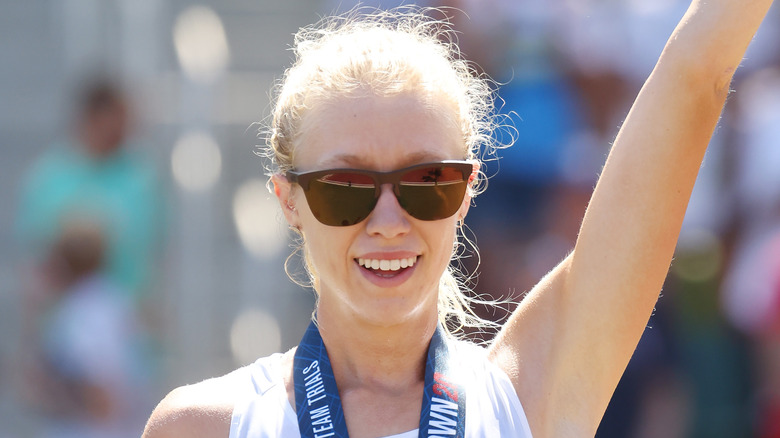 The 10,000-meters race — the equivalent of about six-and-one-quarter miles — is one of the most physically grueling in all of sports. The event was on the docket for the 2021 U.S. Olympic Track and Field Trials in Eugene, Oregon, on a day where temperatures reached 85 degrees, unseasonably hot and part of a historic heat wave that scorched the Pacific Northwest. That made for some difficult if not unhealthy conditions, which were felt most acutely and severely by 23-year-old distance runner Alicia Monson. According to Runners World, the Colorado-based athlete finished third in the 10,000-meters with a time of 31:18.55, and thus qualified for the 2021 Summer Olympics in Tokyo.
But Monson certainly suffered for her chance at Olympic glory. She was reportedly visibly shaky during the last few laps of the race, but managed to finish with a great time and step onto the awards podium afterward to receive her medal. At that point, she physically collapsed and began vomiting. According to coach Dathan Ritzenhein, Monson was rushed to a local hospital for observation, just to make sure she was okay.
Some old, bad tweets from soccer star Megan Rapinoe resurfaced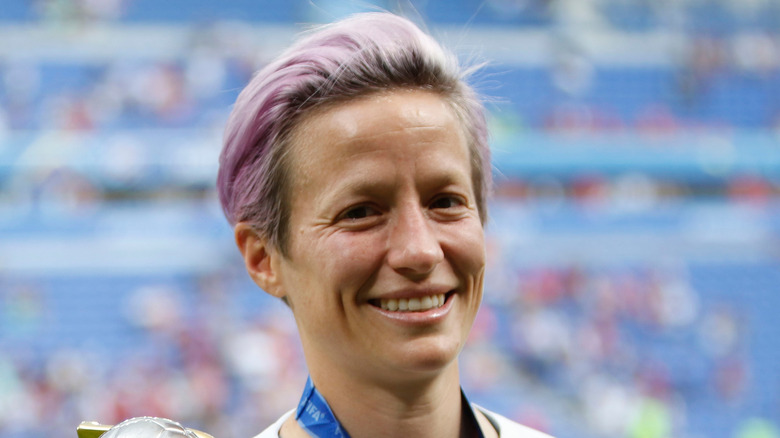 One of the most admired athletes in America today, Megan Rapinoe is also one of the most accomplished. As a member of the powerhouse U.S. Women's National Team soccer squad, Rapinoe's numerous goals helped her win two World Cup titles and a gold medal at the 2012 Summer Olympics in London.
Rapinoe is also an outspoken advocate for LGBTQ+ rights and equal pay for women, and she teamed up with Victoria's Secret to open up the collective beauty standard in June 2021. But all of that is at odds with a tweet Rapinoe fired off in 2011, well before she was a household name. "u look asian with those closed eyes!" Rapinoe tweeted to U.S.W.N.T. cohort Natasha Kai, who, according to Her Football Hub, is partially of Chinese and Filipino descent.
At the time of this writing, Rapinoe has not publicly responded to the swift backlash over the resurfaced tweet. Meanwhile, as of July 2021, Kai's Twitter bio urged readers to "stop Asian hate" and labeled Rapinoe as "a racist b**ch."
Cyclist Amber Neben was caught up in a doping scandal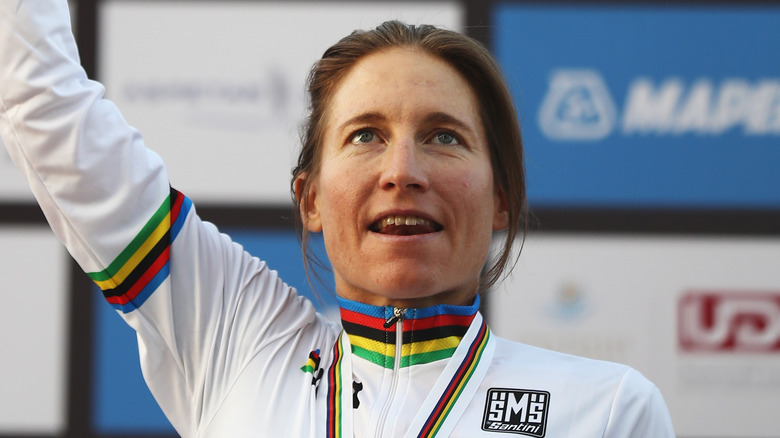 The winner of many professional road races, cyclist Amber Neben made her Olympics debut at the 2008 games in Beijing, according to Knox News. She finished 33rd place in her event, but it's amazing she even made it to the Olympics at all — the Games were contested just a few months after Neben underwent surgery to remove a melanoma. Later in 2008, she was declared the time trial winner at the World Championships, and when Neben returned to the Olympics in 2012, she finished seventh in the individual time trial and 36th in the road race. Neben failed to make it onto the American team for the 2016 Olympics, but she'll compete in the 2021 Tokyo Olympics.
All of these accomplishments amount to a professional comeback for Neben, who, in 2003, just after she proved victorious in the Coupe du Monde Montreal World Cup, tested positive for a banned, performance-enhancing substance. She was suspended for six months, and her win at Montreal was expunged from her win sheet. Neben was also sentenced to 18 months of regular drug testing.
Cyclist Chloe Dygert liked some incendiary tweets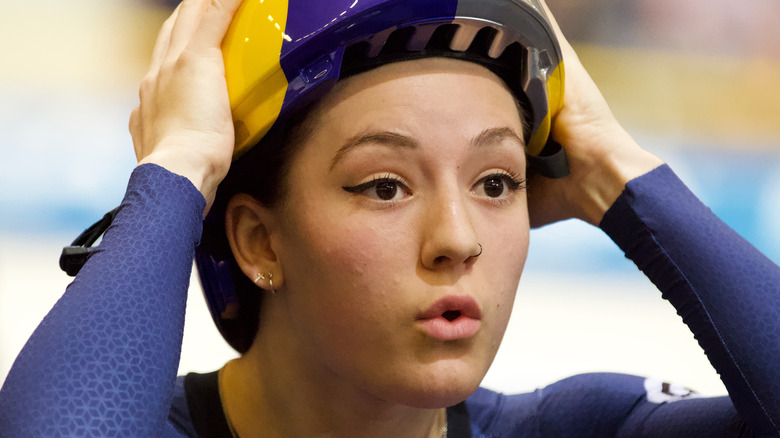 Chloe Dygert's event is team pursuit, a cycling variant in which two teams of riders race around a banked, indoor track. At age 19, Dygert earned a spot on the American Olympic team, and won a silver medal in team pursuit at the 2016 Summer Games in Rio de Janeiro. She'll race for Team USA once more at the 2021 Summer Olympics in Tokyo.
In between Olympics, according to Cycling News, Dygert was very active on Twitter, where she liked and engaged with some controversial material. According to screenshots captured and shared, Dygert liked a post that approved of then-President Donald Trump's idea to let single-sex homeless shelters reject transgender people, and gave a heart to another tweet that read, "White privilege doesn't exist." Dygert also liked a tweet that called NFL player Colin Kaepernick's kneeling campaign to protest police brutality a way to "scam the Black community out of millions."
Dygert apologized on Instagram in November 2020. "Cycling should be for everyone regardless of color, gender, sexuality, or background," she wrote, promising that she was "committed to promoting diversity, inclusion, and equality in cycling and our wider communities."
Keith Sanderson was banned from the Olympics over sexual misconduct allegations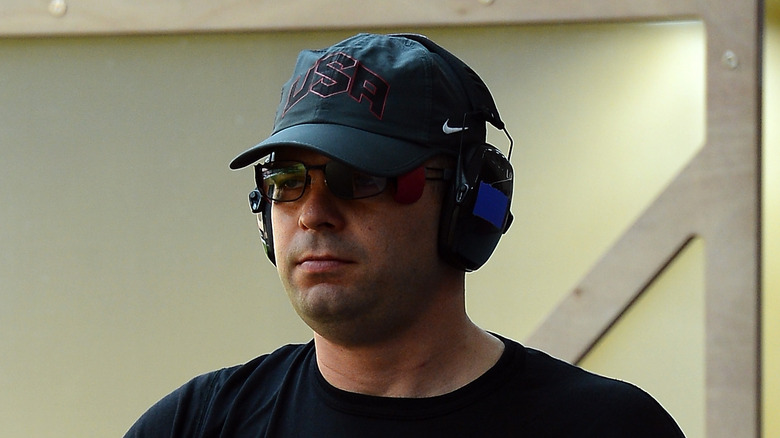 After becoming an expert with a firearm during an eight-year stint in the U.S. Marine Corps, which included competing in shooting matches, according to his Team USA bio, Keith Sanderson won three medals (a gold, silver, and bronze) at three world championship events in 2009. In the rapid fire pistol event in Olympic competitions, Sanderson represented the U.S. at the 2008, 2012, and 2016 Summer Games, finishing as high as fifth place.
Sanderson qualified to participate in the 2021 Summer Olympics in Tokyo, but weeks before the games got underway, according to NBC Sports, he received a three-month suspension from the U.S. Center for SafeSport. The organization, which investigates misconduct charges among American Olympians, levied the punishment after reports of sexual misconduct and sexual harassment on the part of Sanderson. 
The suspension was later lifted and then reinstated, according to the OC Register, with USA Shooting rejecting Sanderson's allegation that he was really and truly ousted from the Games because he spoke out against the U.S. Olympic Committee, not because of 17 alleged conduct code violations. "The U.S.O.C., that's the only avenue to the Olympics for an American," Sanderson told KOAA (via Inside the Games). "They have a total monopoly on who the Olympians are."
If you or anyone you know has been a victim of sexual assault, help is available. Visit the Rape, Abuse & Incest National Network website or contact RAINN's National Helpline at 1-800-656-HOPE (4673).
Golfer Jessica Korda publicly and spectacularly fired her caddy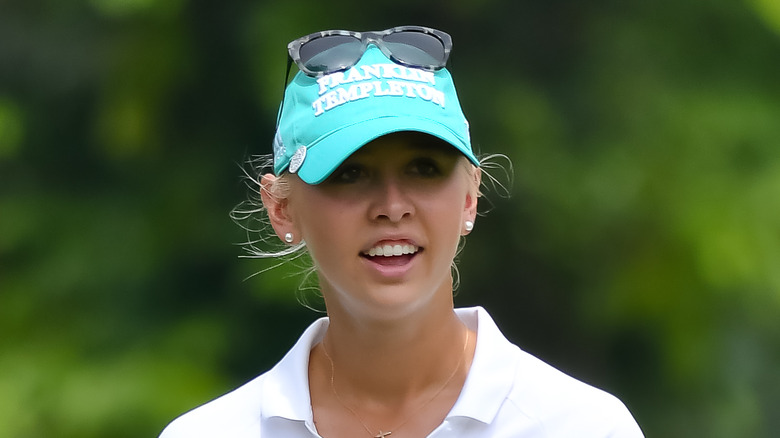 Professional golfers are allowed to compete in the primarily amateur-based Olympics, and in 2021, LPGA star Jessica Korda qualified for the U.S. women's golf team (as did her sister, top-ranked golfer Nelly Korda), according to NBC Sports. As of 2021, Korda's ten years on the LPGA tour has resulted in $6.3 million in earnings and six career victories, possible through the assistance of a support staff led by her caddy.
Well, multiple caddies. Jason Gilroyed accompanied Korda and carried her clubs for about a year early in the golfer's career, up until the third round of the U.S. Women's Open in June 2013, according to ESPN. Korda and Gilroyed reportedly argued and disagreed a few times during the first holes of the tournament. Things got so intense that midway through the third round, she suddenly fired Gilroyed. 
"I think everybody has problems every week," Korda said when asked if her problems with her caddy were long-term. After dismissing her assistant on the course in the middle of a major competition, Korda apparently called out, "Johnny, grab the bag, let's go." Johnny was Johnny DelPrete, Korda's boyfriend at the time and a pro golfer himself.
Nyjah Huston nearly went to prison for battery charges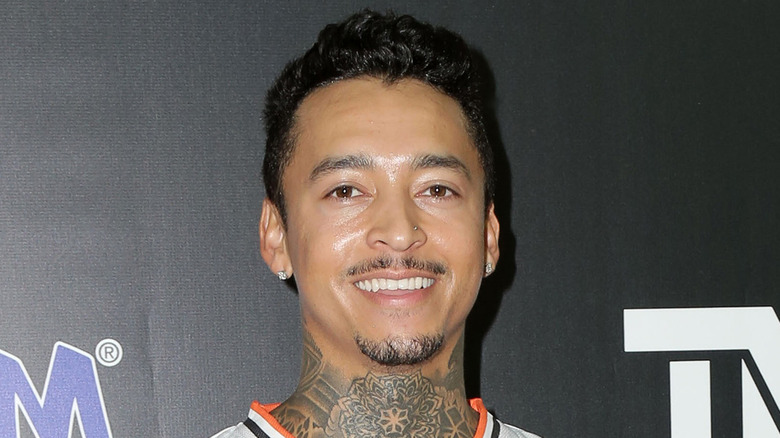 According to Slice, Nyjah Huston is one of the world's highest-paid skateboarders. With a net worth of $12 million and high-profile sponsors like Nike and Mountain Dew, the California-based Huston has won multiple national and world titles, and in 2021, he'll be among the first athletes in his sport to compete at the Olympic level — skateboarding events will make their Summer Games debut in Tokyo, according to Reuters.
And yet, one of the biggest names in skateboarding could very well have missed out on these historic Olympics. In 2017, according to The Blast, Huston was arrested after an allegedly unprovoked attack on a man named Ryan Sheehy at a Los Angeles house party. According to TMZ, Sheehy sued Huston because the severe beating reportedly left him in need of surgery to correct a broken nose. Additionally, the Los Angeles County district attorney charged Huston with felony battery and issued a criminal protective order to keep the skateboarder away from Sheehy. 
In September 2019, Huston avoided prison time by entering a plea of no contest to a misdemeanor charge of disturbing the peace, per The Blast, leading prosecutors to dismiss the felony battery count.
Source: Read Full Article