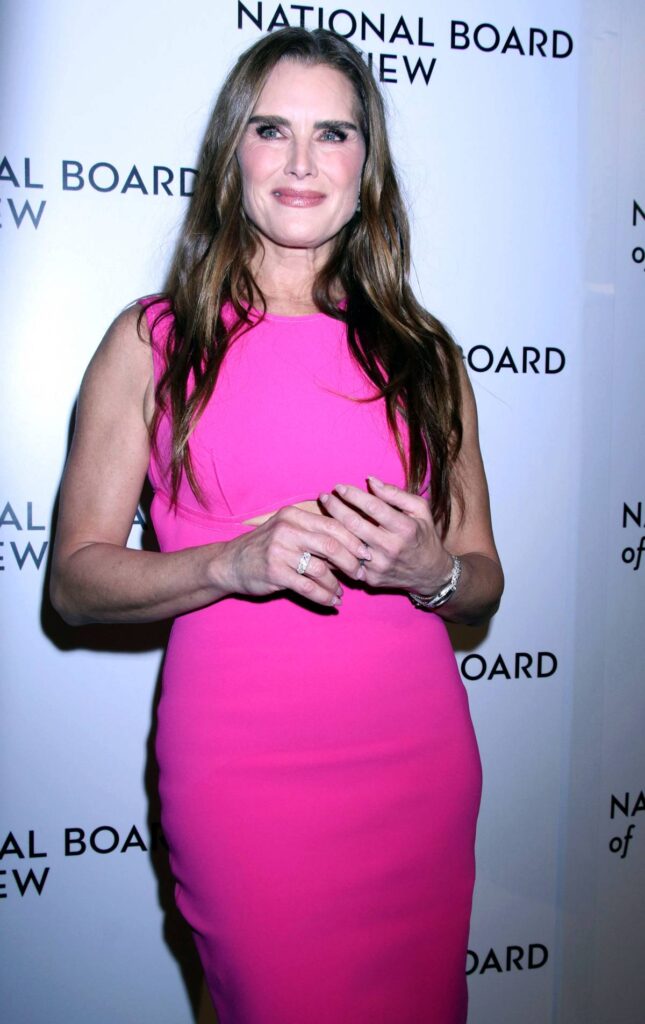 I really wish I could join a moms' group with Brook Shields. Our kids are too old for us to be in a moms' group and I'm sure she has other things she needs to do but every time she talks about parenting, I find myself reading a version of my own thoughts. I've said many times about how her book Down Came the Rain led me through my baby blues. I thought I was a monster before I heard her interviews during the promotion for the book. As she promotes her Netflix documentary, Pretty Baby: Brooke Shields, she appeared as a guest on Chelsea Handler's Dear Chelsea podcast, and she said something that I swear I said to my husband just this past Saturday. For some background on Brooke, who was a child star, she was managed by her mother Teri Shields. Teri was the Kris Kardashian of her time. Only we found out later that Teri was an alcoholic and put Brooke in some precarious situations as a result of her drunken decision making. Brooke has two daughters of her own, Rowan, 19, and Grier, 16. Raising them has been a challenge because she's had to navigate motherhood without a clear idea of what good mothering was like. One area that really surprised her in her own parenting was how open she is with her girls. They talk about everything without judgement. Since Teri never spoke to her about anything intimate, Brooke had no idea she would be able to be so free with her daughters.
Brooke Shields is giving herself praise for the way she's parented her two daughters Rowan, 19, and Grier, 16, after experiencing a complicated relationship with her own mother.

The 57-year-old model and actress spoke about her journey with motherhood on Chelsea Handler's Dear Chelsea podcast, where Shields talked about the difficulty in raising children. "Even though I've always wanted to have kids, it's really not easy," she said of the two she shares with husband Chris Henchy. "Sometimes loving that much, it's just a pain in the ass."

After opening up about the reality of growing up with her mother Teri Shields in the 2014 memoir titled There Was a Little Girl: The Real Story of My Mother and Me, Shields shared that she's inclined to look at the positive things she's learned from her mom's parenting style.

"I had done so much work on myself in therapy for decades, that I focused on the things that I want to replicate, rather than just the things that I didn't want to replicate," Shields said, noting that comparing herself would be futile as her mom was "so broken and couldn't do the work on herself or for herself."

Ways that Shields has made efforts to show up in a different way than her mother include being "careful about my drinking because I know that [alcoholism] is in my blood." The mother-of-two has also cultivated an open flow of communication with her daughters than she ever had with her mom.

"I'm surprised at how much freedom emotionally I give my kids. I never thought that talking to them about sex … because my mother never talked to me about anything. You just were told, 'Don't do it, you'll burn in hell,' and then I became sort of known for being a virgin," Shields reflected. "We talk about everything together and I have no judgment and I'm shocked at myself. I mean, we talk about it all and I didn't think that I'd be comfortable with it on that level."
[From Yahoo!]
"I mean, we talk about it all and I didn't think that I'd be comfortable with it on that level." This is the line that I basically said last weekend. I was being a little bit broader than just sex, but my thoughts were the same, that I was surprised with what I was comfortable speaking and hearing from my kids. We aren't friends and there are boundaries, of course. But like Brooke was discussing, the relationship is where it is because of this openness. That's the odd part for me. I thought was going to be more uptight than I am.
As for Brooke trying to find some good in Teri as a mother, I think acknowledging that there was something to appreciate is healthy. Brooke said she took from her mother humor and that Teri had a willingness to have fun with her. Brooke also said her mom, "was ballsy and that protected me." Teri was such a complicated person. She did protect Brooke in many ways and in others, she threw her to the wolves. I'm glad Brooke was able to work on herself enough to find balance as a mother. The best part is that she ended up with such a healthy relationship with her daughters. Sometimes over correcting for a lousy childhood can go too far in the other direction. But it sounds like Brooke was able to find that harmony.
And this is one of the top tenets of parenthood: "Sometimes loving that much, it's just a pain in the ass."
Embed from Getty Images
Embed from Getty Images
Embed from Getty Images
Photo credit: Cover Images and Getty Images
Source: Read Full Article