Alright, so, remember when the news came out earlier this week that Bradley Cooper and Irina Shayk's relationship was "hanging on by a thread?" It gets worse.
A source close to the couple just told E! that their daughter, Lea De Seine Shayk Cooper, is the main thing keeping the two of them together.
"Things get a little bit better but then they find themselves back in the same place of questioning whether being a couple is what's best," the source said. "They want to stay together for their daughter, but neither of them are very happy."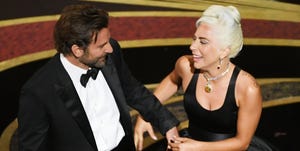 When the annual Met Gala went down in the first week of May, Irina very noticeably went alone. They went to that event together last year, which is why it seemed a little weird.
The couple has reportedly been spending bits of time apart to see what the status of their relationship really is.
"They've spent time apart to test the waters and see if they are better off," the source continued. "They have a lot invested and it's very difficult to completely walk away from. They are trying out different arrangements and trying to find their way. They love their little girl dearly and that's not going to change no matter what."
They're working on things for the sake of their daughter, mostly, which will be the main reason they stay together, if they do.
"They have a lot of history and their precious daughter keeping them together for now."
Hoping these two can make it work. 💔
Source: Read Full Article